A Home Away from Home
Irfan Bachdim and Kim Jeffrey Kurniawan are strengthening Persema. It is a steppingstone to join the national team.
Edition : Wednesday, September 15, 2010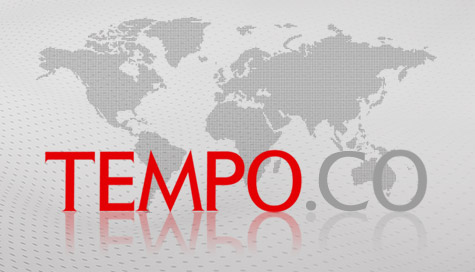 THE hot weather in Sidoarjo, East Java, made Kim Jeffrey Kurniawan and Irfan Bachdim linger in the swimming pool of Bandara Hotel on Tuesday last week. While their Persema Malang (soccer club) peers chose to take a noon nap and spend the day in their room, Kim and Jeffrey remained in the pool. Thereafter, instead of washing their bodies, both were bathing in the scorching sun in their soaked shorts. "It's warm," said Irfan, rubbing his wet hair with a towel.
Although Indonesia is their parents' native country, Kim, 20, and Irfan, 22, are not used to the tropical climate. Fortunately, they have joined Persema, which is based in Malang. They find it easier to adapt to the city known for its cool air. This is understandable as Kim and Irfan were born and brought up in Europe. The two youths even still have difficulty in speaking Indonesian, except for several common words like murah (cheap) and hangat (warm), pronounced with an accent frequently shown by teenage celebrity Cinta Laura.
Kim and Irfan are newcomers in Persema. In this club they will try out Indonesia's football atmosphere, for the first time, after exploring various clubs in Europe. For them, Persema serves at the same time as a steppingstone to secure Indonesian citizenship and join the Red-and-White team. The two singles born in Amsterdam, Netherlands, and Muhlacker, a small town in southern Germany, are indeed projected to be the backbone of Indonesia's national team. Meanwhile, Irfan has become an Indonesian citizen.
Being an Indonesian citizen is actually Kim's priority, so he will not have trouble with choosing the club he is going to support. Even the contract value is not his main consideration. "Compensation is not everything. To me it's more important to have the opportunity to play in Indonesia and be assisted in being an Indonesian citizen. Living in Indonesia is indeed my dream," said Kim. If there's anything he likes in his club, it is the very fanatic team supporters dubbed Laskar Ken Arok.
Yes, thanks to their support, on Monday last week Persema succeeded in beating Persipro Probolinggo 5:1 in the qualification round of the East Java Governor Cup group contesting at the same time as a warm-up toward the Indonesian Super League competition. In the match Kim Jeffrey was absent due to a leg muscle injury, but Irfan Bachdim played smartly by scoring an opening goal in the second minute and passing twice for his partner, Reza Ardiansyah, to strike.
The bright performance has served as a good beginning for Irfan to display his prowess in the Super League, and be sought-out by national coach Alfred Riedl. Irfan and Kim are in fact optimistic they will easily get used to Indonesian football as well as life in this country. "We can overcome the problem of weather," said Irfan. Besides, the two are already familiar with Indonesian cooking. Irfan claims he likes local food such as martabak (meat, eggs and vegetables in crepes) and fried rice. Kim is fond of fried shrimps and fish.
In the club, both mix with the other players. "We dine together with our peers," added Kim. Unlike foreign players normally going by car to their place of exercise, the two youths ride a scooter from the guesthouse—where they stay—to the training field. "We don't have a car. This scooter is provided by the club, at the same time for visiting malls when we have no training," said Irfan, who prefers inexpensive goods when he goes shopping.
Irfan and Kim are only a few of players of Indonesian descent who were born, grew up and trained soccer in Europe. The sharp decline in the national team's performance over the last decade has prompted executives of the Indonesian Football Association (PSSI) to take a short cut by asking such players to return home. Some of them still have Indonesian citizenship like Irfan. Others have held passports of a certain European country like Kim, who possesses a German passport. If they again own Indonesian passports, they are expected to jack up the country's soccer achievements.
Attempts have been made to invite mixed-race players since end-July. At the time, besides Irfan and Kim, only Alesandro Trobuco—of Italian descent—came to join charity matches in Malang and Surabaya early this month. Although they were not as bright as upper-class players in Europe, praises abounded. "They weren't yet adapted to Indonesian football, with their physical conditions still unfit, but they displayed good basic techniques," said Jaya Hartono, a former coach of Persib Bandung. According to Jaya, the three are worthy of following Indonesia's national team selection.
However, as foreign nationals, particularly Kim and Trobuco, these players cannot automatically join the national team because Indonesia follows the single citizenship system. "To strengthen the national team, they have to be naturalized. If the government is ready and they are seen commendable for the national team, this can happen,"said Widodo Cahyono Putra, Indonesia's national team assistant coach.
Apart from the three, many players of Indonesian stock in Europe join primary leagues in European countries. The one considered most special is Radja Nainggolan, a midfielder now supporting Italian club Cagliari. Radja was born in Antwerp, Belgium, May 4, 1988. His Indonesian blood comes from his father, Marianus Nainggolan. His mother, Lizy Bogaerts, is a Belgian citizen. Marianus now resides in Bali. He separated from his wife when Radja was only 6.
Anyway, the hope for inviting Radja to reinforce Indonesia is gone as he was already requested by the national team of Belgium in May last year. Previously, when Tempo saw him in Antwerp, Radja said he would consider backing Indonesia, "If I'm not asked to join Belgium." At the time Radja had not yet visited his father's native land even once. "I know only a little about Indonesia. Indonesia is hot because it's a tropical country, and has a lot of seas."
Viewing the success of naturalization in other countries, PSSI also wants to imitate this instant method. "This naturalization is to achieve the short-term target in the next three years to boost the national team's position. But we won't forget the long-term program for junior players. After the three-year term, the senior team will be combined with the junior players currently being fostered," said PSSI National Team Board Chairman Iman Arifin. He added naturalization was something normal in world soccer.
A number of countries in fact rely on "imported" players to enhance the performance of their national teams. Portugal has granted citizenship to Brazilian player Deco, and Germany recruited Gerald Asamoah from Ghana. In Asia, Japan and Singapore most frequently naturalize foreign players. Yet there's fear that naturalized players won't be performing wholeheartedly in defending their new nations. "We'd better forge our own stars," said former national team member Risdianto.
Adek Media, Kukuh S. Wibowo (Sidoarjo), Aris Mustafa
W251bGwsIjIwMjEtMDYtMjMgMDk6MTY6MzgiXQ