John Stanmeyer:
I captured Gus Dur during his last days as president
Edition : 22 September 2010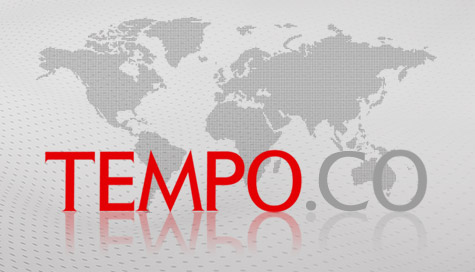 JOHN Stanmeyer's camera deftly immortalized Indonesia from anthropological as well as tragic political angles. He photographed Abdurrahman Wahid during his last two days as president and a pro-independence Timorese shot to death in the streets of Dili. He wants to understand Indonesia from the spiritual perspective. Tempo photographer Bismo Agung interviews Stanmeyer. Excerpts:
You have photographed five presidents in this country. Who was your favorite?
Each president was unique. I deeply admired Gus Dur, truly a stupendous man: learned, wise and with a fantastic sense of humor. I knew him well before he was president then throughout his short presidency. I was with him during his final two nights in the presidential palace before he left office. One very poignant moment on the last night of his presidency was when his daughter, Yenni, came in to the presidential office, his desk covered in music CDs, books and a statue of Gandhi. Yenni went to his side and gave him a loving hug of support during this difficult moment. It was very moving.
Habibie was fascinating to photograph, extremely animated, lively, often filled with the excitement of a child. He gave me a wonderful private tour of the palace.
You won the World Press Photo Award and Robert Capa Award with your photo of Joaquim Bernardino Guterres's death on a Dili street. What were your thoughts when you aimed your lens on him? How were you able to stay calm?
It was a terribly chaotic and dangerous time in East Timor. The tragic and unnecessary death of Joaquim Bernardino Guterres played out right before me. I can't say there is ever a good image of someone being killed. The event unfolded in a matter of seconds: a young man trying to defend his neighborhood from the aitarak who were attacking him and other Timorese. He only had a rock in his hand, and came upon a group of Indonesian soldiers. There was some sort of an altercation, a second or two later he was trying to run away from them and one of the men shot him in the back.
You produced a series of photos titled 'Where is Osama.'
It was basically a collection of photographs showing the image of Osama throughout the country, how ubiquitous he was. You had the world looking for Osama bin Laden yet he was everywhere in Indonesia. Visually it was so ironic. No specific help was needed for that story other than that the view of what was basically all around me.
And you also did a series on the problem of mental health in Indonesia.
I had a dear photographer friend connect me with a mental hospital in Jakarta. He had done some photography there and like myself he was concerned about the conditions there. After seeking permission I spent two days at the hospital. I hope conditions have improved. I heard they made some improvements after Time ran the story, but I hope it has sustained the needed improvement.
Why are most of your photographs composed diagonally yet they are still dynamic?
I never analyze my photographs. There is a conscious level to have layers and numerous messages speaking within each frame. I'm always seeking to push further with the visual composition, not to overly complicate but to make one think further.
You enjoyed your 12 years in Indonesia?
I lived in Indonesia only for five years, but I worked on numerous stories in Indonesia for 12 years. Indonesia is one of—if not the—most amazing countries on earth. I, as well as the entire family deeply enjoyed our time here. We are forever connected to Indonesia. We even named our daughter after one of the most brilliant volcanoes in Java—Francesca Merapi. Indonesia will always be our second home.