Images of Sorrow
The Netherlands-based World Press Photo selected its top pictures of 2010. The dominant theme was violence and disasters.
Edition : 23 February 2011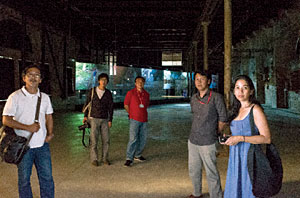 IN the world of photojournalism, the World Press Photo award is classified as a prestigious and sought-after recognition of the work produced by 'photo-hacks.' Judging from the winning photographs, the images that most reflected news events and captured world attention last year depicted portraits of violence, disaster and misery.
The World Press Photo of the Year 2010 was the harrowingly disfigured face of Bibi Aisha, a victim of the seemingly endless war in Afghanistan, and a victim of the often-brutal treatment of women among the Taliban people whom she belonged to. The portrait of Aisha was shot by South African photographer Jodi Bieber, who spent a lot of time with Aisha just to get that right moment reflecting the misery she had gone through.
The portrait of Aisha was selected out of 108,059 photographs by 5,847 photographers. Abir Abdullah, a member of the jury and a photographer himself, commented, "This photo is the result of a calm photographer able to build a close relationship with her object. Bieber deserves to win the highest award in the world of photojournalism. She got an emotional expression from Aisha, and that expression on Aisha's face will not easily be forgotten by anyone who sees it."
Other top winners of the World Press Photo 2010 captured haunting events that greatly affected humanity: natural disasters, communal strife, violence at the hands of drug cartels and political regimes.
In Indonesia, perhaps in recognition of the many natural disasters afflicting the nation, the pictures of the days-long eruption of Mount Merapi in Central Java by photographer Kemal Jufri, won second prize in the category of 'People in the News'. Kemal presented a series of stunning photographs depicting the volcanic eruption, the devastation and the people it struck down.
Kemal Jufri, a photographer for Panos Pictures, went from village to village transformed into ghost towns. An award-winning photojournalist who regularly works for the world's top publications, Kemal recorded the courage of people ready to sacrifice their lives in the face of continuing danger. His lens followed running feet in search of bodies covered by hot ash and earth.
Bismo Agung, photographer