Converting Palm Fiber into Ethanol
LIPI researchers are developing a technology to create renewable and environmentally friendly fuel.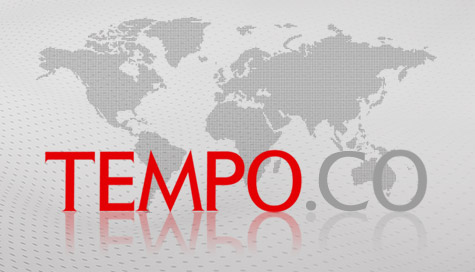 A technology developed by LIPI, the Indonesian Institute of Sciences, can transform one ton of palm trunks into 151 liters of ethanol with a concentration of 99.5 percent.
A chemical process via this machine produces ethanol," said researcher Agus Haryono from the Chemical Research Center of LIPI last Monday in Serpong, Banten Province.
LIPIs Technical Science Division deputy Syahrul Aiman said that it was high time Indonesia expanded the use of renewable and environmentally friendly fuel. If fossil fuels are not affordable, Syahrul said, industries must be prepared to switch to alternative ones.
LIPI researchers wish to utilize plants that are considered waste. Through a series of chemical process, plant fibers such as selulosa, hemiselulosa, and lignin are converted into ethanol.
Non-food plant items that have been tested include palm tree trunks, banana stems, sorghum trunks and sugarcane pulp. Palm trees prove to be the most potential resource for local processing, LIPI researchers said.
A theoretical trial shows that each ton of palm waste yields 151 liters of ethanol. Currently, there are 8.4 million hectares of oil palm plantations across Indonesia, which produce around 21.3 million tons of palm oil and 10 tons of dry trunks. The trees alone have the potential to produce 1.5 million kiloliters of bioethanol annually," Agus said.
Bioethanol can be abundantly produced if other nonfood plants are also utilized, such as paddy stalks and sugarcane pulps, to name a few. The total amount of waste from these two agriculture products reaches 230 million tonnes each year. If processed, the waste of this quantity will yield 17.618 million kiloliters of bioethanol.
Other potential raw materials come from sugar palm trees, which can be processed into 11.7 million kiloliters of bioethanol annually. Likewise, cassava materials can be used to generate 180 liters of bioethanol from each hectare per year.
The Korean Institute of Science and Technology president, Moon Kil-Choo, said that Indonesia was its first choice to conduct bioethanol research using non-edible raw materials.
Indonesia, he said, had the most potential to produce this environmentally friendly energy. Korea has the technology, Indonesia has the raw materials. Therefore, we decided to collaborate with Indonesia," Moon said.
From the research done in the past year, LIPI researchers discovered several facts. In the fermentation process, for example, local fermentation bacteria can be used to alter fibers into glucose. They are studying this bacteria specie, Agus said, and also applied for a patent of the invention.
The purification stage of the process also includes what it calls pressure swing absorption (PSA). Ethanol is placed in a high-pressure canister and is filtered using absorbent material.
Agus hopes that the concentration of the ethanol produced by the pilot plant using palm trunks would reach 99.9 percent. The key is in PSA," he said.
The preliminary trial using cassava produced ethanol with a 99.8 percent concentration. However, it was only a comparative study, as cassava is still a food plant.
The pilot plants trial production using palm trunks produces 10 liter bio-ethanol of 99.5 percent concentration daily, a small quantity compared to industrial production capacity.
However, Agus said, it was only a matter of upgrading the power of the PSA system for additional capacity. The same holds true for concentration levels. This can be implemented in the next two years, he added.
LIPI, according to LIPI chemical researcher Yanni Sudiyani, would optimize the bioethanol processing and production. From the research that consumed US$3 million, industries can learn more about bioethanols potential.
It is not difficult to set up a large-scale production facility either, Yanni says, as the size of the machine can be easily adjusted.
LIPI has offered the chemical process using the pilot plant to two state-owned enterprises, PT Pertamina and PT Perkebunan Nusantara, as a prospective production operator and a raw material supplier, respectively.
If bioethanol is produced on a large scale, processing plants will be deployed near farms and plantations. Every island has the potential to generate energy on its own," said Agus who said he was optimistic the institute could complete research by 2014.
Anton William
---
Follow in Brazils Footsteps
Brazil is an example of a country that successfully uses ethanol as fuel for motor vehicles. The Samba country uses sugarcanes as the raw material.
Priyanto, the Energy and Material Technology Deputy of the Board for Development and Application of Superior Technology (BPPTU), thinks that Indonesia is capable of following Brazil. He said the government can mix ethanol with Premium [regular gasoline] and use it as an alternative fuel in regard to the program for limiting the use of subsidized fuel.
In this scenario, the car owner is given a daily quota for Premium. When the quota is reached, the driver can buy a mixture of ethanol and Premium (called BioPremium). So, the premium user does not have to use Pertamax straight away when his daily quota is finished. This is an effective strategy," he said.
Agus Haryono, a researcher of the Chemical Research Center of the Indonesian Institute of Sciences (LIPI), said that the institute planned to test the capability of this mixed fuel. Agus has tested pure ethanol as fuel for electric power generators. The result is satisfactory. Its very possible to use this," he said.
There is a tax obstacle, however. According to Agus, Indonesias fiscal section does not recognize bio-ethanol as fuel. He said bio-ethanol was categorized as an alcoholic beverage whose tax was higher than the tax on fuel.
Anton William