The Satanic Sauces
Jakarta's galloping gourmet goes on another incognito quest for good places to eat, seeking out the rich diverse foods of the Indonesian archipelago. This time, he goes for the cuisine of Central Java.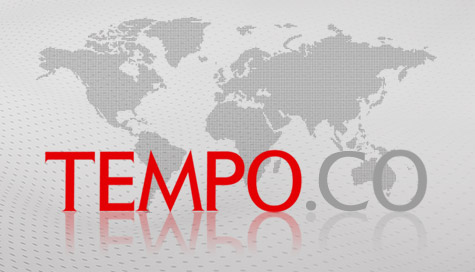 An old crone looms out of the shadows, a solitary buck-tooth protruding from her mouth. Despite her elderly visage, she's quite sprightly, dancing a jig in her simple Javanese garb. Not even the politest person would call her beautiful. Yet every day she attracts hundreds of people to a franchise of restaurants serving Central Java cuisine. The woman is Mbah Jingkrak ('Grandmother Jumping for Joy'), an unashamedly unpretentious Indonesian mascot, whose signature food includes devilish chili sauces.
Should you ever need to take a foreign visitor somewhere more upmarket than a simple warung makan (food stall) to sample Indonesian cuisine and culture, then Mbah Jingkrak is an ideal venue. In Jakarta, make sure you go to the outlet on Jalan Setiabudi Tengah, and avoid the inferior one near Blok M.
The story behind the successful franchise starts back in 1997 in the Central Java capital of Semarang, when a garment factory employee named Maya Astri Denaya decided to invest her savings of Rp14 million in opening a steakhouse.
She had noticed the popularity of Western-style eateries in Jakarta and Bandung, and sought to replicate their success with her Bentuman Steak. Her strategy was to get students hooked (bentuman means 'to make someone addicted') by providing cheap meals that blended Western cuisine with the flavors of Java. The menu's offerings were given comical names, such as sapi bingung (confused cow), ayam linglung (dazed chicken) and Merapi meletus (Mt.Merapi eruption).
The combination of lowbrow humor and low prices did the trick. With just 12 tables and five staff, Maya was soon generating a turnover of more than Rp160 million per month. Over the years she was able to open new branches. Some older customers, accompanying their children, requested rice and traditional food, so Bentuman began serving home-cooked meals.
Always keen to broaden her cooking skills, Maya traveled to warung makan in Yogyakarta and Solo. Some of the most popular places were the simplest, but their tarpaulin roofs, bench seats and dirt floors discouraged wealthy customers. There was a clear gap in the market: traditional food served in a place where the upper middle classes would feel comfortable. Maya began planning a restaurant to fill this void, but she needed a name and concept. Inspiration came during a culinary trip with her husband to GunungKidul district. They were looking for a food stall called Mbah Jirak but could not remember the name. Suddenly her husband said Mbah Jingkrak. Laughing at the malapropism, Maya could not get the two words out of her head. Unable to sleep that night, she sketched a prototype Mbah Jingkrak and decided to open a restaurant with that name, specializing in food that was usually available only in basic warung.
A few weeks later, in December 2005, the first Mbah Jingkrak was opened, with capital outlay of Rp40 million for preparation and promotion. It was an immediate hit, and within less than a month Maya had recouped her investment. Once again, she used gimmicky names for the food and drinks, such as pitik rambut syetan (satan's hair chicken), sambel iblis (devil's chili sauce) and es buaya darat (iced mainland crocodilebuaya darat also being slang for 'playboy').
In response to popular demand, Maya made Mbah Jingkrak available for franchises, initially costing Rp50 million. There are now about 10 outlets across Java. The head chef for each branch has to undergo training in Semarang to master the authentic spicy taste. As is often the case with franchised outlets, some are better than others.
I recently took a couple of friends to the Mbah Jingkrak on Jalan Panglima Polim IX (named after an independence fighter descended from Acehnese nobility, in case you ever wondered) near Blok M. There was only one other table of diners. The decor and furniture were nice. The same cannot be said of the food, which was set out like a buffet, only you don't help yourself. We pointed at what we wanted as nothing was labeled, not even with the distinctive joke names. Our orders were then assembled and placed inside a couple of microwaves. No joke. Not the most appetizing way to see a 'fresh' meal being prepared. The asem daging (sour beef stew) was a pool of gelatinous blobs that neither looked nor tasted like meat. The gudeg (jackfruit boiled in coconut milk and palm sugar) was revoltingly sweet. The bean sprouts might have been good had they been spared the microwave. The other vegetables were equally forlorn despite being extremely spicy.
Tastes like it was cooked in Semarang last week and brought here in a bemo [outmoded three-wheeled public transport vehicle], grumbled one of my dining companions, who required an extra portion of rice to sate his hunger. Outside the building, it was a different scene, where a warung and smoking satay stand, run by the same franchise holder, were doing a brisk trade. Ten satay sticks for Rp22,000 would have been better than the similarly priced wretched excuse for beef stew.
Two nights later I dined at Mbah Jingkrak on Jalan Setiabudi Tengah. Everything was vastly superior. This time the asem daging contained tasty chunks of actual beef. Another highlight was the ayam wewe, which sounded even better than it tasted, its name deriving from wewe gombel: a kind of ugly female ghost with sagging breasts. The tempe jingkrak was not obscenely hot.
The restaurant's service, decor and atmosphere are wonderful. It seats about 200, but still looks spacious. A quartet of musicians plays keroncong music each night. There's a pool and an outdoor area with gazebos, but no mosquito bites. One table, designated for romantic couples, is located over the pool, while some tables are designed to sway rhythmically. Anachronisms and cultural mash-ups abound in the decorations. In addition to the obligatory wayang (shadow puppet) characters and masks, there are also sporting mascots, baseball caps, railway memorabilia, antique bicycles, motorbikes and radios, boomerangs, books, and even a wall decorated with rollerblade wheels. It's all done with great style. There's also a collection of over 100 colorful soy sauce bottles. Ironic, then, that a little plastic bottle of Unilever's Bango brand sweet soy sauce adorns every table. Alongside the collection of old cigarette packs are some placards exhorting customers to smoke. Hilarious until the onset of lung cancer.
If you go on a Friday, you may have trouble distinguishing between staff and customers, as everyone seems to be wearing batik. The difference is that the waiters don blangkon traditional headwear.
The credit for Mbah Jingkrak Setiabudi's charm goes to franchise owner Sulistyo Wimbo Hardjito, who opened the restaurant in 2008 after a career that included senior positions in Indosat and Satelindo. He is presently commercial director of state rail company PT KAI, but he and his wife Pujiati still go to great effort to provide a homey atmosphere and good food.
Mbah Jingkrak Setiabudi may not be the most outstanding Central Javanese foodfor that you need to find a sidewalk warung that sears flavor through to the bonebut it is one of the most enjoyable places for dining. A large meal for two, including several drinks, costs about Rp150,000, and much less if you don't try to sample everything.