Aiming at Golds with Broken Arrows
The Indonesian contingent will compete at the SEA Games with barely enough preparation: a tight budget, lack of equipment, and still-unpaid salaries.
Edition : 10 Desember 2013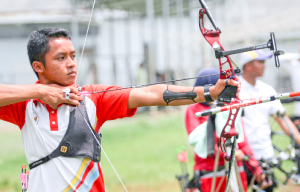 Youth and Sports Minister Roy Suryo halted mid-stride in reaction to a loud shot at Senayans National Karate Training Center in mid-November. He had wanted to pose for a group photo with the athletes. Just wait a moment, Pak. I wish to say something, Aswar said. The ministers expression showed his surprise, but he motioned for Aswar to finish his sentence.
Aswar used the moment to air his grievances about the inadequate preparations for the 2013 Southeast Asian (SEA) Games. He reported that the training equipment had never arrived. Aswar had never received his monthly pay of Rp4.7 million. One of my fellow athletes paid for the medical expenses and for the decker (protective padding for knees and elbows) on his own! he exclaimed.
Roy said that the equipment for training and competition was being taken care of and that the athletes pay was being processed. Theres no need for reluctance to report any inadequacies, he said. Just say so. Ill listen to all feedback.
Aswars candid statement was representative of many of the SEA Games 2013 athletes set to perform in Myanmar on December 11-12. For the sake of Indonesia, they have had to train under tough conditions: not enough equipment, unpaid allowances and inadequate training matches.
The cause: lack of funds. Indonesias budget for preparing its SEA Games contingent was slashed by 50 percent. The Indonesian Gold Program implementing unit (Satlak Prima), initailly proposed a Rp515 billion budget. But the House of Representatives (DPR) only approved Rp250 billion.
Satlak Prima chief Surya Dharmadi considered that amount insufficient. He proposed an additional Rp60 billion. But the government could not afford it. So Surya had to economize considerably.
For instance, he had to forgo the planned test match trials abroad proposed. The number of SEA Games athletes was slashed from 674 to 621. The funds for the young athletes development program were canceled for use for the SEA Games.
This had several impacts. The vitamins and supplements to be provided to the athletes were stopped. The provision of training equipment was delayed. Pay for the athletes, coaches and manager was late. The allowances for the July-September period were paid early in October. Nevertheless, the athletes were resourceful. They performed some acrobatic feats to make up for the limitations.
Take the Senayan archery field. Tempo found there that some of archer Alex Edwars arrows had cracked. With such deficient equipment, it seemed he would certainly have difficulty taking aim. But Edward was resourceful. I glued the broken arrows, said the athlete who hails from Central Kalimantan.
Edwar expected to receive a fresh arrow shipment before departing for Myanmar. If he did not get it, he would use the broken arrows to compete for gold medals.
Rahmianti, another athlete, had to use her own savings to buy supplements. Erik Syahputra, Rahmiantis fellow athlete, had to borrow money from his friend, since he had no savings. Erik was reluctant to beg money from his parents. Im afraid theyd be concerned [about my situation].
These unfortunate circumstances infuriated kempo martial art coach Ferryanto. He said his athletes were 90 percent prepared. But everything would be ruined if the athletes bought the wrong supplements and vitamins. Were afraid the supplements they buy on their own contain doping, he said.
Weightlifter Eko Yuli Irawan also had a hard time buying supplements and vitamins. When Tempo met him in mid-September, Eko showed eight bottles of supplements and vitamins he bought himself. He had to use his own money to the tune of Rp5 million per month to pay for all of these, while also buying milk for his 1-year-old baby. My savings are diminishing, he said.
These circumstances infuriated Hartadi Noertjojo, the head swimming coach. One of his swimmers, he said, had to spend his daily living allowance of Rp141,000, and this did not include supplements. The coach had to bear the inadequacies, to think that the coachs pay had not come down yet. The situation became increasingly complicated, as they had to pay for the pool rent and buy the swimming equipment, since the equipment from the Satlak Prima had never got round to arriving. Were asked to win [gold] medals but the money is still hampered in its coming, he said.
It was the same story with the wrestlers, cyclists, martial artists and other athletes. Wrestler Ridha Wahdaniyati had to buy all his own equipment. Weightlifting coach Lukman could not conceal his fury. They (the athletes) come here, leaving their family. If even their basic needs cant be fulfilled, how can the government demand much from them? Lukman said.
The government demands that its athletes win 120 of the 460 gold medals contested. The target is lower than that secured in the 2011 SEA Games in which Indonesia captured 182 golds. I dont want to set the athletes an illogical target, Roy declared.
In an official ceremony on Monday last week, the Indonesian contingent was sent to give honor to the Red and White flag in another country. At that moment the salary of several athletes for the October-November months had not yet been paid.
Dwi Riyanto Agustiar, Gadi Makitan, Aditya Budiman