West Nile in Surabaya
Indonesia had its first bout with the West Nile virus. There is still no cure or vaccine for the disease.
Edition : 25 February 2014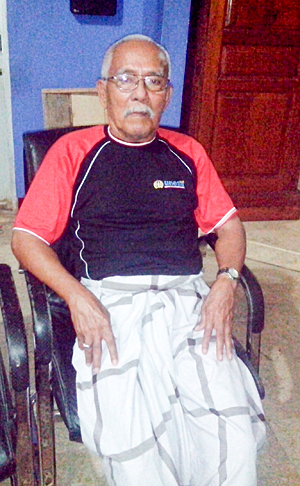 One morning last March, Kabul Isnen, 78, came down with a sudden sickness. "I ate breakfast at seven, and by eight I had a high fever," the grandfather of 12 told Tempo in Gresik, East Java, last week. "I was shivering." Kabul's body temperature rose to 40 degrees Celsius, and it was not long before he began to experience nausea and difficulty in breathing. He was not aware of what was happening around him, and his face swelled up. He was rushed to a hospital in nearby Surabaya. It was 12 days before he left.
In May 2013, two months after returning home, Kabul was hit by the same symptoms and was readmitted to the hospital for one week. In August the mysterious disease struck again, sending him back a third time. Then it happened yet again in October, resulting in four more days of hospitalization. "The symptoms came suddenly at random times," he explained.
Kabul underwent all sorts of blood and urine tests. The doctors measured his albumin, urobilin, bilirubin and leucocyte levels and sediment. They also evaluated his liver and kidney functions. Everything came up negative, and the doctors said he had normal health. They thought it might have been dengue fever, but tests came up negative for that, too.
The mystery began to unfold when Kabul visited Nasronudin, director of the Institute of Tropical Diseases (ITD) at Airlangga University in Surabaya. Closer observation and various examination methods revealed the culprit: West Nile virus.
As its name suggests, this virus was first found in Uganda's West Nile province in 1937. For more than half a century after its discovery, it was not taken seriously due to its then limited threat. There was some commotion in 1994 when it turned up in Algeria, outside its endemic area. From there it crossed the Mediterranean Sea and landed in Europe. Two years later, West Nile surfaced in Romania, this time sporting a more vile ability: attacking the nervous system of its victim. Once the virus arrived in New York in 1999, it was not long before it spread across the globe. The virus claimed 286 lives in 2012 in the United States alone.
"Those who are infected will experience fever, shiver as their bodies feel cold, and have severe headaches, joint and muscle pain, nausea, and will vomit, cough, have a sore throat and sometimes breathing difficulties," Nasronudin said. In some cases, the virus invades the brain and the nervous system. "The virus is particularly dangerous because it often triggers complications in the brain," he added. If that happens, convulsions and loss of consciousness, even death, might occur.
Kabul's infection was unprecedented. It was the first incidence of the virus in Indonesia. "Even though suspected cases have been filed, there had never been an official report," said Bimo Aksono, head of the Tropical Disease Diagnostic Center of ITD, in mid-January. Reports of West Nile are rare in Asia.
Since the virus is contiguous, the authorities think Kabul was not the only one infected. The ITD examined others who experienced similar symptoms. Its suspicions proved well founded. As of January, 12 people in Surabaya had been diagnosed with the disease. "We have received samples from 40 people suspected of infection, of whom 12 turned out to be positive," Bimo said.
The actual number of cases might be higher than that, given that the disease is still unfamiliar to many Indonesian doctors. It has often been misdiagnosed as dengue. "But when checked in the laboratory, dengue was negative," Bimo said. Therefore, as disturbing as the news of West Nile's presence in Surabaya might sound, Bimo and his colleagues believe the discovery will ultimately prove beneficial. "Why is that? Because lately there have been reports of fever with unknown causes. Though there are signs of viral infection, it is often not clear which virus is responsible. With this finding, we can suspect that the infected person might have West Nile," he explained.
The discovery should also be taken as a warning to improve prevention. West Nile has no vaccine. Prevention involves limiting its area of movement. This virus spreads through birds, especially wild ones that migrate. Unlike avian flu, however, West Nile moves from birds to humans via the mosquito. "The virus is transferred to humans by the Culex mosquito, which inhabit people's houses," Bimo said.
Unlike the Aedes aegypti mosquito, the dengue virus carrier that is active only during the day, the Culex is active around the clock. It is also quite prevalent. "That is why we concentrate on it," Bimo said. According to the US Center for Disease Control and Prevention, of those who are bitten by a mosquito with West Nile, only one percent become seriously ill. Controlling mosquito populations restricts the virus' movement.
Prevention is key because no cure has been invented to specifically treat the disease, Nasronudin said. "The therapies for patients are supportive and symptomatic," he said. That means doctors can only administer medicine that helps boost the body's defense system and suppress the symptoms, such as headache and fever. This therapy helped the dozen infected people in Surabaya heal in one to two weeks. "Most of them did not experience brain complications, so they recovered quickly," Nasron said.
Agita Sukma Listyanti, David Priyasidharta
---
1. Mosquitoes carrying West Nile bite birds, passing the virus onto them. As the name suggests, the virus was first discovered in the West Nile Province, Uganda, in 1937.
2. West Nile spreads via birds, particularly wild migratory birds.
3. The transmission of West Nile virus from birds to humans is usually via culex mosquitoes.
Symptoms of West Nile infection
Severe headache. In some cases, the virus also attacks the brain and nervous system.
Cough and sore throat.
Shortness of breath.
Chills.
Joint and muscle pain.
Nausea, vomiting.
West nile virus spread
United states
1999
Rumania
1996
Algeria
1994
Uganda
1937