A Grain of Wheat in the Tropics
Indonesia's tropical climate is unsuitable for wheat. But gamma ray radiation has enabled wheat cultivation in this country by altering the plant's DNA molecule sequences.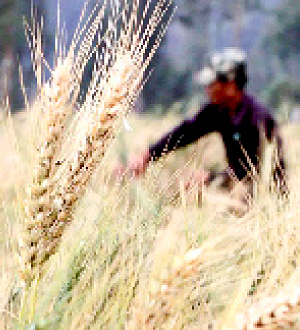 THE bottom of the pool glows twilight blue. The water, seven meters deep, serves as extra protection from the cobalt-60, a radioactive isotope. A thick and intricate concrete wall prevents the radioactive particles from escaping the irradiation chamber in which the pool is contained. Researchers from the National Nuclear Agency (Batan) are using the cobalt-60 gamma ray radiation to modify wheat, a native of the subtropicsequatorial Indonesia lies entirely in the tropicsso it can be planted in the archipelago.
Scientists and visitors need no special outfit to observe the chamber where the cobalt-60 is kept. "Security procedures here are tightly controlled. Before you enter the radioactive levels are measured. When you exit they are measured again," said Soeranto Human, a senior researcher at Batan's Isotope and Radiation Application Center in Jakarta. For wheat, the researchers use a smaller radiation machine. "The radiation exposure is very brief. Just a few seconds," he said.
Gamma ray radiation is a nuclear technology employed by Batan researchers to develop varieties of food crops. The agency has been creating new varieties of crops using radiation techniques since the early 1980s. So far, 20 rice, eight soybean, two green bean, three sorghum varieties and one cotton have been created. Batan contributed around seven percent of the total 300,000 tons of seeds in the National Seed Reserves program. "The rice varieties have spread all across Indonesia," Soeranto said.
Wheat is heavily consumed in Indonesia. Wheat flour and instant noodles are two examples of wheat products popular in the country. The problem is that annual consumption rates have continued to rise while wheat cannot be produced in the archipelago. In January, the United Nations Food and Agriculture Organization (FAO) reported that Indonesia was one of the world's largest importers of cereal products, shipping in 10 million tons per year. In the past year, Indonesia had imported 7.2 million tons of wheat, a seven percent increase over the previous year.
It was that high wheat consumption that motivated Batan to create a wheat variety that could be planted in tropical regions like Indonesia. The inspiration to employ radiation was taken from China. "Almost all wheat varieties cultivated in China were created through radiation mutation technology," Soeranto said.
The FAO reported in 2012 that China, with a wheat production rate of 125 million metric tons, was the second largest wheat producer after the European Union. Radiation was employed for wheat because of the difficulties encountered in modifying the plant by conventional methods such as cross-breeding. "Wheat is a hexaploid plant: it has six pairs of genes compared to just two in rice," Soeranto explained. "With wheat, there is a greater chance of obtaining a better variety through mutation."
The Indonesian climate is unsuitable for wheat, according to Hendig Winarno, head of Batan's Isotope and Radiation Application Center. Despite having been created through radiation mutation, new varieties of wheat seeds obtained through foreign sources could not immediately be sown here. "The wheat in Indonesia is 100 percent imported," Hendig said. "This condition motivated researchers to come up with a new variety capable of growing here."
Eleven years ago, Batan restarted wheat research that had ceased in the mid 1990s. They obtained four wheat seed materials from the International Maize and Wheat Improvement Center (CIMMYT) in Mexico. However, wheat requires a relatively long cultivation period between planting and harvest, and its tall stalks are subject to strong winds that could collapse the plant. "We commenced the irradiation to improve plant quality, and then it was test-planted several times in a number of locations," Hendig said. North Sumatra, West Java and South Sulawesi were some of the testing sites.
The experiment yielded a wheat production rate of up to five tons per hectare, with a cultivation period of 90 days. The wheat variety can be planted in lands of medium elevation, those from 300-800 meters above sea level. It is also resistant to leaf rust disease, the biggest threat for wheat. Plants that contract this disease usually show symptoms in the form of leaf damage with brownish-yellow coloration.
The Agriculture Ministry approved the release of this new wheat variety in December last year. Signed by Agriculture Minister Suswono, the decree mandated that Batan's CBD 17 wheat strain be released to the public under the name 'Ganesha.' "The safety aspect of our variety is recognized and anyone can cultivate the wheat," said Suranto, who worked together with four colleagues to develop the wheat variety.
Agriculture Ministry Secretary-General Hari Priyono said wheat research and pioneering projects had gone on in several locations for a long time. "However, a further stage is needed for development with economic scale," Hari wrote in a text message last two weeks.
Batan is not the only institution researching wheat. The Indonesian Wheat Consortium, a joint institute for wheat research, comprises educational institutions such as the Bogor Agriculture Institute, Gadjah Mada University, Satya Wacana University and Andalas University, which are also researching the cereal. And the Agriculture Ministry does its own work. Fifteen varieties of wheat are proposed for examination. "We sent five wheat mutants to be evaluated along with the experiment results from other consortium members," Soeranto said. "Batan's wheat passed the test and was declared suitable for cultivation."
Prior to the irradiation process, researchers studied the wheat's radiosensitivity level. Gamma ray radiation exposure dose started from 100 gray. The different radiation stages reveal which dose yields the best diversity level. If the dose is too low, the wheat's genetics will show no change. Too high, and the resulting wheat will be reduced in size or even killed. "Three-hundred gray yields the best radiation result," Hendig said.
Upon exposure to radiation, the wheat's deoxyribonucleic acid (DNA) sequence changes. The separated strands of DNA are then joined back in a different sequence. "That is the goal, to create new diversity," Hendig said. An irradiated variety is then planted until harvest counted as one generation in evaluation. At least six generations need to be elapsed to create a pure, high-quality wheat seed.
Just like rice, corn and sorghum, wheat is a self-pollinating or homozygous plant. The irradiated wheat mutant may be released if the plant has reached its homozygous stage, which usually takes six generations. "At a minimum, three years are required to obtain the sixth generation," Soeranto said.
The method of creating mutation through radiation, according to Hendig, is not the same as genetic modification. The latter means an effort to add foreign genes, which might come from another variety or organism, like a virus or bacteria. There is a very big possibility of a subsequent genetic change in the material created through genetic modification. "With radiation, the change is done once, and it stops there," Soeranto said.
Hendig is aware that some might be wary of wheat that has been mutated with radiation, despite the technique's common application. Mutation also occurs naturally in plants by means of sunlight. It has to do with the way plants adapt to their environments. With nuclear technology, radiation accelerates this process through employment of gamma ray. "Radiation is just a passing light ray, just like sunlight. It leaves no residue," Hendig said.
Some packaged food products also undergo radiation as part of their processing. Some even take high doses of up to 10 kilogray (kGy) in order to kill microbial and fungal contaminants, yet they remain safe for consumption. "However, if the dose exceeds 50 kGy, re-evaluation is needed to determine whether it leaves free radicals or not," Hendig said.
A set of regulations re-written in 2003 by the Codex Alimentarius Commission, an institution formed by the FAO and the World Health Organization (WHO), stated that the dose of radiation applied to food materials must not exceed 10 kGy, excepting for supervised special purposes.
The quality and taste of irradiated wheat remains similar to its more ordinary cousin. Wheat quality is judged from its gluten content. Bread made with wheat containing good gluten content will rise upon cooking. "Other elements are similar to rice," Soeranto said. He recommended consumers choose milled wheat that is brownish in color. "If it is white, then it needs to be approached with caution because such wheat is usually the result of bleaching, just like rice that contains chlorine bleach," he said.
Gabriel Titiyoga
---
The Purpose of Food Radiation
Food radiation technology has been used for years by more than 50 countries, including Indonesia. In 2009, the Health Ministry issued a regulation on the maximum dose of radiation allowed to protect the consumers.
Food
Type Radiation
Purpose Maximum Radiation
Dose (kgy)
Onions and rhizomes
Prevent growth of sprout during storage
0.15
Fresh fruits and vegetables
Prevent decay; eradicate pests;
prolong storage period; quarantine
1; 1; 2.5; 1
Processed fruits and vegetables
Prolong storage period
7
Mangoes
Prolong storage period
0.75
Mangosteens
Eradicate pests; quarantine
1; 1
Cereals, rice, nuts, dried fruit
Eradicate pests;
decontamination of microbes
1; 5
Fishes and
marine products (fresh and frozen)
Eradicate microorganisms;
prolong storage period;
parasite control
5
Processed fish products
Eradicate microorganisms; prolong storage period
8; 10
Read meats and poultry (fresh and frozen)
Eradicate microorganisms;
prolong storage period; parasite control;
eradicate Salmonella Spp bacteria
7; 3; 2; 7
Dry vegetables
and seasonings
Eradicate microorganisms;
eradicate pests
10; 1
Processed animal
products
Eradicate insects; eradicate
microorganisms
1; 5
Fast food made
from animal products
Sterilization; eradicate
acteria spores; prolong
storage period
65