Lalu Muhammad Iqbal, Phd-director Of Protection And Legal Assistance For Indonesians Overseas, Foreign Ministry:
This Is The Government's Biggest Evacuation Program
INSTABILITY and chaos following air strikes aimed at the Shia Houthi rebels in Yemen has led the Foreign Ministry to activate its evacuation of Indonesian citizens program. By the ministry's count, as of September last year there are more than 4,000 Indonesian citizens living in that war-torn part of the Middle East. Twenty-three among them were arrested by the Yemeni authorities, but released on March 30.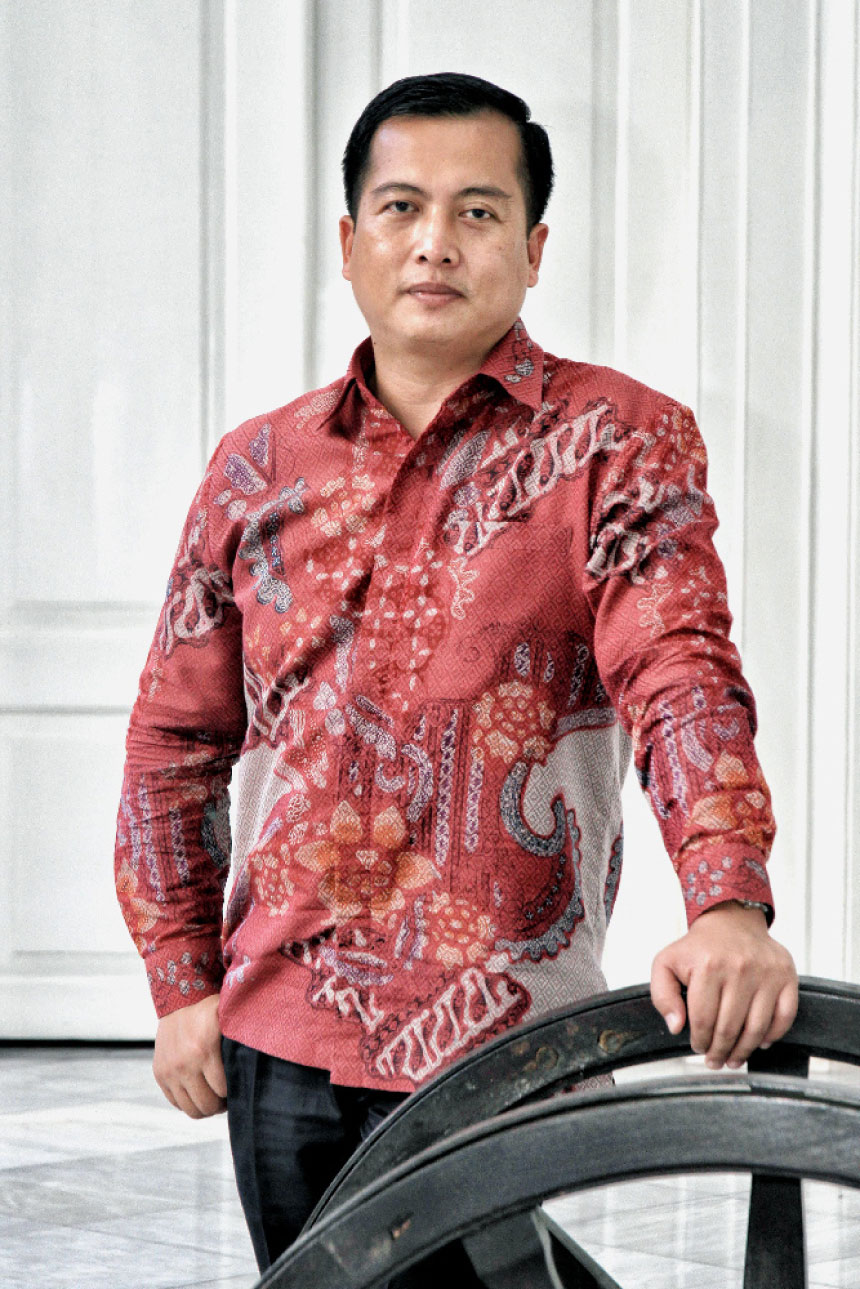 INSTABILITY and chaos following air strikes aimed at the Shia Houthi rebels in Yemen has led the Foreign Ministry to activate its evacuation of Indonesian citizens program. By the ministry's count, as of September last year there are more than 4,000 Indonesian citizens living in that war-torn part of the Middle East. Twenty-three among them were arrested by the Yemeni authorities, but released on March 30.
Seven months after the government issued a warning for Indonesians to leave Yemen, about 2,000 are believed to be still there. Some are reluctant to head home, but others have found it difficult to find meeting points to join the evacuation process.
Last week, some 89 university students in Aden failed to reach the port area where they would have been sent home by sea. Yet the 200-passenger capacity ship leased by the Indonesian government from Djibouti had been waiting for them for 24 hours.
A number of radical options considered by the evacuation team has made Lalu Muhamad Iqbal, the Foreign Ministry's director for the Protection and Legal Assistance of Indonesians abroad, quite nervous. "We're not asking them to be recklessly brave," Iqbal told Tempo reporters Isma Savitri and Natalia Santi, last week at his office. "In fact, we tell the team to be realistic, because sometimes they tend to be quite militant when trying to rescue people."
He described the recent evacuation of Indonesians from Yemen as the biggest ever carried out by the government. Besides involving members of the Indonesian Military (TNI), police and State Intelligence Agency (BIN), they have had to take alternative land and sea routes, in addition to commercial flights. Excerpts of the interview:
What is the latest status of the evacuation mission from Yemen?
More than 1,000 people have been brought home. We figure some 1,448 people, mostly workers in oil and gas companies, may not have been on our list. Last year, they contacted us to say they had their own evacuation plans. Then there are 2,000 Indonesians living in Hadramaut, 1,500 in Tarim and 500 more at Al-Mukalah, where conditions seem to be more stable. About 2,000 people we plan to evacuate are concentrated in Hadramaut.
What alternative evacuation routes will be used?
This is the biggest evacuation that has ever been carried out by the Foreign Ministry. For the first time, we have considered using the land, sea and air routes. It is also the first time that we are involving members of the police, the TNI and BIN, a sign of the strong relations between our minister with the deputy police chief, the TNI chief commander and the BIN chief. As such, when the air strikes hit Yemen, we were ready and immediately prepared the evacuation plans.
The key to an effective foreign policy is when the related ministries collaborate and work as well as with those of other countries. At midnight yesterday (April 7), the foreign minister contacted the Saudi defense minister because our aircraft were having difficulty landing at Jizan. We actually had no permit to land there, but we took that route because our planes failed to land in Salalah. Eventually, it was facilitated by our minister's good relations with her international counterparts.
Previous evacuations were never this complex?
I didn't say that. All I'm saying is that the reason all went well in this case is because of the good relations between our foreign minister with related agencies in the country, as well as with her counterparts outside of the country. Secondly, it's because the team worked well.
Which agencies were involved in the team?
Members of the police, the army and the Foreign Ministry. They all have had experience in evacuating Indonesians from Tunisia, Tripoli, Damascus and Cairo. So they are well-trained, particularly in managing crisis situations because they have been trained by the UNHCR (UN High Commissioner for Refugees). Not surprisingly, while others find it difficult to enter Yemen, they (our evacuation team) found it easy to enter via Al-Hudaydah, and in fact we were welcomed by the local residents. In western Yemen, 15 people joined the team and from the eastern part there were eight people. There are more personnel in the western part because there are more Indonesians there needing evacuation.
Did they recruit locals in each of those areas?
The eastern team was led by Yusron Ambary. There they needed people who were persuasive and could speak in the 'religious' language because many Indonesians there are students [of Islamic institutions]. When Yusron's team first got there, only 50 of them were willing to be evacuated. Within three days, almost 500 decided to go along. Team members also approached leaders of universities and Islamic boarding schools. Some campuses that initially refused to allow their students to be evacuated eventually changed their minds. They were given two options. If the conflict was short-term, the Indonesian students would be allowed to return to Yemen, but if the war looked like it might be a long one, Indonesian students would be asked to continue their studies at local branches of those institutions, such as Al-Aqaf in Cirebon, West Java. Because this was a humanitarian mission, the approach was to be very humanistic.
What about in the western part of Yemen?
The team in the western part, including in the area of Al-Hudaydah, was led by Susapto Broto. Here too, the approach had to be humanistic. To local residents, the team had to say they were friends of the Yemenis, of course, all in Arabic. Because the conflict was in the Middle East, many of our personnel were those who could speak Arabic. They were really brave. But we asked them to be realistic, because they tended to be too militant when rescuing people.
During this process, who did you communicate with?
I communicated with the ICRC (International Red Cross) in Salalah. We notified them when we needed help and it turned out that they also had problems channeling assistance to Aden, where many of our citizens were concentrated. So in the end, they advised Indonesians to remain there.
Why Aden?
According to the ICRC it was the safest place. Facilities such as schools were not targets of attacks.
Many students in Aden yesterday found it difficult to reach the port area. Did the team then opt to go by land?
In principle, when planning an evacuation, more than one route should be considered. So, we will be evaluating options from time to time. The land route would have to go through Al-Hudaydah, because that is a strategic location, with an airport and a seaport. From Aden to Hudaydah, it takes about six hours by road. It's also close to the Saudi Arabian border, about a five- or six-hour drive. Al-Hudaydah is also located between the two warring cities, Sanaa and Aden.
Some Indonesians refuse to be evacuated because they still need to complete their schooling. How does the evacuation team deal with these people?
That's a challenge in itself. In principle we are not in a position to force Indonesians in Yemen to come home, because that is an individual choice. On the other hand, the government is responsible for protecting its citizens, according to the constitution. That responsibility is what we carry out, while explaining the importance of the evacuation and explaining our view. Perhaps our perspective differs somewhat with our friends over there. Our perspective is broader because we have experienced conflicts many times. We haven't seen the conflict escalate to its peak yet. What we're afraid of is if we run out of options.
What would that be like?
That will be when we can no longer enter Yemen. This is why it's important that we advise them properly at this point in time. The fact is that we have provided the facilities, we sent people with the complete tools and equipment and we bear all the costs of the evacuation until their place of origin.
Is the situation likely to change for the worse soon?
Just look at the Al-Mukalla incident on April 1. Indonesian students there still wanted to stay and continue their schooling because conditions were still good. The next day, the air strikes targeted the Al-Mukalla prison, to release 20 members of Al-Qaeda. That shows how volatile the situation can be. There is no guarantee that conditions will improve anytime soon.
If unforeseen incidents happen although the evacuation process is incomplete, can the government be blamed for it?
According to the foreign minister's instructions, so long as any Indonesian citizen needs assistance, we will give it. But our capacity will decrease when conditions become difficult.
Are there plans to send battleships to evacuate people?
We considered that option, but it doesn't seem to be an effective choice, even though the possibility is still there. The reason is if we send warships, it must go through Beirut and that would take a long time before reaching Yemen. We also have a hydro ship which is currently moored at Port Said, at the Suez Canal. That ship would take seven days to reach Yemen.
Who owns the ship we use from Djibouti to Aden?
It's leased out of Djibouti.
How much would that cost?
Four times the normal cost. We have no choice and even then we compete with others. There are many ships there but not all of them dare to sail to Yemen. The ship we leased is used to traveling between Aden and Djibouti on a daily basis, so they really know the area. The ship is small in size, able to take in only 200 passengers. But the bigger the vessel, the more difficult to maneuver. Our ship is small but it can sail directly to the harbor. Unfortunately, there were some people we were unable to evacuate at that time.
What about scores who were unable to board the ship in Aden?
The ship was there but the people were not. Yet the ship had been waiting for 24 hours. In the end, we had to change our strategy. Let the people go ahead, then the ship will follow. The ship needs 10 hours to sail. So, if tonight, for example, I ask that a ship sail somewhere immediately, it can reach its destination the following day.
How is the coordination?
Imam Santoso, our ambassador in Addis Ababa, Ethiopia would move to Djibouti. Our teams in Aden and Jakarta would monitor developments. We asked Indonesians there to head to the port. Meanwhile the Yemeni authorities only permitted people to congregate at the port only if the ship was there. On the other hand, the ship cannot stay for too long at the harbor, only for a maximum 24 hours.
But the evacuation process in Yemen seems to have gone smoothly.
On September 5 last year when we entered Sanaa for the first time, we had advised Indonesians there to go home, but only 332 agreed to be sent home. When the palace was surrounded, we strongly advised them to leave, but this time only 178 were willing to leave. Only after the air strikes did more people register to be evacuated.
Weren't schools in Sanaa closed down?
Yes, but the problem was that even when families in Indonesia asked their kids to go home, the kids refused to go.
We heard that the evacuation team had to change cars six times to go to Salalah.
It happened at Salalah. They were loaned cars owned by Medco company but only until the border. So, they had to change cars six times before they reached Tarim.
The difficulty was in heading for Tarim?
Yes. There were two aspects to that trip: one was trying to get to Tarim or to make sure that the route would be able to be used for evacuation. So, one would open the route, speak to people they met along the way, kind of telling locals Indonesians would be passing that way. Like asking their permission to use the road.
Do the Yemenis know Indonesians?
Of course. Most of the students there are Indonesians. That's one advantage we have in carrying out this operation. Everyone there could accept it, like it was in Tripoli and Damascus. The great thing is the ex-team members who worked in Damascus still keep in contact with friends over there. Such relations have become assets for us, because they can transfer to the next team. This happened in Yemen's case.
Is it true they were arrested by Yemeni authorities and then released?
Again, this was due to our good relations with the local officials. We got them released one day after we heard about it.
Why were they arrested in the first place?
Because of the conflict, they had a difficult time getting their residence permits extended. They actually wanted to take part in the evacuation process, so they came to Sanaa. Over there they had no place to stay, so they slept in mosques. After their arrest, we were informed about it so we went there. We eventually convinced the authorities after we explained that this was an emergency situation.
What about the 16 Indonesians we've been hearing are linked to the Islamic State of Iraq and Syria (ISIS) and arrested?
Twelve have returned home. Our concern is about people who insist on going to Syria after our warnings not to go there. Some of them brought along children. These are people who seek work, so it's not a good place to bring kids.
Do they really want to join ISIS?
We don't dare conclude that they are linked to ISIS. In Syria, there are many other [militant] groups besides ISIS. More information about their situation is in the hands of the police. So, if they plan to have anyone deported, there should be a police-to-police communication, especially with the Turkish police. The criteria is that if after 24 hours, there is no evidence against them, they must be sent to the Social Affairs Ministry.
But they're already reported to be linked with ISIS.
Many issues have emerged, such as the public and the media concluding they're ISIS members. This can make them unwelcome by the local population when they do go back. That's why we tend to be careful when applying labels because the impact of that can be quite serious. Ask the Social Affairs Ministry what happened. It's very tragic. They are now being treated for trauma, at the Bambu Apus area in East Jakarta.
Have they found the other 16 who came via a travel agency and then disappeared?
Not yet, but the police is looking into it. What is interesting is the 16 of them. It turns out just the capacity of a car which takes people in and out of the border. Before, many people asked about it.
---
Dr. Lalu Muhamad Iqbal
Place & Date Of Birth: Praya, Lombok, July 10, 1972
Education:
-BA International Relations, Muhammadiyah University, Yogyakarta (1996)
-MSc International Relations, University of Indonesia (2000)
-PhD Political Science, Bucharest University, Romania (2005)
Career:
-Staff, Southeast Asia Sub-Directorate (1998-2001)
-Third Secretary, Indonesian Embassy, Hungary (2001-2005)
-Staff, Directorate-General of Multilateral Relations I (2005-2006)
-Chief, Transnational Organized Crime Section, Directorate-General of Multilateral Relations (2006-2008)
-Political Counselor, Indonesian Embassy, Austria (2008)
-Chief, Sub-Section for Protection of Indonesian Citizens Overseas (2012-2104)
-Acting Director, Directorate of Protection and Legal Assistance for Indonesian Citizens Overseas (2014-to date)