Gen. Badrodin Haiti National Police Chief:
We Are Not Angels
AWARE of the tide of public opinion against Police Comr. Gen. Budi Gunawan, newly installed National Police Chief Gen. Badrodin Haiti hurriedly swore him in as his deputy last week. The closed and hush-hush affair took advantage of a major public distraction, the Asia-Africa Conference.
Edition : Tuesday, April 28, 2015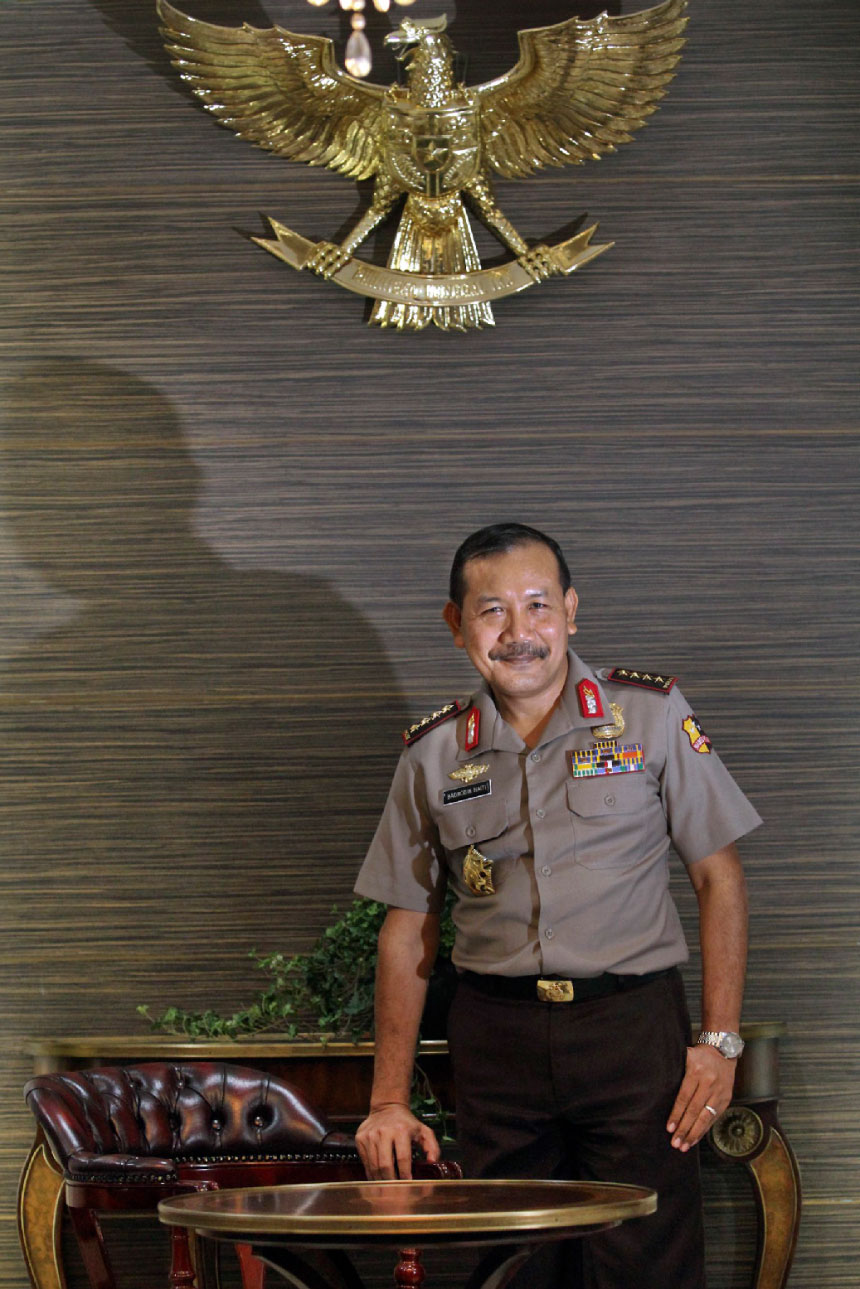 AWARE of the tide of public opinion against Police Comr. Gen. Budi Gunawan, newly installed National Police Chief Gen. Badrodin Haiti hurriedly swore him in as his deputy last week. The closed and hush-hush affair took advantage of a major public distraction, the Asia-Africa Conference.
The ceremony, which took place at the main meeting room of the National Police Headquarters, was only attended by two- and three-star generals, a few staff members and members of the National Police Commission. Not too long ago, Budi Gunawan's nomination as the police chief was withdrawn by President Joko Widodo, due to massive public protests. People were angered because Budi Gunawan had been reported widely by the media as being charged for corruption.
Haiti, who was sworn in to his new job by the president on April 17, is not unaware of the controversy Budi Gunawan's appointment as deputy police chief was bound to create. But he is convinced it had gone through the legal procedures, such as obtaining the approval of the Senior Officers Promotions Council (Wanjakti), on the previous day. Reportedly, the council unanimously voted for Budi Gunawan over three other candidates.
That afternoon after swearing in his deputy, Haiti met with Tempo reporters Isma Savitri and Dewi Suci Rahayu for an interview in his office.
W251bGwsIjIwMjEtMDYtMjUgMDc6MzI6MzYiXQ
People were angry when Budi Gunawan was nominated as police chief. Now he's been chosen to be your deputy?
There's bound to be people for and against [his appointment], as well as my own as the national police chief. There's no denying that. But let's see how he performs. We could have chosen someone else, but would we have the same results? There's no way of knowing. The deputy police chief was chosen by his fellow police officers and they know well his plus and minus points.
Does that mean you're confident Budi Gunawan is the right person to stand by you?
I certainly hope so because that is much better than my working alone. If all of the council members voted for him, that means there's something good about him. This wouldn't be the first time that I will be working with him. So we know each other's plus and minus sides.
Or is it because he is the candidate approved by those in power?
Not really. There are some members of the House of Representatives (DPR) who hoped he wouldn't make it.
How many three-star generals are there, and why was Budi Gunawan chosen?
The council chose him. It was unanimous.
Many people see a lot of external political pressure in this decision. Some politicians have been vocal about their support for Budi.
It's nothing like that. The president's instruction was to leave it to the Wanjakti council. He didn't intervene and neither did the DPR. People may think the police are under political pressure. The challenge for us will be to prove that the risks are not as bad as people think.
The corruption charges against Budi Gunawan are being investigated by the Police Crime Investigation Division (Bareskrim). Won't that be a problem?
No problem. Even the police chief can be investigated. The investigation results were submitted to the council.
What about the problem with Budi Gunawan's double ID cards, which got a lot of public attention?
It has been investigated. Such things happen in the force when an officer is assigned on an undercover case. In fact, there may be a policeman holding a press card so he can work among reporters. Even passports can be made for a specific mission.
Before choosing Budi Gunawan as your deputy, did you have a chance to speak to him privately?
We meet all the time at headquarters. We can raise the issue anytime, but we don't. We know each other well. When the council asked whether Budi Gunawan could attend one of the meetings, I said it wasn't necessary. It would just make it awkward.
We understand that on the previous Friday, 90 percent of the council had agreed to select Budi Gunawan, but it wasn't announced until the following Tuesday.
We waited until Tuesday so that those who were unable to make it on Friday, could vote on it too. Everyone must vote if they feel Budi Gunawan is the one, and they must be responsible for it.
Who were the absentees that Friday?
On Friday, Pak Irwasum (Comr. Gen. Dwi Priyatno, Oversight Inspector) was representing me in Bali. Then Pak Arsena (Insp. Gen. Tito Karnavian, Planning Assistant) was in Singapore as a resource person at a meeting. While Pak Asops (Insp. Gen. Arif Wahyunandi, Operations Assistant) was in New Zealand. Because the council was missing these members, they could not come to a decision that Friday, and that was why we delayed it to yesterday.
According to the chief of the Crime Investigation Division, Budi Waseso, council members who were absent were called one by one and told to attend the next meeting.
No calls were made at the meeting because I led it. Maybe they were done after the meeting.
So when did you inform Budi Gunawan that he would be the deputy police chief?
That's not the way it's done. If I had told him before the council had decided, what if they didn't agree?
What's so special about Budi Gunawan?
He's good with personnel, with products and coming up with concepts, including those on bureaucratic reform. So, in my opinion, on staff work, he is quite good, so he can help me with that. He's a cool person, an ideas man and he has good vision.
How will you divide duties between the two of you?
The duty of the deputy police chief is to coordinate the staff. It's unlikely for me to do it on my own. Another task is to represent me [at events and meetings] when I can't make it, and other duties according to my instructions.
So, policymaking is in your hands?
All policies come from me.
Many people are concerned that the police force will now have twin suns, or a two-person leadership, because the two of you are equally powerful. In fact, the worry is that Budi Gunawan will dominate.
Let's see what happens. I don't see any two suns. I am the police chief, I hold the authority and I am in command.
Why did the Budi Gunawan swearing-in ceremony seem like a closed event?
It was the same with the swearing-in of Pak Budi Waseso yesterday. It will take place in the upper floor and no invitations have been sent out yet. If it's done tomorrow (Thursday), I won't make it. So, the time is now. If others haven't been invited, well, that's alright, we will just have a simple ceremony: only the two- and three-star generals in attendance, with members of the National Police Commission and a few staff members.
Why weren't the media allowed in?
They could have attended it, because it wasn't a closed event, but the venue is quite small. We wouldn't be able to keep such events closed, many people are bound to find out about it.
On Tuesday, there was nothing about a new deputy police chief. Then suddenly, the swearing-in happened.
Last night, the process had not been completed, because we hadn't sent a notification to the president. If the letter was sent last night, perhaps we could have prepared it better.
What did Budi Gunawan say during his swearing-in?
He hasn't said anything yet. Just now, I gave him short instructions, that the vision and mission to all regional police chiefs must be immediately executed.
Did you coordinate with President Jokowi over who would be the deputy police chief?
He had previously given instructions, that he would not intervene and that it was up to the Wanjakti council. He never appointed anyone.
So, you considered it unnecessary to check with him first?
Yes, that was part of the instruction. Pak Jokowi is busy with the Asia-Africa Conference. But I did send him a letter about it, through the State Secretariat. At 11am today, I also told the State Minister that I had sent the letter.
So you really haven't had the opportunity to speak to Pak Jokowi about Budi Gunawan?
(Haiti is quiet for a while) I followed his instructions. He instructed that the selection of the deputy police chief be done through our internal mechanism, which means the council. So, because he did not appoint anyone [in particular], it means that it should be the Wanjakti doing the selection. That's my understanding. If he had given instructions not to do this or that, it would have been clear. But he referred it to the mechanism and that means the Wanjakti.
What if the president is disappointed because you failed to read him correctly about Budi Gunawan?
That's how I saw it.
Can the council's decision be changed if the president disagrees with it?
Yes, that may be possible, but it must follow the mechanism.
Would it be through Wanjakti again?
Yes. The president, after all, is commander of the police force. If he instructs us to do something, it must be done.
Even if Jokowi disapproves, the important thing is that the PDI-P and the politicians approve.
Some politicians do not approve.
Aren't you worried that Budi Gunawan will place his own people in strategic police positions?
I'm the one who signs [documents]. If I don't sign, it doesn't happen.
Your tenure is just 14 months. What will be your priority during that time?
To restructure personnel training. The first step will be to improve the recruitment [system] because this is how improvement starts. In this way, we can choose quality candidates. Second, we will seek regional police chiefs, train them at headquarters and re-send them back to their areas. All this time, when we assign people from cities to the provinces, they ask to be reassigned in less than a year.
What other methods will be used?
A research in the US says that 40 percent of people enlisting to be members of the police force intend to do something negative once they pass the tests. This must be minimized by carrying out a proactive recruitment system. So, we will be the one looking out for recruits, not those who seek to enlist. It would be a pity if there are people with good attitudes and integrity who fail the selection test just because they can't swim.
What about solving cases?
The priority will be on corruption and drug-related cases. We will also look at agrarian cases because there are so many conflicts related to them in Indonesia.
What innovations do you have in mind?
Besides law enforcement, we must try our hardest to raise the people's trust in us. Besides improving our performance, we will also improve communication with the public. We have much positive news to share, but it's not done well. Take the case of drug dealer Freddy Budiman. It was good news and the people supported it. We should have such good news at least once a month in the media.
Relations between the police and the Corruption Eradication Commission (KPK) became strained because of the criminalization of Bambang Widjojanto and the indictment of Budi Gunawan. How will you resolve this problem?
We hope relations with the KPK will improve. We are communicating and there are factors which prevent us from saying 'I'm in power'. Corruption is not the problem of the KPK alone, but that of the police, the prosecutors office and this nation. So there must be synergy between law enforcement agencies, both in the prevention and the enforcement of corruption.
We will also carry out internal restructuring. We also want to be clean and we will ask KPK's help on how we can improve our system, because sometimes we are unable to look at ourselves realistically.
What kind of communication do you want to establish between the police and the KPK?
We are not angels, there must be things we ought to improve. We want to do that, really. But warn us in advance. If we have been warned and there is still no improvement, then, please take action against us.