FIFA Crackdown
On May 27, 2015, at 6am the streets of Zurich were quiet. A receptionist at the Baur au Lac Hotel called up to a room occupied by a FIFA official. "Sir," said the receptionist in English, "Open the door for us or we'll be forced to break it down."
Edition : Tuesday, June 9, 2015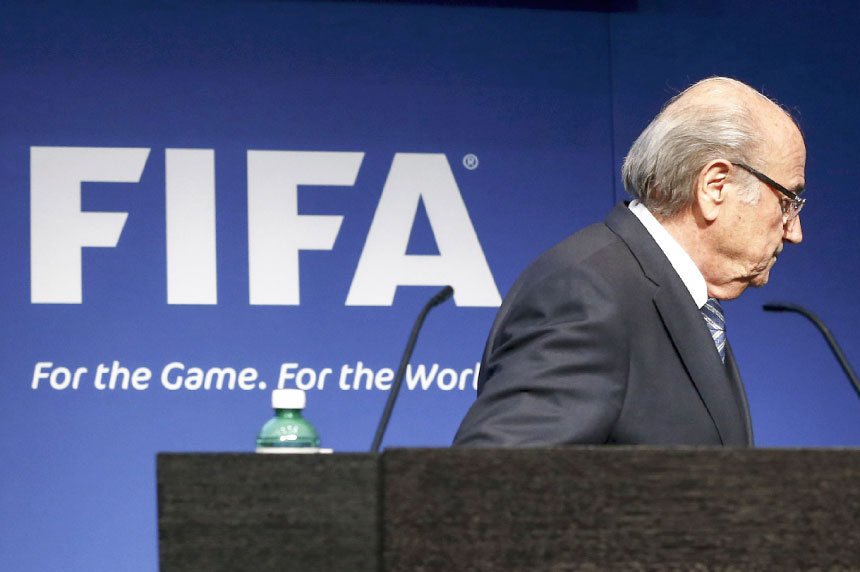 On May 27, 2015, at 6am the streets of Zurich were quiet. A receptionist at the Baur au Lac Hotel called up to a room occupied by a FIFA official. "Sir," said the receptionist in English, "Open the door for us or we'll be forced to break it down."
As reported by The New York Times, the receptionist made the call on instructions from a Swiss policeman who had come along with dozens of others to arrest seven high-ranking FIFA officials staying at the hotel. The figures would then be extradited to the US to be interrogated as part of the US Federal Bureau of Investigation's probe into bribery and corruption allegations at the international soccer body.
FIFA officials eventually relented. No doors were broken. Police even gave them a chance to change their clothes and pack their bags.
Eduardo Li Sanchez, one of the seven arrested, was taken out through a side door facing a narrow street. Several hotel staff members held out a sheet connecting the door to a waiting station wagon, so that the representatives of North, Central America and the Caribbean (CONCACAF) of the FIFA Executive Committee could leave without being recognized.
W251bGwsIjIwMjEtMDQtMjIgMDc6MjY6MDciXQ
The arrest, which reportedly took less than two hours, shocked the soccer world, occurring just two days before the election of a new FIFA president. Some deemed the crackdown to be the proof of the corrupt 17-year leadership of incumbent president 'Sepp' Blatter. Still, Blatter refused to back down, and two days later was reelected FIFA president.
Four days after that, however, on June 2, Blatter resigned, requesting the FIFA Executive Committee hold another election. Blatter said he would continue to carry out his duties as president until the new president was elected.
Blatter's resignation ended attempts to shake-up FIFA leadership, which began four years after Blatter's 1998 election, when 11 FIFA Executive Committee members sued him in Swiss court for allegedly embezzling FIFA funds for his own personal use. They pressed him to step down. In the 2002 verdict, Blatter was cleared of all charges.
Blatter is said to have known about the bribery that took place during the bidding for the broadcasting rights to the World Cup in 2002 and 2006. Nepotism charges were often leveled against him, but nothing compared to the furor created by the arrest of the seven FIFA officials in Zurich, and the ensuing press conference held by US Attorney General Loretta Lynch to clarify the the matter.
This time sponsors chimed in, which pushed Blatter into a corner. Visa, the biggest credit card firm in the world, released the harshest statement in response to this arrest. "Seeing the latest situation," said Visa in a statement, "our disappointment with FIFA is very deep. As a sponsor, we expect FIFA to take an immediate action to resolve this problem. Start rebuilding a strong culture and ethics."
Visa, a FIFA sponsor since 2007, recently extended its contract with the organization through 2022. The company has threatened to back out of its contract. "If FIFA fails to do so, we've told them we would reconsider our cooperation with them," Visa wrote.
Prior to the arrest at Bau au Lac, since last November, two major FIFA sponsors-Emirate Airlines and tech giant Sony-decided to cut ties with it. The two firms had paid US$177 million for the right to air commercials at soccer stadiums using the FIFA logo.
Reuters sources within Sony said corruption in FIFA was one reason behind Sony's decision to cut ties, but that fees demanded by FIFA were also excessive.
Other sponsors under contract with FIFA have also expressed their disappointment, including Coca-Cola, a FIFA sponsor since 1972, which is still under contract until 2022. "This ongoing controversy has tainted the idealism and the mission of the FIFA World Cup, and we have repeatedly expressed our concern about this serious allegation," says Coca-Cola's official statement.
The response from companies with FIFA ties to the imbroglio is due to the growing sensitivity of consumers and shareholders to corruption allegations, a view forwarded by the Institute of Directors (IoD) of Britain.
"These companies are responsible to shareholders for ensuring that the money does not go to the sports activities loaded with bribery and corruption charges," said Roger Barker, IoD's company management director.
If these sponsors end up walking away from FIFA contracts, the soccer organization stands to lose a large amount of income. As reported by Business Insider, FIFA's total income from last year's World Cup in Brazil stood at US$4.8 billion, of which 33 percent, or US$1.6 billion, came from sponsor deals.
Many suspect Sepp Blatter's resignation was caused by concerns over sponsorship insecurity, pointing to Blatter's resignation speech. "While I received a mandate from FIFA members, I do not feel I received a mandate from the entire soccer world-the supporters, the players, the clubs and the people who live, breathe and love soccer the way we do in FIFA," he said.
SKINS chief director Jaimie Fuller confirmed as such. "The only people FIFA listens to are the sponsors. True, big money comes from broadcasting rights, but their brands are not as exposed as sponsors," said the leader of Australia's sport clothing and equipment company.
Blatter's resignation has been warmly welcomed by many sponsors. "Our hearts are encouraged by FIFA's admission that they need major and basic reforms, as reflected by the resignation of president Blatter and that FIFA will carry out a major overhaul," Visa said in a statement. "This is the first significant step to rebuild public trust. However, there is still much work to do in the future."
Gadi Makitan (the Guardian, Reuters)