Above the Law
Sorong Police chief Karimudin Ritonga was jolted awake by the news, which came at 3am: Labora Sitorus was back, and he was turning himself in.
He hastened to the interrogation room on Monday morning last week to see the man who had been defying prison sentences for years.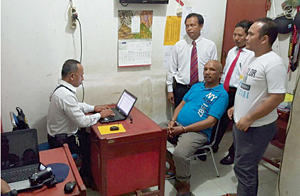 Sorong Police chief Karimudin Ritonga was jolted awake by the news, which came at 3am: Labora Sitorus was back, and he was turning himself in.
He hastened to the interrogation room on Monday morning last week to see the man who had been defying prison sentences for years.
Moments earlier, Kamarudin had seen a robust man hop off a motorcycle taxi in front of his office, but did not recognize the man as Labora. "I wasn't aware he was bald," he said on Tuesday last week.
The Supreme Court had sentenced Labora to 15 years in prison and a fine of Rp5 billion finding him guilty of conducting deforestation, hoarding fuel, and doing money laundering and obtaining ill-gotten bank accounts of some Rp1.5 trillion
Three days before his surrender, a 600-strong team of police had attempted to arrest Labora at his house in Jalan Diponegoro in Tampa Garam, West Sorong, West Papua.
According to Karimudin, police had been spying on Labora's house and factory for two weeks. For three hours, officers shot teargas as Labora's men pelted them with stones. A barracuda-armored car eventually broke through the gate, which was fortified with trucks and a container.
Once police got into the house, however, Labora had disappeared.
Labora told Karimudin he left his house around 6:30pm two weeks prior, and for three days had been hiding in an empty home in the Boswesen area, just three kilometers from the home police stormed.
According to Labora's adopted brother Fredy Fakdawer, Labora knew the police were coming. Prison officers and the Sorong police officers had repeatedly asked Labora to turn himself in to avoid their having to use force. However, Labora refused to comply.
* * * *
Spectacularly wealthy, Labora Sitorusformerly a policemangot his business start selling essential goods and liquor. Eventually, he moved into wood processing and fuel distribution. Time and again accused of illegal activity, Labora somehow always managed to emerge unscathed.
That is, until the Financial Transaction Report Analysis Center (PPATK) detected thousands of suspicious transactions between bank accounts belonging to Labora. From 2007-2012, the PPATK counted some Rp1.5 trillion in cash moving in and out of the bank accounts of the then chief brigadier. The finding was reported by the PPATK to the National Police.
Labora began to push back once the Papua Regional Police began to investigate, filing reports with the National Police Commission and the Corruption Eradication Commission (KPK) in Jakarta. In May 2013, Labora submitted 265 money-transfer records to his superiors. The total amount spent between January 1, 2012, and April 23, 2013, came out to Rp10 billion.
After his arrest in Jakarta, Labora resisted his transfer to the Papua Regional Police detention center in Sorong. Eventually, those close to him convinced him to leave. Once in Sorong, his defiance continued.
In December 2013, the Sorong District Court sentenced Labora to two years in prison, finding him guilty of conducting deforestation and illegal hoarding of fuel, but innocent of money laundering. In the wake of the verdict, Labora should have been imprisoned at Sorong Penitentiary. However, somehow he was able to come and go as he pleased; each time the police forced him to return to jail, Labora and his men put up a fight.
Labora left the Sorong Penitentiary for medical treatment on March 17, 2014. But when his leave permit expired on April 21, 2014, he did not return. After the Supreme Court sentenced him to a 15-year jail term on September 17, 2014, Labora refused to be imprisoned.
When the prosecutor and the police arrived at his house, Labora presented a release letter from Sorong Penitentiary. After the justice and human rights ministry declared the release letter, dated August 24, 2014, to be invalid, Labora continued to defy authorities. "What for? What have I done wrong?" he asked Tempo in his house.
According to Fredy, Labora returned to the Sorong Penitentiary on February 20, 2015. Just one week after his arrest, which involved hundreds of policemen and soldiers, Labora again managed to venture outside.
"He suffered a mild stroke and had to seek medical treatment," Fredy said, adding that Labora was unable to move his fingers. The prison attendants subsequently took him to Pertamina Hospital in Sorong.
After seeing doctors, Labora again refused to return to prison. According to Fredy, the doctor recommended Labora undergo therapy, and so, every week for four months, Labora would travel to Raja Ampat for hyperbaric therapy at the Marinda General Hospital.
Sorong Penitentiary employees kept close guard at Labora's home, where he was living. Each day at least two prison officers would come to Labora's residence in Tampa Garam. They would usually leave Labora's house at around 8pm.
Sorong prison chief Maliki denied reports that Labora had been living at home since February of last year. According to him, Labora left after a complete copy of the Supreme Court's ruling was issued in October 2015. "On October 21, 2015, he took the stance of not wishing to return [to prison]," Maliki said.
Director-General for Penitentiary Affairs I Wayan Kusmiantha Dusak said he learned of Labora's departure from the prison after a team from Jakarta was sent to probe the situation. "At that time, however, he could not be immediately arrested, as there was a conflict in Labora's fruit company," said Dusak, who was sworn in as director-general in August of 2015.
According to Dusak, Labora was only able to come and go with the assistance of the penitentiary officials. "He could not leave without the backing of our officers," Dusak said. He gave assurances that prison officers who worked with Labora had been penalized, and been demoted. "The division chief is one demoted," Dusak said.
Minister of Justice and Human Rights Yasonna Hamonangan Laoly eventually ordered the relocation of Labora to the Cipinang Penitentiary in East Jakarta. According to Dusak, since Labora often cited the need for medical treatment, he would benefit from the proximity between Cipinang and Pengayoman Hospital.
Labora was at last thrown into a special cell in the Cipinang Penitentiary on Monday afternoon last week. During the first two weeks, Labora will be put in isolation, with two guards keeping a close watch. "If he is kept in Sorong, he might get away again," Dusak said.
Linda Trianita