Green Energy Lights Up Sumba
SUMBA, an island in East Nusa Tenggara province, is blessed with all of nature's elementswind, sunlight and waterrenewable sources of energy. Yet, despite this great potential, the island's electrification, according to Dutch development organization Hivos, is only 24.5 percent. In 2010, collaborating with a number of other organizations and with government support, Hivos launched its Sumba Iconic Island project, with the goal to produce 100 percent renewable energy by 2020, and in the short term, reach an access ratio of 43 percent. Working with residents of Kamanggih village in East Sumba, for instance, they have built a micro-hydro power plant, a wind turbine farm and a solar cell to electrify the entire village. Tempo English visited Sumba last October and filed the following report.
Edition : 6 Desember 2016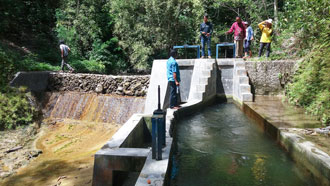 Carving the Hillside to Let in Light
In the 1990s, Kamanggih villagers dreamt of light. A few years later, with help from Ibeka and Hivos, villagers built a micro-hydro power plant, which lighted the village and empowered its people.
CARPENTER MATIUS Umbu Rongga ignored the sun's heat. In front of his house in Kamanggih village, East Sumba, West Nusa Tenggara, he cut wood with an electric saw. "The electricity has really helped. I have it much easier compared to my father," said the 31-year-old carpenter. He can also work at night if a deadline for completing a furniture order was closing in. "I make cupboards, bed frames, doors, windows, all from wood."
He recalled how hard his father used to workmanually, as there was no electricity in the village during his father's time. Matius' old man could not work at night. Matius did not want to follow his father's path as a carpenter. He would rather be unemployed.
But when he got married, of course he had to feed his family. So he became a driver. "I made Rp300,000 to 400,000 a month," the father of three children said.
Once his children became older, that income was not enough. Three years ago, he decided to follow in his father's footsteps, but the work had become much easier as he had electricity at home. Now, he earns Rp3-4 million a month. "I work 3-4 days a week, depending on the order," said Matius.
Matius is only one of many in Kamanggih who can now enjoy economic benefits with electrification, which only reached most houses in Kamanggih in 2011, with the building of the Mbakuhau micro hydro power plant (PLTMH). Previously, only a lucky few enjoyed electricity from a diesel power plant (PLTD) built in 2004 by the state-owned power company, PLN. Even those who had electricity were unable to enjoy it all day. The PLTD turned the electricity off during the day.
After the PLTMH was built, most people in Kamanggih were able to enjoy electricity. The roads are no longer dark and a consistent power supply meant increased productivity. Villagers who used to earn incomes only from agriculture can now get additional earnings from other economic activities such as weaving or extending their shop's operation hours. "Electricity has really helped us all," said Kamanggih's village chief, Umbu Windi Ndapangadung, who has expanded his grocery store.
* * *
Until late in the 1990s, Kamanggih was still in the dark. Located on a hilly terrain with only a smattering of residential pockets and houses, it was difficult for the PLN to distribute electricity evenly. Villagers used kerosene lamps and jatropha (resin) to light up their evenings.
But hope came at the end of 1990s, when the People-Centered Business and Economic Institute (Ibeka) came to the village. Fulfilling a request by the villagers to the government and with funding from Japan International Cooperation Agency (JICA), Ibeka built a solar pump for clean water supply and sanitation. "[The pump] started to operate in 1999," said Sapto Nugroho, Ibeka's managing director.
They also conducted a survey to determine whether a micro hydro power plant, as well as solar and wind power plants, would be feasible. The villagers told them there was a waterfall. But PLTMH's proposal was turned down by the then subdistrict chief.
Kamanggih residents kept their dream for a PLTMH, particularly as the Ibeka staff who remained for the next five years, taught and trained the villagers how to maintain the solar pump as well as provided them with additional education and information in farming methods. It empowered the villagers.
In 2004, PLN built a diesel power station, which supplied light to only about 80 houses. The remainder had to stay in the dark. "They (PLN) said the distribution would have been costly because the houses were too scattered," said chairman of Peduli Kasih Umbu Hinggu Panjanji, who managed the PLMTH at Mbakuhau.
In 2010, Hivos (Humanistchinstituut Voor Ontwikkelingssamenwerking), a Dutch development organization, agreed to fund the project. At the time, Hivos and the Directorate-General of Renewable Energy and Energy Conservation at the Ministry of Energy and Mineral Resources, launched the Sumba Iconic Island, a program to electrify the island using 100 percent renewable energy. Soon, the Mbakuhau PLTMH became a pilot project. Ibeka, who had already built a PLTMH in West Sumba, built the micro hydro power plant. "We allocated about 250,000 Euros for it," said Wilhelmus Poek, Sumba Iconic Island's field project manager.
Hivos and Ibeka gave the villagers a challenge, saying that the project required the community's total involvement. "We mobilized the people. We told them the power plant would not be built if they did not want to do the necessary work. We were worried the community would not have a sense of belonging over the project," Sapto Nugroho said.
The villagers immediately agreed. "At the time, we couldn't believe it," said Umbu Hinggu Panjanji. The Peduli Kasih cooperative, chaired by Umbu, 'owns' the micro hydro power plant. "My generation knew the town had electricity. But what we knew was that the electricity came from diesel power."
It was not an empty promise. As the plant was being built in 2011, Kamanggih villagers participated in full. They came down to the river, about four kilometers from the village's center.
The journey was not easy. When Tempo English and several other journalists visited the site last October, facilitated by BaKTI and Millennium Challenge Account-Indonesia (MCA-I), who later joined in the Sumba Iconic Island project, we had to drive along rocky and steep roads strewn with high grass. "I fell many times," said Theopilus Tamoama, PLMTH Mbakuhau's operator. Theopilus rides a trail motorbike to the site.
They also had to bring all kinds of materials down to the river, where the steps were very steep. They even had to spend 14 days to carve out a slit into the hillside. Ibeka told villagers if they wanted to get more power, they had to split open a small hill for a much more powerful water flow. "Without the slit, we would only be getting 10 kilowatt (kW). With the slit, we could get 30 kW," Umbu Hinggu, who is now also a member of the East Sumba parliament from the National Mandate Party, recalled. "We decided to carve the hill. We slept here, and we brought pigs, goats, and cows to supply our meals."
Petrus Lamba Awang, a young man from Kamanggih sent by Ibeka to study in Semarang, became the field coordinator for the project.
After almost a year of strenuous work, most villagers in Kamanggih got their electricity. "We launched the plant on November 19, 2012," said Umbu, adding that they had carried out tests for a whole month before the launch. "We could not express our joy that night," he said, describing the night when villagers, for the first time, enjoyed full electricity.
"We used to be so happy just to have a 5-watt light. But now we can also watch television, charge our cellphones, and get clean water. Now we live clean," said Umbu, adding that many villagers used to take water from the valley, walking for about one hour one way.
Since then, about 334 homes out 380 have access to electricity 24 hours a day, seven days a week, including from the PLTD, if needed. If the water level is low, they turn on the PLTD.
Peduli Kasih operated the plant at the start of the project. "We recruited youths and trained them," Umbu said. Hivos employed a consultant for a year to assist the cooperative. "We encouraged the villagers to be accountable for such infrastructure. That's why we asked the community to participate," said Wilhelmus Puek.
But since not all the power produced was used up, Peduli Kasih began negotiations to sell the Mbakuhau PLTMH surplus power to the PLN. In 2013, they signed an MoU. "We set some requirements. For example, [PLN] had to take over operations and assets, and they had to employ villagers to operate the plant," Umbu said.
"We expect good prospects," said Fauzi Abubakar, assistant manager at PLN's power plant in the Sumba region.
Today, the cooperative receives an income of about Rp3-5 million per month from PLN, depending on the season. With the flow of cash, they can now develop programs and offer more services, such as loans to members. They have also used the additional income to build a clean water distribution service. From this service, the cooperative receives Rp25,000 per month per house.
The villagers also reap benefits. They now pay less for electricity. "They used to pay Rp20,000 per month. But now they can buy a Rp22,000 voucher to pay for three lamps lasting for five months," Hinggu said.
They also enjoy much more power. "We were limited to 125 watts, now we use 450 watts or more." Some people, like Umbu Windi, consume 2,200 watts.
Furthermore, the villagers have become more productive. The cooperative persuaded villagers to work harder and try other activities beside working in the farming sector. Some have started new businesses, such as a motorbike repair service; others have opened small grocery stores. Some, like Matius, have become carpenters.
Some of the women have also started weaving. "They can go to the field in the day, then weave at night," Umbu Hinggu said. In the past, the women used to weave just for their own needs, for traditional events. Today, the weavers are considering selling their cloths in the marketplace.
Their hard work is paying off. "We received an award from the government," Umbu said. Last October, Peduli Kasih received the 2016 Energy Award in the community initiative category from the energy and mineral resources ministry.
---
OUTREACH TEAM
Project Coordinator: Amanda Siddharta | Editors: Editors: Hermien Y. Kleden | Writer: Purwani Diyah Prabandari| Photographer: Agung Chandra Design & Layout: Ahmad Fatoni