A Man Without a Name
Now entering the action genre, directors Kimo and Timo have released their latest film. Their new flick bears some resemblance to The Raid.
Edition : 6 Desember 2016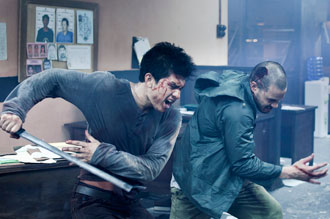 HEADSHOT
Director: Kimo Stamboel, Timo Tjahjanto
Scriptwriter: Timo Tjahjanto
Cast: Iko Uwais, Julie Estelle, Chelsea Islan, David Hendrawan, Sunny Pang, Zack Lee, Yayu Unru
Producer: Screenplay Infinite Films
A NAMELESS man washes ashore. He is brought to the hospital, in a coma, his identity and family unknown. A bullet lodged in his head has robbed him of any memory. Even as he recovers, he cannot recall his own name. Ailin (Chelsea Islan), the beautiful young doctor who enjoys reading in her spare time, gives the man a name to make it easier to communicate. He is then called Ishmael, after the name of the narrator in Herman Melville's famous novel, Moby Dick.
For a moment, both the film's characters and the audience are curious about the man's identity. Who is this handsome guy, so badly battered? What is his background? What caused the blow to the head that made him forget everything? The film leaves little time for guessing as a horde of murderers burst onto screen and start to pursue Ishmael. He and Airin embark on a Jason Bourne-style adventure where Ishmael tries to remember his past while fighting off adversaries, punching his way forward throughout the movie. He fights inside a bus and outside it, on a beach, and in the narrow spaces of a prison
We are slowly introduced to Ishmael's real identity and the story behind the bullet in his head. We meet Lee (Sunny Pang), who appears on screen dressed in black with a pack of fried noodles in his hand. Dj vu?
Of course. Many elements in the film are reminiscent of The Raid (Gareth Evans). Fair nor not, it is hard not to note resemblances between the two films. Headshot actually brings its own unique story and spectacular choreography into the mix, especially evident during the long minutes on the bus. Still, because Iko Uwais also starred in Gareth Evans's action trilogy, it is rather difficult not to compare this movie to Evans's, which managed to awe audiences both in Indonesia and in Hollywood.
Not to mention the film's score and several scenes featuring the crime lord carrying a pack of noodles (which, of course, reminds us of Ray Sahetapy's character who eats instant noodles immediately before hammering a guy on the head). There are also other details, such as several exchanges that sound like a literal translation from English to Indonesian.
Directors Kimo Stamboel and Timo Tjahjanto, who decided to dive into the action genre, have their share of talent. They have previously established their signature in Rumah Dara and Killers, which show their dedication to the slasher genre. It is by no means a mistake to create a cinematic work using the same theme, same cast, and even the same team [as another film]. However, a filmmaker (or filmmakers, in this case) surely wants their work to have its own identity, something that would make the audience instantly recognize the director's unique style. Instead, the movie reminds us of another director (Evans) because what occurs on the screen feels 'borrowed'.
Aside from all that, Kimo and Timo apparently believe that female characters are an important part of an action flickas evidenced by the Chelsea Islan and Julie Estelle's charactersand this gives me some relief. Perhaps because Indonesian action movies have been dominated by male actors for too long.
We need not lose faith because of the movie. The dynamic duo's next film, The Night Comes for Us, is something to took forward to.
Leila S. Chudori