Sapardi Djoko Damono: Writings on Stone
With 'stone' as the common thread, Babad Batu is a cerebral journey on a road with many side roads. Sapardis latest collection is encyclopedic, primordial and political.
Edition : Tuesday, January 17, 2017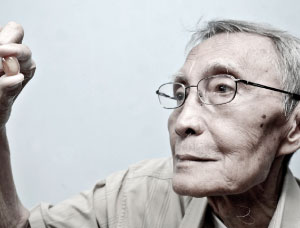 Sapardi Djoko Damono's poetry is often inviting due to its narrative form, which in fact shrouds the complexity of his poems. In his poetry, Sapardi consistently disrupts the narrative using the 'antinarrative': juxtapositions, repetitions, dissonances (of sound and imagery), and so on. The elements of his lyrical poetry always create a delay in the fulfilment of its narrative.
The play on endrhymes is not very important for Sapardi as they are for Goenawan Mohamad, for example since he prefers to use the strength of imagery to its full potential. If what we know as 'situational poetry' enlivens the panorama of natural scenes and objects, the inclusion of often childish ideas rendering the behavior of these natural 'objects' more imaginative than our preconceptions initially seems to allow.
In the treasury of modern Indonesian poetry, this type of complexity may only be found in Sapardi's poetry. This quality of his poetry has less to do with skills than the breadth of the poet's literary horizons.
Babad Batu or Stone Chronicles (Gramedia Pustaka Utama, 2016) is the most recent collection of Sapardi's poetry, underscoring his literary journey since the end of the 1950s. Again Sapardi has written on the topic of stone, but now with such a richer viewpoint. Stone has even become the collection's theme.
W251bGwsIjIwMjEtMDUtMTMgMjA6MjE6MDQiXQ
The poem Beginning Stone presents again the biblical landscape of modern Indonesian poetry, especially because it recycles the opening of the Book of Genesis, on the Word and creation. But the poem moves even further, from 'having faith in the Word' to the creation of deity as a demonstration of supernatural strength, and not the other way around. A poem with such complex and subversive content, Beginning Stone plays with varying sounds, from repetitive narrative to brief haikulike forms.
Besides exploiting the narrative form and playing with contrasts, the collection's stone poems provides readers a floating and ambiguous impression. Sapardi's poetry challenges the reader to play with interpretations, to become a 'second creator'.
In the end, poetry as a mental pilgrimage has to do not only with the ambiguity of depiction, but also with the breadth and variety of referred stories. The breadth and the variety of references showcase Sapardi's hard work in looking for sources for new creations to refresh his poetry.
Yet in his poetry's primordial cerebral passages, recent affairs always find their way in, reminding us of current predicaments. This is how the political nature of Sapardi's poetry surfaces. Sapardi, for example, has written political poems on Marsinah, a victim of New Order's violence. Today, he touches on mass evictions.
Poems set against the mundane side of life are evidence of Sapardi's prowess. Something valuable always appears from trivialities. Ballad of River Crosser and a Log is one of the collection's strongest poems. This particular poem's most striking feature is not its rather unusual choice of words and metaphors, but rather the poet's attempt to attach new meaning to trivialities. The principle of circularity that serves as the poem's engine, again, prevents the poem from radiating outward, but rather shifts it towards an unknown center:
he opts to become foam
blistering whites
following the wrinkles of water
descending further
into the depths