The Hunt for Extreme Sports Gold
ANDHIKA Alfarisi was delightfully surprised when he finally managed to pull off a difficult skateboarding trick, prompting his friends to cheer and congratulate him. That afternoon at the Pasupati Skate Park in Bandung, Andhika performed the 'hard flip' for the very first time, combining several tricks in one feat.
Edition : Tuesday, March 14, 2017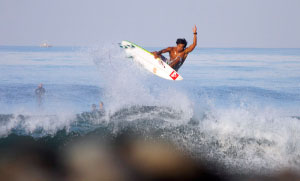 ANDHIKA Alfarisi was delightfully surprised when he finally managed to pull off a difficult skateboarding trick, prompting his friends to cheer and congratulate him. That afternoon at the Pasupati Skate Park in Bandung, Andhika performed the 'hard flip' for the very first time, combining several tricks in one feat.
The stunt involves spinning the skateboard between the legs while the skateboarder is suspended in air. Before the afternoon's success, Andhika would repeatedly tumble after the leap and skateboard flip. "The hardflip is difficult but challenging," he said. The 27-year-old skateboarder had to train about six hours each day to master the trick.
Skateboarding, although difficult and not without risks, has become Andhika's hobby and source of income. He was intrigued by the skater style when he was still in high school and has enjoyed skateboarding ever since. After deciding to become a professional athlete, Andhika secured sponsorship from several famous brands and can now earn a monthly income four times that of a civil servant's salary.
Andhika was determined to move from Padang to Bandung to enrich his experience in the extreme sport. To get permission from his parents, he continued his formal education in Bandung. In 2007, Andhika was accepted at the Bandung Islamic University. "Actually, I just wanted to skateboard [in Bandung] because the sport's development in Bandung is already advanced," he confessed.
W251bGwsIjIwMjEtMDUtMTEgMTc6Mzg6MzMiXQ
Pevi Permana Putra is also an experienced skateboarder. The professional athlete from Bandung has practiced skateboarding since 1999. Despite a broken arm and his parents' disapproval, Pevi remained undaunted. His perseverance has been rewarded. In 2003, he won the beginner's class champion title in a competition organized by the Indonesian Skateboarding Association.
Two years later, Pevi began his career as a professional athlete. He has snatched various trophies from national competitions and has also competed at the international arena, among others at the Indoor X Games in China in 2007, where he won third place, and at the Asian X-Sport Championship in Makassar two years later, where he emerged as champion. He has won over 100 prizes. Sponsors have been knocking at his door. "My parents finally agreed because [they saw] my achievements and growing sponsorships," said Pevi.
Andhika and Pevi are only two of the country's many skateboarding enthusiasts. Most of the extreme sport's devotees are young people interested in the skater style as well as the challenges and risks of skateboarding. The sport emerged in Indonesia in the 1970s and the skateboarding trend exploded during the mid-1980s. Today, the number of skateboarders continue to swell.
Chairman of the Indonesian Skateboarding Federation, Suri Kresno, placed the present estimate of skaters in Indonesia at 32,500. This does not include those who only like the style and want to be seen carrying a skateboard but lack the skills. "There are around 120 professional athletes," said Suri last week. "There's always a new set of athletes in every competition."
Another extreme sport showing rapid development is surfing. Water with tall waves in Indonesia are favorite spots among surfers since the sport began to flourish in the 1960s. At the time, foreign surfers had found a number of locations suitable for surfing in Bali. Now hundreds of surfing spots, especially in and around Bali, Lombok and Nias (North Sumatra), are teeming with local and foreign tourists.
Indonesia has several top-ranking surfers including Dede Suryana, I Wayan Betet Merta and I Made Widiarta. There is also Yasnyiar 'Bonne' Gea, a woman surfer from Nias and a five-time national champion since 2008.
Yasnyiar, now campaigning online to seek sponsorship for her surfing competitions, was also the Asian champion in 2011 and 2014. In April this year, she plans to join a competition in Krui, South Sumatra. After that, she will compete in Japan, the Philippines, Taiwan, China, India and South Korea.
According to Raden Isnanta, deputy of sports and culture at the youth and sports ministry, extreme sports such as skateboarding and surfing in Indonesia have undergone considerable transformation. Originally, the sports were meant as recreational activities, mostly for youths. As it turned out, Indonesian athletes are winning at various international competitions and festivals. "Indonesia has the opportunity to score big at international arenas, such as the Asian and Olympic Games," said Isnanta.
Skateboarding and surfing are today officially listed as competitive sports at the 2018 Asian Games in Indonesia. To draw the interest of youths to compete, the International Olympic Committee (IOC) has agreed to include skateboarding and surfing in the 2020 Olympic Games, to be held in Tokyo.
Apart from skateboarding and surfing, new branches of sports to be included in the Tokyo Olympics are baseball, karate and wall climbing. IOC President Thomas Bach said a special approach should be adopted to provide youths with many options for sports, to get them interested in the Olympics. "These five sports are an innovative combination for youths, and they're also popular in Japan," said Bach, as quoted on the IOC's website. "They will be the Olympics' new heritage."
Isnanta said Indonesia's extreme sport athletes are already prepared to compete at this international event, held every four years. Furthermore, skateboarding and surfing have long been popular in the country. "These sports are in fact nothing new for us," he pointed out. "They've been tested and won many times at international arenas."
In May 2016, Indonesian athletes were included on the board of champions at the International Festival of Extreme Sports in Montpellier, France, for the first time. Of the six athletes sent by the sports ministry, two were declared champions at the largest extreme sports festival in Europe. Cycling athlete Januar Susanto won the top place for master-class BMX Flatland. Sanggoe Darma Tanjung, a 14-year-old skater, was champion of amateur-class skateboarding.
Isnanta said the success of Indonesian athletes in France was a big surprise. The initial intention was for these athletes to gain experience in top competitions, but their accomplishments have made it necessary to take Indonesia into account at world-level events. "There is a significant number of skateboarding athletes. We're ready to compete even in the Olympics," said Isnanta. He said much preparation needs to be done, to improve the skills of these athletes using the sports science method to enhance physical capacity and coordination.
Indonesia can already be included in the world's top 30 in the skateboarding category. In the Asian region, Indonesia is among the top ranking countries. Japan, known to have plenty of gifted skateboarders, is Indonesia's toughest rival in Asia. "Our target is to win gold in the Asian Games," said Suri. He is convinced that the skaters are also ready for the Olympics. The strongest competition will come from the US.
Gabriel Wahyu Titiyoga (Jakarta) | Aminuddin (Bandung)