The Mind
In my last column about the body, I mentioned that 'the mind', was a word difficult to translate into Indonesian. I decided I had to challenge myself on this, so I have been looking at Indonesian words around 'the mind', 'to think', 'thought', 'consciousness' and 'to know'.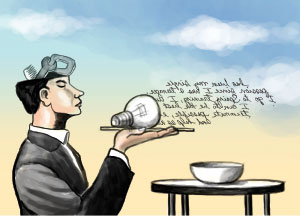 In my last column about the body, I mentioned that 'the mind', was a word difficult to translate into Indonesian. I decided I had to challenge myself on this, so I have been looking at Indonesian words around 'the mind', 'to think', 'thought', 'consciousness' and 'to know'.
English has a relatively rich vocabulary of words in this constellation. Some synonyms for 'the mind' given in the thesaurus are intelligence, intellect, understanding, brain, reason and wits. Other words for 'to think' are contemplate, reflect, ponder, deliberate, consider, meditate, ruminate and cogitate; for 'consciousness' we have awareness, realization, perception, mindfulness and cognizance; and for 'to know', distinguish, understand, comprehend, experience, see, tell, recognize, discern, and realize.
Indonesian, too has a rich vocabulary around thought, and tellingly, many words are of Arabic origin, showing a debt to Islamic science, philosophy and metaphysics. The most common Indonesian word for 'to think' is the Arabic fikir or pikir, and thought is pikiran. Other Arabic loan words are akal, forthinking or logic, and sometimes used for 'the mind'; and its synonym nalar and penalaran for logic or reason. There is also tafakur, with its variants tafakkur or tafkur, for more contemplative thought, and paham, for comprehend or understand. Other words are fikrah, for way of thinking, ideology or viewpoint, mafhum, to know, understand, comprehend, be familiar with; maklum, to know (about), understand, be aware; and insaf for consciousness or awareness.
Fewer words for thought have come, or have remained, from Sanskrit. It has given Indonesian the word budi, a primary meaning of which is sense, reason, intelligence, and also sometimes 'the mind', and mengerti, the most common word in Indonesian for 'to understand', from the root word arti for 'meaning', or 'sense'.
Some solid Malay words are sadar, to be aware, tahu for 'to know', and menanggap for 'to grasp, understand'. The word 'tahu' is the most common Indonesian verb for 'to know'. Another Malay word, ingat, is primarily used in Indonesian for 'to remember, recall, recollect', but is also (especially in more Malay-speaking areas) a synonym for sadar, meaning conscious, aware, alert. You will sometimes see road-signs saying Ingat! meaning Caution! Attention! Apart from the basic meanings of all the words given above, they have multiple meanings when affixes are added (so, for instance, pengetahuan is knowledge and kesadaran is consciousness).
The word 'pikir' is used in all kinds of ways, expressing varying levels of focus and concentration. Double it, pikir-pikir, and you get the act of musing about something, ruminating. If you need to think something over to delay an answer, you 'pikirdulu'. If you have problems but you don't really want to talk about them, you can say you have 'banyak pikiran' (a lot on your mind), which is understood as a polite way of saying shit is happening but ask no more.
Back to 'the mind' and how this English word is rendered in Indonesian, I always find translations of the Bible a great place to compare English and Indonesian words and ponder translation. After all, scholars have been wrestling with translation of the Bible for centuries, and there are so many different versions. I looked at various instances where the text dealt specifically with the realm of thought, and where the English translation of the Bible uses the word 'mind' (in one instance also rendered as 'understanding'). I took two English translations, the King James (1611), and the Good News (1995 version) and compared with two Indonesian translations, the Indonesian Bible Society's 1974 translation, and the same society's 1994 translation of the 1992 Good News Bible. There were 13 different citations, so with two versions of each, 26 in all.
And the winner is... pikiran. Twelve of the citations use the word pikiran for 'mind', but surprisingly the runner-up (with nine citations) is akal-budi, combining the Arabic and Sanskrit words. The single word akal is used twice, and budi by itself once. There is also one instance of the word pribadi (a word of Javanese origin for 'self' or 'person'). Interestingly, the entry for akal budi in the Stevens Indonesian-English dictionary gives only 'sound, common sense', and yet this Arabic-Sanskrit combination clearly is used to connote an important philosophical concept far beyond 'common sense'.
Here are a couple of examples of those citations for those wanting further detail (is there anybody out there?). The English translation of Hebrew 8:10 has: "I will put my laws into their mind, and write them in their hearts." The Indonesian 1974 Bible has, "Aku akan menaruh hukum-Ku dalam akal budi mereka dan menuliskannya dalam hati mereka," while the 1994 Good News translation has, "Aku akan menaruh hukum-Ku ke dalam pikiran mereka, dan menulisnya pada hati mereka." The English translation of Matthew 22:37 is, "Thou shalt love the Lord thy God with all thy heart, and with all thy soul, and with all thy mind." The Indonesian versions use akal budi and akal here: "segenap hatimu dan segenap jiwamu dan dengan segenap akal budimu," and "sepenuh hatimu, dengan segenap jiwamu, dan dengan seluruh akalmu." Corinthians 2:16 in King James is "For who hath known the mind of the Lord, that he may instruct him?" (Good News uses 'understood' instead of 'known'). Both Indonesian versions use 'pikiran' here for 'mind'.
Indonesian does something that French (among other languages) also does. It distinguishes between knowing something through rational thought or learning, and knowing in the sense of being familiar with it. In French, the verbs are savoir and connaître. In Indonesian, they are tahu (or paham) and kenal. Knowing in the sense of being familiar or acquainted with is kenal. If you ask someone if they know someone else, the verb is kenal. A well-known Indonesian proverb 'tak kenal maka tak sayang' means 'you don't love what you don't know', or, in advertising campaigns, it is often expressed in the positive, 'kenal, maka sayang' (familiar, so you love it).
Seeing the Bible is proving useful for language examples today, here are a couple of quotes that show those different renditions of 'know' in Indonesian. The Indonesian translation of the verse "He that loveth not knoweth not God; for God is love." (1 John 4:8) uses kenal. The translation of Psalm 94:11 "The Lord knoweth the thoughts of man" uses tahu (mengetahui). One translation, though, uses the verb 'menyelami' for this second quote, from the root 'selam', which is to dive down, or to fathom. Isn't that wonderful? 'To fathom'; a metaphor for 'to know' that works identically in Indonesian and English. And menyelami is not even included in the Indonesian thesaurus under entries for 'think' or 'understand'. Fossicking around in dictionaries, thesauruses and translations turns up such treasures.
Jennifer Lindsay
*is a Yogyakarta- and Sydney based writer.