A Head and a Bowl of Chicken Soup
Markus, an inveterate criminal, visits Marlina, a widow, in her secluded home on a barren hill in Sumba. He tells the widow that he intends to steal her livestock and then he and his friends will rape her that very night. While waiting for that moment, he asks her for some chicken soup.
Edition : Tuesday, June 6, 2017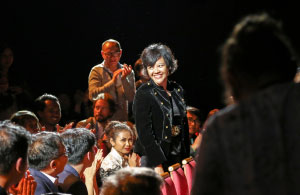 Markus, an inveterate criminal, visits Marlina, a widow, in her secluded home on a barren hill in Sumba. He tells the widow that he intends to steal her livestock and then he and his friends will rape her that very night. While waiting for that moment, he asks her for some chicken soup.
The opening scene creates instant tension. Almost all the foreign reviews of Mouly Surya's movie admit to a certain sense of awe, not only inspired by Sumba's stark landscape, the movie's dark theme, but also its unexpected touches of humor.
Marlina the Murderer in Four Acts premiered at the JW Marriott Hotel's Croisette Theatre, Cannes. The film was among the 1,679 independent films submitted to the Quinzaine des Realisateurs festival, known as The Director's Fortnight. Of the over one thousand submissions, only 20 feature length movies, including Mouly Surya's, and 10 short films were selected by the curator team. The prestigious festival runs parallel with the Cannes Film Festival, and launched a number of big names, including Martin Scorsese, Michael Haneke, Werner Herzog, George Lucas, Jim Jarmusch and Sofia Coppola, before their movies graduated to the Cannes Official Selection.
Mouly's is the first Indonesian feature to be screened at the Quinzaine des Realisateurs. The 90-minute drama is presented in four acts: Robbery, Journey, Confession and Birth.
W251bGwsIjIwMjEtMDUtMTEgMTc6MjY6MDYiXQ
In the movie's climax, the 825-strong audience watched a head rolling away after decapitation. The head is at the center of the storyline, as Marlina is seen carrying it with her wherever she goes.
The drama's touches of comedy drew laughter from the audience, as when the men request the woman make them some more chicken soup before violating her. Mouly Surya said the idea for the chicken soup came as she travelled from West to East Sumba: all four food stalls she stopped by had chicken soup on their menu.
In Cannes after the screening, the movie received a standing ovation and a long applause. Mouly went on stage with actors Marsha Timothy, Yoga Pratama, Egi Fedly, and the score's composers, Yudhi Arfani and Zeke Khaseli. French reporters lauded the film during the Q & A session that followed.
n n n
After, Mouly had to cancel interviews with Indonesian reporters as she and her team were too busy preparing for the movie's gala premiere the following day.
Fauzan Zidni, one of the film's producers, said Mouly had to oversee everything, including making sure all the invitations had gone out. Requests for interviews came in from the French media after it was confirmed her work would be shown at the festival.
Tempo managed to meet the 'woman of the hour' after Marlina's screening. "I was pleased they found it funny. That showed they got my sense of humor," she said.
Mouly maintained her poise during the screening. "My colleagues asked how I could keep so calm," she said. "But why should I have been nervous? It would have been pointless. There was nothing more we could have done. There was no way to pull the movie out and reedit it."
Marlina the Murderer in Four Acts is the fourth Indonesian feature to be screened at Cannes, after Tjoet Nja' Dhien (1988, Semaine de la Critique), Daun di Atas Bantal (1998, Un Certain Regard), and Serambi (2006, Un Certain Regard). As one of only 20 movies from the over one thousand preselected by the festival's organizers, "Marlina is a good movie," said Directors' Fortnight artistic director, Edouard Waintrop. "It is entertaining and offers plenty of surprises."
Those elements of surprise and the humor are the film's strengths, said Waintrop. "I like the way she presented the humor." According to Waintrop, Mouly managed to highlight Indonesian-ness in her work, much like Garin Nugroho often does. "But note, Marlina was not selected because of Garin, rather for her hard work in portraying a uniquely Indonesian characteristic."
The idea for Marlina's storyline came from renowned Indonesian sineast, Garin Nugroho. But, a story of a Sumba woman has to also be directed by a woman, he said. "It was Rama who fell in love with the story," Mouly said, referring to her husband Rama Adi, a film producer and her partner at their Cinesurya production company. She needed a full year to sort out her own perspective of the story.
"Marlina is about a woman seeking vengeance. But I also wanted the movie to be fun," she said. Before completing the screenplay, Mouly talked to many Sumbanese women. Marsha Timothy, who plays Marlina, was deliberately not given a detailed description of the Sumba woman's role expected of her. "I wanted the character to maintain a certain mystery," said Mouly.
All the outdoor scenes were shot on location in Sumba over a period of three weeks. "Shooting was all done in the daytime because Mouly wanted natural light," said Marsha Timothy. In turn, all the interior scenes were shot in Jakarta.
Mouly's final result remained consistent to the central artistic idea and the camera work was tightly controlled, said Garin Nugroho in praise of Marlina. "When I first saw the film, I was sure it would get through to Cannes," he said. "It's all Mouly's work. I only gave her the idea for the story."
The film received support from multiple backers. Fauzan Zidni estimated some US$600,000 was needed to produce Marlina. Support came from Kaninga Pictures, which was the film's executive producers, while HOOQ and Astro Shaw (Malaysia) came with support later in the production. "The final work became a joint production with Sasha & Co Production from France, HOOQ, as well Purin Pictures from Thailand," Mouly said.
Producer Rama Adi said the movie will likely be released in Indonesian theaters some time in October. He is certain Marlina will pass censorship in spite of the several violent scenes in the movie.
Said Garin Nugroho, "It's fair to say movies such as Mouly Surya's do not really chase after box office reception in Indonesia. But the film's positive reception in a prestigious international arena such as Cannes is a significant achievement in itself."
Yudono Yanuar (Cannes, France)