Chris Brown: Protecting Coral Reefs and Rescuing Turtles
In April, Chris Brown flew to Jakarta to speak at an Indonesia Briefing event organized by the Foreign Ministry and Tempo English. At the event, he shared his passion of 25 years: empowering coastal communities and protecting the marine environment.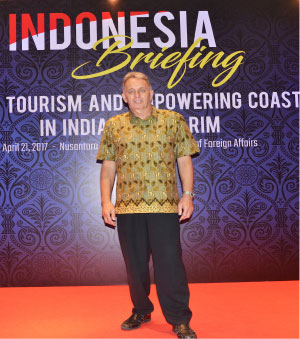 In April, Chris Brown flew to Jakarta to speak at an Indonesia Briefing event organized by the Foreign Ministry and Tempo English. At the event, he shared his passion of 25 years: empowering coastal communities and protecting the marine environment.
Brown owns the Reef Seen Diver's Resort in Pemuteran, Bali. He will provide first-rate service as long as divers do not violate his rule to not damage the coral reefs, said the Australian native.
His staff will not hesitate to pull a diver out of the water if the diver ignores warnings and continues to damage pristine reefs in the area. The policy has upset several customers. One underwater photographer threatened to write a bad review, to which Brown simply replied that he would in turn write about him damaging the corals.
One time, an upset guest yelled at his staff. But Brown stood by them to the surprise of the other guests in the same group. Brown asserted, as he always does, that coral reefs are the source of livelihood for local fishermen. "They gave warnings. You didn't listen. So they pulled you out," said the 56-year-old.
Although the offender ended up leaving, other guests clapped and supported the shop owner's stance and opted to stay longer at the resort.
Brown has been reminding his staff, guests and the local community to protect Pemuteran's coastal environment for the last 25 years. He founded the Reef Seen Diver's Resort in late 1991, after he came to Indonesia the previous year to work at Nusa Dua.
He was introduced to a Balinese, Agung Prana, who was building bungalows in the area. "I thought to myself: a dive business? Maybe I can set one up for myself," said Brown, who is known to the villagers as Pak Nyoman.
Pemuteran is located 140 kilometers from the Ngurah Rai Airport in Bali and is far from Bali's crowded tourist destinations. He had been told that the water was murky. But Brown, who enjoys chatting with the local people, found out there were coral reefs in the area.
He went diving in Pemuteran and discovered two still pristine reefs not far from the beach, located in the deeper end. The reefs had not been damaged by cyanide nor dynamite fishing. At the time, destructive methods were still in common use among fishermen at Pemuteran, both by locals and outsiders. "The shallow reefs were almost all destroyed, but (the place) had potential," he said.
While setting up his dive shop, Brown would report to the local police if he saw anyone using cyanide or dynamite in the ocean. Unfortunately, perpetrators would simply be released the next day and were free to do more damage the next time they were at sea.
Luckily, this former computer engineer has a penchant for problem solving, so he made an effort to train local villagers by showing them an underwater video of coral reefs at Pemuteran. Damaged areas had no fish, but areas with intact reefs were still home to many. The fishermen understood and were immediately able to see reefs as habitats for fish. Without coral reefs, fish would have no place to breed. "These were people who have never been to school, but they aren't stupid. They were just educated differently. They understood," Brown said.
He would patrol with the head of a fishermen's group to capture fishers who were using destructive methods at the expense of the marine ecosystem.
Many fishermen were unhappy and Brown began to receive threats. In 1996, for example, locals reported five fishing boats on the good side of the coral reefs. People from another village thought it was Brown who reported them. They came to his newly renovated dive shop and threatened to burn it down. Local fishermen who saw the incident told Brown to stay inside and let them handle the situation. "They told the angry people it was they who had made the report, not the foreigner," said Brown.
In 2000, the Reef Seen Diver's Resort finally became a foreign investment company. But running a business in Indonesia has not been a smooth process. Brown has about 30 permits in total; some need to be renewed every six months, others annually.
Brown feels lucky because he had a staff member to help him with the permits. It would irk him to see other businesses in the area operating without a license, but he quickly realized that not all the locals could afford to pay for permits or deal with the bureaucracy.
He has also set up a turtle hatchery in Pemuteran. Many turtle eggs that end up on the beach are often found by villagers who would then sell them in the local markets, or consume them. Brown is working with the Natural Resources Conservation Agency (BKSDA) to save the turtles. Now his team compensates people for turtle eggs, while the eggs are placed at the hatchery.
Tourists donate funds to release turtle hatchlings back to the sea. Proceeds always go to protecting the local environment and the betterment of the local community.
Today Brown employs 24 staff in his dive shop, most of whom are local villagers. He made a pledge to hire at least 70 percent from the local community. Whenever he hires an outsider, Brown makes sure that the person's skills are passed on to locals. "Outsiders will eventually leave, but not the local residents," he said.
His hard work is now being recognized. Reef Seen Diver's Resort has won multiple awards, including the Green Star Award by the Professional Association of Diving Instructors (PADI). In 2015, it received an award at the Fourth Coral Triangle Initiative on Coral Reefs, Fisheries and Food Security (CTI-CFF) for promoting sustainable marine tourism. "It wouldn't be possible without the support of my staff, the local fishermen and authorities," he said.
Brown claims to have no standard marketing strategy, apart from word-of-mouth and providing good service. Guests who come to dive see what he is doing for the community and the environment, and usually tell others.
Sometimes, he goes to visit his hometown in Australia. But each time, he is shocked at the amount he spends in one day, which equals his monthly expenditure at Pemuteran. "I can't afford to live in Australia anymore," he laughed.
Brown is grateful for his life on the island, not only for the cheap cost of living, clean air and friendly neighbors, but mostly because he has been able to make a difference.
Amanda Siddharta