Amangkurat's Aloneness
As his end approaches, in face of defeat, Amangkurat's past rises up and meets him. The 90 minute drama in 14 acts is enacted on a dark stage. There, Amangkurat is Everyman.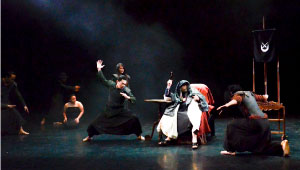 In March 2016, essayist Goenawan Mohamad wrote a terse piece about Amangkurat, sultan of the 17th century Javanese kingdom of Mataram, and reflected on his greed and power-madness. In the essay, Goenawan explored with fascination the naked brutality of Amangkurat, his suspicious naturehe had his court surrounded with high walls, a fortress, a moat, and walled up rivers. He had even started to create a sea from his subjects' paddyfields, to keep him safe on an island of his own makingand his utter aloneness.
In the final say about Amangkurat, mused Goenawan, power and greed brings about nothing except a dead end of sheer bitterness.
A year and four months later, to celebrate his 76th birthday, Goenawan launched a sketch exhibition and a manuscript in book form. The exhibition was a continuation of a previous one in February, this time displaying works with splashes of color. A week later (July 28-30) he had the manuscript staged, Amangkurat, Amangkurat-A Play in 14 Acts, at the Salihara Blackbox Theater in South Jakarta.
Man of letters describes Goenawan to a T. The man delves in letters. Starting out with this magazine as chief-editor when he was 27, he has to date written thousands of Catatan Pinggir (Sidelines) columns collected in a 10-volume set (with students of journalism scrambling to write dissertations from them to shed light on the Indonesian zeitgeist) and several poetry anthologies. Amangkurat, Amangkurat is his sixth dramatic work-this is not mentioning a few librettos and arias for musical pieces thrown in for good measure, and heading Indonesia's presence as Country Guest of Honor at the Frankfurt Buchmesse in 2015.
If the packed audiences of the play's three days (late ticket-buyers had to resort to sitting on the floor at the edge of the stage) came hoping to get a dose of history in 90 painless minutes, they were in for a disappointment. For Goenawan's Amangkurat, Amangkurat chose to convey the harrowing life and times of the power-hungry sultan in a series of inferred sketches. The stage managed to portray well the king's aloofness, his feelings of abandonment, and his utter, utter loneliness. But it was the dialogue (with not too much emphasis on pyrotechnics) that kept moving the drama to its foregone conclusion.
The first scene, after the opening sketch of a war-torn Mataram, had the king's son come up to him offering coconut water still in the shell to abate his father's thirst. The frail old man, true to form, declaims his suspicion of what the young man is there for-to poison him in order to expedite the king's inevitable end.
The stage's minimalist scenography by Avianti Armand, the Javanese tembang accompaniment (in fact new original pieces composed by Tony Prabowo), the lighting by Surya Jadug and the direction of dramatist Iswadi Pratama, even the smell of incense wafting from the stage, adhered to a behest in the script for keeping the enactment low-key. The whole presentation could almost be said was a perfect portrayal of the Javanese sensibility, the penchant for keeping even the most crashing of emotions in tight rein.
Having said that, director Iswadi surprisingly elected to have scenes of fighting-a battle, a march of platoons, a combat exercise between two princes-using silat, instead of the probably more expected Javanese choreography. These scenes-short, controlled, but milked for all their worth for their buoyant energy, threw the whole work into high relief. For silat comes from Sumatra, having its root in an entirely different sensibility to that of Central Javanese Mataram-a sensibility that to this day, arguably, continues to have impact on how modern-day Indonesia runs.
Debra H. Yatim