The Grief of a Twin
Director Kamila Andini captures the process of grieving over death from a child's point of view. The complex theme is presented tastefully.
Edition : Monday, November 13, 2017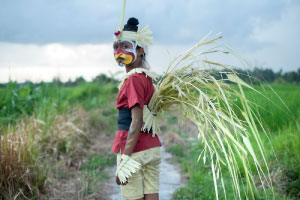 IN a hospital ward, Tantri makes a sudden appearance, decked in a rooster costume. The young girl has painted her entire face red, white and yellow. A rooster comb is perched on her head and around her waist are mock tail feathers made of coconut palm fronds. Then she dances. Her movements are firm and controlled, like those of a rooster fightingone of the handful of things she can still do to entertain her brother, Tantra, lying immobile in his bed.
Tantra (Ida Bagus Putu Radithya Mahijasena) and Tantri (Ni Kadek Thaly Titi Kasih) are buncing twins, the Balinese term for twins of different sexes. Naturally, the pair is very close, always playing together, and would often share a poached egg between them. Tantri eats the white, while Tantra likes the yolk. When Tantra is taken to the hospital for a brain tumor and in complete paralysis, Tantri is faced with the realization that she could lose her twin at any time.
The Seen and Unseen, written and directed by Kamila Andini, captures a young girl's internal conflict as she tries to understand just how near death may be. Kamila's choice in exploring how a child deals with trauma and loss is a theme Indonesian cinematographers have rarely taken up, making the film very interesting indeed. Told entirely from Tantri's perspective, the film translates her emotions into various visual and supernatural symbols dominated by dim and gloomy colors, with a stark sense of beauty.
The boundary between what Tantri actually sees and what are simply representations of her emotions is blurred. Every evening, as she stays with Tantra in the hospital, she sinks into dreams of when her brother was still healthy, telling her wayang (shadow puppet) stories or dancing with her in a rooster costume. But she also has darker dreams full of ghosts and misery as she grows nearer to an understanding of loss and death.
W251bGwsIjIwMjEtMDUtMTEgMTc6Mzc6NTQiXQ
Recurrent symbolic motifs include eggs, birds and monkeys. Tantri squeezes an egg so hard it breaks as she watches from a distance as Tantra is rushed to his hospital room. While his condition deteriorates, she eats a boiled egg that turns out to have no yolk. During a dance number she performs, birds and monkeys appear.
The film has a non-linear flow with almost no plot. Scenes jump around, from the hospital ward, to the children's home before Tantra's illness, and on to Tantri's dreams.
Some elements are deliberately left unexplained, making us question them until the film's conclusion-how Tantra became ill, for example. But then again, perhaps an explanation is unnecessary.
One might say that the film is a series of narrated dances, or a collage of artistic performances that prioritizes Bali's performing arts and natural beauty, with dances, wayang and traditional musical instruments performed in a field of tall grass beneath a full moon.
But all these artistic elements would not have succeeded without Ni Kadek Thaly Titi Kasih's brilliant performance. She does not simply act, she also appears as both a dancer and a singer. The young actress presents the innocence of childhood alongside her maturity in facing loss. One scene, where she dances in the hospital until she scratches the wall and throws her body so hard against it she leaves a mark, functions as a climax when her emotions are released.
The film was first shown at the Toronto International Film Festival (TIFF) in September and was said by TIFF CEO Piers Handling to be the festival's most exciting film. The Seen and Unseen is Kamila Andini's second film to be shown at TIFF after Sendiri Diana Sendiri (2015).It is scheduled for release in Indonesia early next year.
Moyang Kasih Dewimerdeka