Reintroduced into the Wild
The Orangutan Foundation rescues and prepares orangutans for release into their natural habitat through a reintroduction program. Many of these orangutans were once kept as pets.
Edition : 18 Desember 2017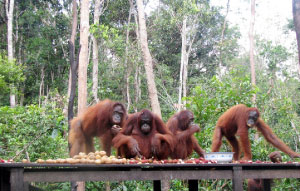 Unlike his peers, Okto lacks the crucial skills needed to construct a simple nest. The five-year-old male orangutan (Pongo pygmaeus) chooses to spend most of his time playing around the Lamandau River Wildlife Reserve in Central Kalimantan. Although he has spent three years of his life under training by the UK-based Orangutan Foundation, "Okto seems to be a slow learner," said Azhari Purbatrapsila, the foundation's reintroduction manager.
Compar
...