Neglecting Vaccination
Diphtheria seems to always emerge throughout the year. Only vaccination can prevent an outbreak.
Edition : Monday, Desember 18, 2017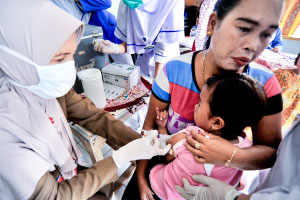 SATIYAH had no idea that the fever affecting her eldest son, Vahrizal, 25, since two weeks ago was the symptom of an uncommon disease. Because of his illness, Vahrizal had to stay in an isolation room at the Sulianti Saroso Infectious Diseases Hospital (RSPI), Tanjung Priok, North Jakarta. "My son is suffering from diphtheria," said Satiyah, 45.
Vahrizal was feverish, though he felt that he improved after consuming antipyretic powder. But several hours later, he again began to shiver. "He was given another drug but wasn't healed. The disease seemed strange," said his mother.
The Depok resident was later taken to the nearest hospital. The doctor examining him immediately became suspicious upon finding a grayish coating in the inner mouth, a symptom typical of diphtheria. "The drugs were unavailable at the Depok hospital," said Satiyah. Vahizal was then referred to Sulianti Saroso RSPI.
Vahrizal was among the 33 patients treated for diphtheria at Sulianti Saroso RSPI last Monday. The number of diphtheria patients at the hospital, normally three to four per month, has increased sharply since early December. Two out of three patients are children, some of whom are referral patients from other regions, while the rest are adults. "Some are from Depok, Tangerang, Bekasi," said Sulianti Saroso RSPI CEO Rita Rugoyah.
W251bGwsIjIwMjEtMDUtMTEgMTY6MzE6NTAiXQ
Over the month, diphtheria has been on the rise in Jakarta, West Java and Banten. The health ministry has declared an extraordinary incidence and launched an outbreak response immunization (ORI)- vaccination following the outbreak of a disease- involving young children and teenagers under 19. "Eleven ORI regions have been declared this year. Other areas have overcome it and the number (of infected patients) have decreased," said Health Minister Nila Djuwita Moeloek.
A diphtheria attack knows no time. The disease has been present in Indonesia throughout the year. As of mid-December, 714 patients were reported in 25 provinces, 38 of whom died. This number is far larger than those in the past two years.
Virtually an ancient disease, diphtheria, a disease discovered in the fifth century, has been at large in all corners of the world. Data published by the US Center for Disease Control and Prevention shows that in the US alone the total number of patients reached 206,000 in 1921, of whom 15,520 died.
By the 1920s, the number of diphtheria patients had drastically plummeted with the advent of its vaccine. During the 2004-2015 period, only two cases were recorded in the US. "There (in the US), when enrolling in schools and colleges, students are required to show a complete record of vaccination," said general chairman of the Central Board of the Indonesian Pediatricians Association, Aman Bhakti Pulungan.
Sadly, Indonesia has yet to see such a drastic decrease. Vaccination has indeed been provided by the government since 1977. The disease also almost vanished in 1999 following a massive mandatory immunization. In 2005, however, diphtheria again surged with 1,031 cases and has remained until today. "It's because some people are unwilling to vaccinate or aren't disciplined," said Nila. This year, for instance, two out of three diphtheria patients were never vaccinated and almost one out of three of the remaining patients never completed their vaccination.
Satiyah admits her lack of discipline. Her busy routine as a single parent managing household affairs and earning a living have made her indifferent toward compulsory vaccination schedules for her children. Her three children have often been absent from vaccination at the integrated health service post. "It's my fault for not making them use the opportunity," she said.
Meanwhile, Yuliati, 44, chooses not to vaccinate her fourth and fifth children. The senior high school teacher in Surabaya feels there is no difference between her immunized and unvaccinated children. Yuliati's first three children were all vaccinated. "The government can go on promoting vaccination, but in the end it's up to the parents. It's unnecessary to force the program in schools and cause fear among people," she said.
DIPHTHERIA is a disease caused by the bacterium Corynebacterium diphtheriae, which produces a toxin that damages tissues- usually the nose and throat. The symptom of infection in these areas is very typical: the appearance of a grayish white or bluish membrane coming from dead cells and bacteria. The infection that spreads to the lymph gland around the neck makes this part of the body swell like the neck of a cow. "It's called the bullneck," said Sulianti Saroso RSPI's Medican and Nursing Director Dyani Kusumowardhani.
The toxin created by the bacteria spreads quickly and can block the airway. This toxin can also harm the nerves, including those that control respiratory muscles. It can also penetrate vital organs like the heart, causing heart failure. With such potential complications, a global average of 5-10 percent of diphtheria patients die.
The problem is that the deadly disease is easily transmittable through saliva. All age groups can be infected, especially children whose immune system is not yet fully developed. "Children's immunity is only at 60 percent. The older they grow, the greater their resistance," explained Nila.
The only way to prevent transmission is through vaccination, which is performed in phases. A series of seven complete shots are administered starting from infancy to fifth grade. After completion, it is recommended to repeat one of the vaccines every 10 years. "The immunity already formed through vaccination can weaken, which is why maintenance through repetitions is necessary," said Dyani.
If a child has already completed vaccination at the time an ORI is performed, said Nila, the child can again be vaccinated according to the ORI schedule. There should be no fear of an overdose because additional vaccinations have no side effects and will simply boost a child's immunity.
What of adults who are unaware whether or not they have completed their vaccination? According to Health Ministry Secretary-General Untung Suseno Sutarjo, in the presence of a risk for bacterial infection, for example when one works at a hospital, three vaccinations at 0-1-6-month intervals should be administered. But if an adult is not vulnerable to infection, vaccination is optional.
In regard to parents who are still reluctant to have their children vaccinated, Nila asked them not to only think of themselves, as vaccines are also needed to protect their community. An environment will not be affected by viruses or bacteria that can be prevented by vaccination if at least 95 percent of the population are vaccinated. "If only they themselves can be infected, just go ahead. But what happens if they end up infecting others who happen to be vulnerable? Don't be selfish," said Nila.
Nur Alfiyah, Artika Farmita (surabaya)