Hilmar Farid
Cultural Diplomacy in Europe
Edition : 25 Desember 2017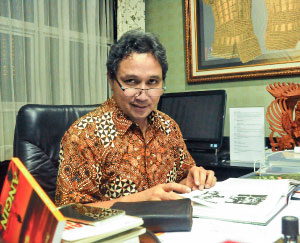 INDONESIA is guest nation at Europalia, a European cultural festival currently still in motion until January 2018. Indonesia is the festival's eighth non-EU guest nation. Europalia, centered in Belgium, was first held in 1969 and showcases dances, musicals, film, paintings and sculpture. Indonesia's cultural strategy for the festival is closely linked to policies designed by Hilmar Farid, education and culture ministry's director-general of culture. Apart from Europalia, Hilmar also played a part in organizing and running the International Gamelan Festival held in the U.K. in September 2017.
---
Mouly Surya
A Woman Director with Unusual Ideas
Marlina the Murderer in Four Acts is director Mouly Surya's first feature film and Indonesia's first film to be screened at the Quinzaine des Realisateurs. Her film managed to awe the panel of jurors at the prestigious film festival held in parallel to the Cannes Film Festival in France.
The film's storyline is bold, unusual-centered on a woman living on a Sumba savannah. After she is raped, the woman kills her rapist, beheads him and carries his head around. Yet the film is not sadistic, but rather surreal and exotic. Marlina has brought a breath of fresh air to Indonesia's local film industry.
---
Dodo Hartoko and Melati Suryodarmo
The Two Brains Behind the Two Biennales
TWO major art events were held almost simultaneously at the end of 2017. Two individuals behind these festivals, Jakarta Biennale Artistic Director Melati Suryodarmo and Jogja Biennale Director Dodo Hartoko, chose different approaches.
Herself a performance artist, Melati designed the Jakarta Biennale to showcase both visual as well as performance art, with several performances lasting for hours. With "jiwa" (loosely translated as "soul") as theme, the 2017 Jakarta Biennale held at the Sarinah Ecosystem Warehouse adopted a model unlike the previous Jakarta Biennales. Meanwhile, the Jogja Biennale, held at the city's National Museum, chose to select the city's young creative artists to showcase their fresh works of art. With 'Age of Hope' as its theme, the Jogja Biennale also brought in 12 Brazilian artists.