Harmony in Kotagede
Arif Ahmad believes that God created men and women. However, this neighborhood association chairman in Kotagede, Yogyakarta
Edition : 5 February 2018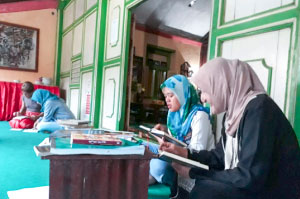 Arif Ahmad believes that God created men and women. However, this neighborhood association chairman in Kotagede, Yogyakarta, said that his belief may not be used as a reason to be hostile towards transvestites. Transvestites are people who do not need to be isolated,¡± he said on Friday last week.
The Al-Fatah Transvestite Islamic Boarding School is located in Arif's community. This boarding school was started by Shinta Ratri, a transvestite, in 2008. Most of the transvestites in Indonesia are Muslim, and Shinta believes that they have the right learn about their religion. At one point, the school had 40 students. They work in beauty salons or are street musicians.
Arif and his neighbors accept their presence in the community. There is good social interaction between them. For instance, Shinta Ratri and those at the boarding school do not hesitate to attend the events held by their neighbors following the Ramadan fasting month. At other times, they socialize at street events and dances usually held during the National Independence celebrations every August. Students of the boarding school are also present whenever there is a wedding or a funeral in the community.
The reverse is also true. Local residents accept invitations to attend school events. Examples are when these transvestites hold events to commemorate the divine revelation of the Qur'an, the birth of the Prophet, and health checks. A doctor was provided by the Indonesian Family Planning Association. "The residents are enthusiastic. There were 60 people who took part in the health check," said Ayu Nur, a transvestite.
Recently, Arif and his wife, Risnawati, were invited by Shinta Ratri to attend the marriage of Shinta's foster child, Gendhis. It was attended by neighbors, friends of Shinta, activists, and the wife of Kiai Abdul Muhaimin, caretaker of the Nurul Ummahat Islamic Boarding School in Kotagede.
Arif knows Shinta's family well. Shinta has been a friend of his since they were children. Risnawati said that women in the Neighborhood Association (RT) Number 9 also see transvestites as people who do not need to be avoided. They can socialize comfortably and respect one another. "Mbak Tri is a good and calm person who does not act inappropriately and can socialize well," she said.
Munarto, another resident of RT 9, said that the transvestites there never create trouble or cause disruptions in the neighborhood. Like Arif, he holds that in Islam there are only two genders: male and female. However, in the social context, Munarto has no problem with the presence of transvestites.
Shinta added that he and the caretakers of the boarding school always endeavor to maintain social harmony by socializing and taking part in local activities. The residents, said Shinta, are now their guardians. "We continue to stand up for our human rights to worship and take part in social activities. We are not doing anything against the law. It is OK if people hate us," he said.
Disturbances have come from outside their local community. Over a dozen people, acting in the name of an Islamic organization, descended upon the school on February 19, 2016. This group threatened those at the school, and called the transvestites sinful people.
According to Irwan Hidayana, an anthropologist at the University of Indonesia, cultures in some parts of Indonesia accepted gender ambiguity. In the Bugis tradition, he cited, there were those who were called bissu. They were the old spiritual leaders of the Buginese who are categorized as being neither male nor female.
Shinta Maharani (Yogyakarta)