Mentawai Islands: Revisiting Ancient Ways
We're learning that modern civilization is not all it's cracked up to be and many of us can't help the desire for a getaway to a place where religion, creative art and harmony with nature are still alive. One such faraway land blessed with these hallmarks of culture is the Mentawai Islands 100 kilometers off the coast of West Sumatra.
Edition : Monday, February 5, 2018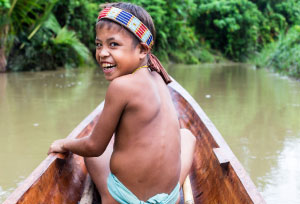 The Mentawais, comprising 70 islands and islets, with a total population of around 120,000, is still a place where civilization is kept from destroying itself. The four main islands are North and South Pagai, Siberut and Sipora, the group's administrative capital. The islands are steeped in mystery, rich in resources, possess a terrestrial diversity second only to the Galapagos and are one of the most sought-after surf destinations in the world.
The ancestors of the indigenous people are believed to have first migrated to the islands between 2000 and 500 BC. Trade took place between the native communities and mainland Sumatran Chinese and Malays for centuries. The first European, as recorded in John Crisp's journal in 1792, was an Englishman who made an unsuccessful attempt to establish a pepper plantation on an island south of South Pagai in the mid-1700s. The Dutch colonialists, who claimed the Mentawais under the flag of the Netherlands East Indies in 1864, remained in power until the Japanese invasion of Indonesia in World War II. Long locked in their own time and space, isolated from the rest of the archipelago, natives living in the interiors lacked skills in weaving, pottery and stonework right up until the early 1900s. The German ethnologist Hilaria Maass published a landmark travelogue Among the Gentle Savages (1902), which portrays the Mentawaians as 'amiable and 'flower-adorned', an account that first attracted the interest of scholars.
Unrivaled Nature
The 86-kilometers-long island of Siberut, the largest of the islands spanning 4,480 square kilometers with a population of 30,000, boasts one of the world's most biodiverse rainforests, the habitat of at least four known primates found nowhere else as well as a host of other endemic plant and animal species including squirrels, insects and bats. Siberut is also popular for its world-class waves and peerless reefs for diving.
W251bGwsIjIwMjEtMDUtMTEgMTc6MjQ6NTgiXQ
In the southern region of the island survives one of the last hunter-gatherer tribes with a rich and fascinating culture. Trekking into the forest to observe the flora and fauna and visiting a native uma (longhouses) is an incomparable experience. The village of Sikakap, recommended as a base for exploring North and South Pagai, is the habitat of the Mentawai gibbon (bilou in the local language).
Rob Henry is the founding director of the Indigenous Education Foundation or the IEF (www.iefprograms.org), a not-for-profit NGO providing support for the islands' indigenous communities, who are seeking to reconnect with culture to enrich their future development. Rob is an expert on Mentawai's indigenous peoples and the threats they are faced with. Over the past eight years he has been involved in developing Suku Mentawai, a community-driven cultural and environmental education program.
Living with the Mentawaians for almost a decade, Rob produced the documentary film As Worlds Divide, an intimate journey inside the lives of an indigenous people who are losing connection with their land and culture. Education is key to preventing the displacement of aboriginal peoples such as the Mentawai. "There are more than 370 million self-identified indigenous groups in some 70 countries around the world," said Rob. "With our world developing so quickly, we don't have the luxury of time. These native peoples and the enormous stores of knowledge and wisdom that they possess need to be protected."
Sustainable Surfing
Mentawai's fastest growing industry is tourism, contributing the predominant portion of islands' economy. World-class waves attract surfers from around the globe and about 95 percent of the islands' tourism is surf related. As a consequence, there has been a rapid growth of surf resorts in Mentawai over the past 3-4 years. These land camps offer near-perfect reef breaks either at their front door or within a 10-30-minute's boat ride, not to mention superlative diving, snorkeling and sailing. While there is a growing number of visitors, surf camp operators are tuned into where the best waves are and the best time for quiet sessions in the swells. The resorts are clean, relaxing, well maintained, serve amazing meals, offer jungle walks and provide top quality services.
One camp that subscribes to responsible tourism is Pitstop Hill Mentawai. Proprietors Paul and Megan have supported Suku Mentawai since its beginning and have continued to do so as annual donors and sponsors of fundraising events. Other recommended surf camps are Wavepark (Christie Carter), Alaia Mentawai (David Mathew) and Togat Nusa (John Ocean).
Ecotourism Treks
Ecotourism is an effective way to help the community protect the forest environment and indigenous culture by ensuring the impact of the increasing number of visitors on the inhabitants, culture and the health of their land remains positive. Mentawai Ecotourism (www.mentawaiecotourism.com) use reputable and experienced guides and allows you to see exactly where your money is going. "Ten percent of your tour fee goes toward Yayasan Pendidikan Suku Mentawai's 'Cultural and Environmental Education Program' (CEEP) that is funded by the island's tourism industry. CEEP teaches kids about their culture, history and forest resources from their elders, sikerei (shaman) and others who still possess this ancient knowledge," Rob explained.
For trekking in remote areas, the best guides are men above the age of 25 who are not professional guides and are more likely better informed when it comes to rainforest and ethnic lores. Travelers report that many of the younger slicker guides who swing into Padang speak great English, are savvy marketers, have their own Facebook pages, but often have limited knowledge of their culture and the forest. An older Mentawaian guide like Rustam, who has been brought up in a forest uma, can give an accurate account of Mentawai's tradition and will be able to show visitors up the farthest reaches of the river.
Prepare yourself for a slow-paced and unique environment (muddy too, if raining). Traveling around the interior is not for resort types who want to be pampered. You will use all kinds of transportation: boat, pirogue, scooter, motorcycle and paddle or motorized dugout; by foot on dirt trails and cross-country; and even by car once you return to Padang. Explore remote government villages where people are still embedded in the market economy with their machetes and motorcycles, or venture into the forest to find an uma and tribespeople still living traditionally, practicing their ancient rituals.
Mentawaians are kind, laid back and appreciate even modest attempts to learn their mother tongue. Expect no electricity, no tap water (just a creek or natural spring), no telephone or internet connection. You will live in a family hut, sleep on a rattan mat on a wooden floor, bathe with a dipper from the well, use a squat toilet, observe forest intercrop agriculture, go fishing, try some traditional food, teach children English, sing and dance with a sikerei, attend an unplanned exorcism session or have a bracelet made right on your wrist.
Bill Dalton