The Difficult Breeding of the Javanese Bull
Baluran National Park's semi-natural breeding program for the Javanese bull is not running as well as expected. Parent bulls are few and enclosures are too small.
Edition : Monday, February 5, 2018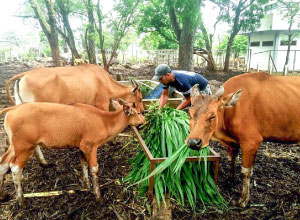 Around noon, Agus Susanto pulled three bundles of elephant grass from the storage warehouse. He then put two stacks of the hay, each containing blades of grass almost as tall himself, into a 8,000-square-meter enclosure holding four Javanese bulls (Bos javanicus javanicus). The bulls, named Doni, Tina, Tekad and Patih, immediately rushed to their lunch.
The remaining stack was put into another, smaller adjacent enclosure measuring 2,500 square meters, home to three other bulls, Ussy, Nina and Barja. They, too, devoured the hay with apparent enthusiasm. "They have three meals per day, in the morning, at lunchtime, and evening," said Agus, the animals' caretaker.
Besides preparing their meals, Agus also makes sure the seven bulls always have an adequate supply of drinking water ready. To keep them healthy, various supplements are mixed into the water, including bran, salt, molasses and vitamins. Their enclosures are also cleaned out daily and sprayed with fly repellent.
The seven Javanese bulls are part of the semi-natural breeding program at the Bull Sanctuary in the Baluran National Park, Situbondo Regency, East Java. The breeding program is centered in Region 1 Bekol, about 12 kilometers from the entrance to the national park, often referred to as 'Java's Africa'.
W251bGwsIjIwMjEtMDYtMjMgMTA6MDM6MjciXQ
Bekol is 12,000 hectares wide, a third of which is made up of savannahs. Here, at the breeding center, the seven bulls are housed inside enclosures lined with 1.75-meter tall steel fences covered with electrified wires. "To keep them safe from predators such as ajax and leopards," said Agus, who started his work in 2013.
The breeding program began in 2012 with funding of Rp1 billion. Three bulls were brought in from the Prigen Indonesia Safari Park II, Pasuruan, also in East Java, to serve as parents: Doni, Tina, and Ussy. Within five years, four infant bulls were obtained from the initial three bulls. Doni and Tina produced a female, Nina, in 2013, and a male, Patih, in 2016. Meanwhile, when Doni mated with Ussy, the coupling produced two male bulls, Tekad, in 2014, and Barja, in 2017.
According to chief of the Baluran Bull Sanctuary, Siswanto, the program initiated in 2010 is designed to restore the population of the Javanese bull. In 2008, the International Union for Conservation of Nature named the Javanese bull an endangered species. Additionally, at the time, the forestry ministry was already aiming to increase the Javanese bull population by 10 percent per year, including at the Baluran National Park.
Baluran's Javanese bull population had indeed seen a declining trend for some time. In the early 1970s, there were still around 150 to 200 bulls in the wild. In 2010, however, the bull population went down to only 15 due to illegal hunting, natural predators, and the overall degradation of their natural habitat. Illegal hunting, in particular, was rampant during the 1998-2000 monetary crisis.
Natural habitat degradation has continued since the 1960s due to the invasion of thorny acacia (Acacia nilotica) that ended up covering 6,000 hectares of the savanna. Meanwhile, the savanna is where Javanese bulls live and find food. Their habitat was further decreased because locals from nearby villagers would herd cattle in a 7,000-square-meter area within the National Park territory.
Siswanto says the semi-natural breeding in the bulls' original habitat (in-situ) mimics ex-situ breeding done in zoos. The Baluran National Park Office designed a scenario where a female bull from outside the area is mated with a male from Baluran, thus retaining the distinguished genetic traits of Baluran bulls. An endemic Baluran male bull weighs 900 kilograms and stands 170 centimeters tall, while most male bulls from other regions averages between 600 to 800 kilograms in weight and and 160 centimeters in height.
During the breeding program, parent bulls receive food and water, and their health is monitored by their caretakers. The human intervention makes the breeding 'semi-natural'. After the parents began producing offspring, the Baluran National Park planned to release them to the wild every five years.
Curator for the Prigen Indonesia Safari Park II, Ivan Chandra, explained that Tina and Ussy were chosen from select candidates of 20 bulls. They considered the bulls' genetic quality and health, and made sure that the chosen bulls did not come from closely related parents. Tina and Ussy were born from a female parent that was evacuated from the Kalitelepak Plantation, Glenmore, in East Java, in 2005. Their mother is suspected to have come from the Meru Betiri National Part. "The male parent was evacuated from the Kabat Regency, Banyuwangi," said Ivan.
The breeding program, however, did not go as well as expected. When the mating season came by, the program's organizers could not obtain a male parent bull. "Six months later, we sent a male bull named Doni," said Ivan. Doni was born from parent bulls that were also rescued in Banyuwangi. Doni's female parent was evacuated from the Kelitelepak Plantation, while its male parent came from the Siliragung subdistrict.
Siswanto says it was not easy to capture a male bull in the wild, although the organizers had prepared two different methods. First, they constructed a trap cage measuring 3 x 7 meters close to Tina's and Ussy's enclosure. The trap had a door that would swing shut when a bull stepped inside. Agus Susanto was tasked with climbing a nearby tree to watch, which he would do from 5pm until dawn.
During his six-month watch, Agus said there were only three male bulls who moved close to the trap, but none entered. "They only took a glance at the females and went away from the cage," he said.
The second method involved taking a young bull left behind by its herd. But this, too, was always met with failure because the bull would immediately leave the vicinity as soon as it sensed human presence. They avoided using tranquilizers because aside from a complicated procedure, tranquilizers tend to cause stress and even death among bulls. "Bulls have large bodies, but they're very sensitive," said Siswanto, who has worked in Baluran since 1983.
The Javanese bull's reproductive cycle, Siswanto explained, is slow because they only have one mating season each year. Their gestation period is similar to that of humans', lasting nine months. The parent would take care of its infant for up to one year. A bull only reaches sexual maturity and can reproduce after reaching 2.5 to 3 years.
The initiative's release to the wild program also failed to meet its target because all bulls are now still dependant on their caretaker for sustenance. Threat from predators is yet another concern for their release if done too soon, said Siswanto. Bulls from the breeding program simply have not obtained the necessary skills for survival in the wild.
Baluran National Park program manager, Hariyawan Agung Wahyudi, explained that the breeding program has not been effective in increasing the bulls' population in Baluran because there are too few parent bulls and the program failed to release bulls into the wild within five years as scheduled.
Ideally, said Hariyawan, a breeding program should have 10 parent animals so that numerous offspring may be produced in a group. In such a scenario, the program can also release bulls into the wild every year. "Bulls from the breeding program would be able to mate with their peers in the wild," he said. The Copenhagen Zoo has been working with the Baluran National Park since 2014, on animal conservation and thorny acacia eradication programs.
Additionally, said Hariyawan, breeding has not been optimal because of the size of the enclosures, which he feels are too small. Because of the small enclosures, the bulls cannot train to live independently as they would in the wild. He proposes larger enclosures measuring at least 50 hectares.
Chief of the Baluran National Park Office Bambang Sukendro says the park would increase the enclosure's size to 50 hectares in 2019, if given permission by the environment and forestry ministry. "This year, we're still surveying locations and planning the design," he said.
As for the parent bulls, said Bambang, he has proposed to the ministry to replace Doni as a male parent bull to prevent inbreeding, because one of the female offspring, Nina, has already reached sexual maturity. A team from the Global Species Management Plan recommends transferring Doni to the Indonesia Safari Park I in Cisarua, Bogor, West Java. Doni's replacement will be moved in from the Bali SafariMarine Park. With the new male bull, said Bambang, Nina may become a new female parent to produce more calves.
Ika Ningtyas (banyuwangi)