Winai Dahlan: In His Grandfather's Footsteps
Despite initial hesitation, the grandson of Muhammadiyah's founder is now a prominent halal activist. The Muslim leader lives in Thailand.
Edition : Monday, February 12, 2018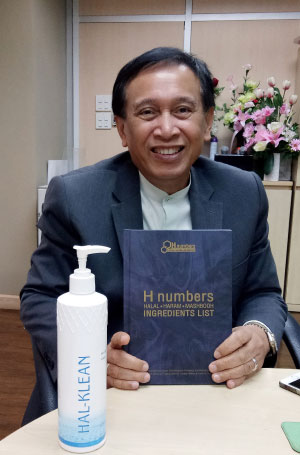 Winai Dahlan learned quite late that he is the grandson of a prominent Muslim leader, the founder of Muhammadiyah- one of Indonesia's largest Muslim organizations. The young Winai only knew his grandfather is Ahmad Dahlan. Winai himself had never dreamt of becoming an activist in Muslim organizations.
"My father never told us about him," said the 64-year-old of his father, Irfan Dahlan, in a January interview with Tempo English at his office in Bangkok. "My father was a down-to-earth person."
Now, Winai chairs the Halal Standard Institute of Thailand and is the vice president of Thailand's Central Islamic Council. He has also received a number of awards for his work in 'halal science'. But these accomplishments were not in his plans as a young man, nor were they driven by persuasion or pressure from his father, who led a Javanese mosque in Bangkok, and other relatives. "It was a step-by-step process," he said.
Young Winai Dahlan dreamt of becoming a scientist beginning when he was in elementary school. "I loved reading, especially sci-fi," he said. He also mentioned several comic book characters, laughing. "I liked Flash Gordon."
W251bGwsIjIwMjEtMDUtMTIgMDk6NTM6MjgiXQ
Winai's father was sent by the Muhammadiyah to study in India in 1924, one year after Ahmad Dahlan passed away. But instead of going home to Yogyakarta, Irfan decided to join a friend and perform dakwah (preaching) in Thailand after completing his studies in 1930.
After two years in Pattani, Irfan moved to Bangkok, where he visited the Javanese mosque and met the mosque's imam, or leader, who came from Rembang, Central Java. "Maybe the imam knew my father was from a good family, so he became interested and asked my father to marry his daughter," said Winai.
But Irfan never told his 10 children about his famous father, Ahmad Dahlan. Winai and his siblings only found out about their grandfather and Muhammadiyah after Irfan returned from a trip to Indonesia in the early 1960s, when Ahmad Dahlan was acknowledged as an Indonesian national hero. Irfan brought home a stamp with a photograph of his father. "My grandfather's story was revealed then."
Neither did Irfan ever told his 10 children, including Winai, his fifth, to study Islam and take up religious activities. Winai, who has always loved science, studied biochemistry at the Chulalongkorn University in Bangkok. He continued his studies and received his Master degree from the Mahidol University in Thailand, and a PhD from the Universite libre de Bruxelles, Belgium.
He had no interest in religious activism. When his friends suggested him to come to Indonesia to learn about his grandfather and Muhammadiyah, he did not give the suggestion much thought. But later, he changed his mind.
In 1995, Winai, a lecturer at the Department of Allied Health Sciences at the Chulalongkorn University, started using the department's laboratory to examine food said to be halal. Several years later, a major scandal erupted when the Thai Muslim community found pork contamination in 'halal' sausage. "I found that it was pure pork, 100 percent pork," said Winai. "So it was rather easy to cheat the Muslim community."
The affair made the Muslim community realize the need for a laboratory for detecting forbidden substances in food said to be halal. Winai initiated a Muslim consumers' protection group and became more actively involved. He received great support, not only from the Muslim community, but also from the university. Later, the government also gave its support and Winai received a large grant for developing a halal laboratory.
"I told them that if we wanted to be number one in the world for halal exports, then halal science is very important." This was Winai's weapon in convincing the Thai government.
In 2004, his institution was named the Halal Science Center with a much larger laboratory, and it has continued to grow.
Initially, the center only had a 32-square-meter laboratory, but now the laboratory boasts a 4,300-square-meter office space with 92 personnel, including around 50 scientists. Additionally, Winai said, Thailand exports around 16,000 halal-certified products and has become one of the world's major halal food exporters.
But Winai does more than investigate contamination in halal food; he has also invented and produced halal products. "I invented this cleanser for najis (impure matter), the first in the world," he said with a wide smile. Muslims cleanse themselves from several kinds of najis by using dust and water. Winai also showed us a blue book containing lists of information on halal products.
Winai's Halal Science Center has recived wide recognition. The center has partnered with many institutions, both based in Thailand and overseas, such as Putra Malaysia University in Malaysia, and Indonesia's Bogor Agricultural Institute and Gadjah Mada University.
Winai and the Halal Science Center have also received numerous awards, among them best innovation in the halal industry, delivered by then-Malaysian Prime Minister Abdullah Badawi in 2006. For eight consecutive years from 2010 to 2017, his name was on the list of "The 500 Most Influential Muslims" published by the Jordan's Royal Islamic Strategic Studies Centre.
His country gave him the National Award of Best Innovative Civil Services, awarded by the Office of Public Sector Development Commission in 2013. He has also received the King's service medal, the dushi mala, for his achievements in science.
Winai has become more and more involved in religious activism. Four years ago, he was appointed vice president of the Central Islamic Council of Thailand. He has also served as the chair of the Halal Standard Institute.
The political elite have also noticed him. Four years ago, following the military coup, Winai was appointed member of the National Reform Council- now the National Reform Steering Assembly. Winai chooses to focus on social reform. "I travel all over Thailand to listen to people," he said, adding he also sits on the National Educational Reform Committee.
As a member of the National Reform Steering Assembly, Winai is now working on issues surrounding diffabilites. He believes the community and the government should not only provide social welfare for the diffabled but also the opportunity to contribute to society. "They have to work for the community so that they gain value," he said. "They have to be respected as people."
Although Winai is a Thai citizen, he has always felt an attachment to Indonesia. "My father is from Kauman, Yogyakarta, my mother is from Rembang, and my wife, Kussom, is from Kendal," he said. "I'm a Javanese."
He also loves Indonesian food such as lodeh, soto, sambal goreng, and Sundanese food. "I know all the Indonesian food," he said, again laughing.
Winai has been invited several times to Indonesian diaspora meetings. And because his institution partners with several universities in his grandfather's country, he now pays Indonesia frequent visits.
But perhaps more importantly, he is now stepping into his late grandfather's footsteps and is in the process of establishing Muhammadiyah in Thailand. "My staff are working on registering the foundation."
Purwani Diyah Prabandari