Tracing Religious History in Barus Mantras
President Joko Widodo's Inauguration of the Nusantara Islamic Civilization Kilometer Zero Monument on March 24, 2017, confirmed Barus, North Sumatra, as Islam's first entry point into the Indonesian archipelago (Nusantara), replacing Pasai and Peureulak in Aceh.
Edition : Monday, February 19, 2018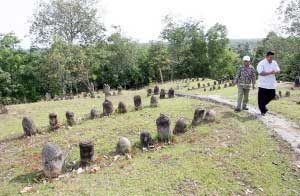 It was recently discovered that Barus had performed trade in medicinal supplies with the Arabs, Chinese, Indians and perhaps even Jews long before the arrival of Islam and Christianity on the western coast of Sumatra. Traces of these early interactions can be found in the Pustaha-Pustaha Batak, holy book of the local religion, Sipele Sumangot.
In his medical anthropology research in Barus, Rusmin Tumanggor, medical anthropology professor at the Syarif Hidayatullah State Islamic University, discovered numerous mantras and incantations in the Pustaha influenced by other languages, namely Chinese, Sanskrit, Arabic, and possibly Hebrew. Rusmin's book, based on his research in Barus, titled Gerbang Agama-Agama Nusantara: Hindu, Yahudi, Ru-Konghucu, Islam & Nasrani (The Gate of Nusantara Religions: Hinduism, Judaism, Ru-Confucianism, Islam & Christianity) is an important document for studying the history of religions in the archipelago.
BARUS was the gateway for religions entering the Indonesian archipelago. The port city on the western coast of Sumatra is believed to be the place where not only Islam first entered Indonesia-even prior to when the religion entered through Pasai and Peureulak in Aceh-but also other major religions such as Hinduism, Judaism, Confucianism and Christianity. The book Gerbang Agama-Agama Nusantara, written by Rusmin Tumanggor, a medical anthropology professor at the School of Tarbiyah (Educational) Science at the Syarif Hidayatullah State Islamic University in Jakarta, brings light to Barus's central role in the history of religion in the archipelago.
Traces of major religions in Rusmin's research take the form of mantras and incantations chanted by datu or dukun (medicine men) performing traditional Barus healing. For more than four years beginning in 1992, Rusmin studied how datu in the Barus District in North Sumatra performed healing rituals. His book, published by Komunitas Bambu in October 2017, grew out of his doctoral research in medical anthropology at the University of Indonesia's social and political sciences department.
W251bGwsIjIwMjEtMDUtMDggMjA6MDI6MjQiXQ
Rusmin chose Barus as recommended by his dissertation advisors, including Subuh Budhisantoso, Boedhihartono and the late Parsudi Suparlan. They pointed out the many studies that had already been performed on Barus. Scientists had even mentioned Barus as a place where international business relations were forged, especially in the trade of kapur barus (camphor) and spices. "Barus connects the east and the west. You can examine traditional treatments there," said Rusmin, quoting what his advisors told him.
In Barus, traditional healing is performed by datu, who are not only skilled therapists, but also provide public guidance for determining when to start planting or go fishing, finding best dates for celebrations or marriage proposals, as well as seeking potential spouses and job opportunities. "The term datu is used by nearly all Batak ethnic groups, for example in South Tapanuli, North Tapanuli, Simalungun, Karo and Dairi. In coastal Barus and Sibolga, the term is dukun," added Rusmin.
Bungaran Antonius Simanjuntak, an emeritus professor of sociology at the Medan State University, confirms that these traditional healing practices have indeed survived in several parts of North Sumatra. According to Bungaran, in Karo, for instance, datu will usually call a deceased's spirit to ask about treatments for diseases. Bungaran has also found the traditional practice in the Namo Ukur village, on the border of Langkat and Karo, and in the Simalungun Regency. "I once met with Pangulu Damak, a respected datu with supernatural powers in Simalungun," Bungaran told Tempo.
Datu who are not only capable of curing various illnesses but are also skilled in foretelling are called datu pangulpuk, or soothsayers, in the Batak language, said Bungaran. Some datu aim to destroy and murder with black magic or a kind of santet (hex). "But normally the Batak people only consult fortunetellers or healers," he pointed out.
Rusmin managed to obtain the names of healing datu in Barus with the help of Barus District Chief Jamaluddin Lubis, who distributed data forms to village heads in the area. When Rusmin performed his research in early 1992, Barus was still a district comprising 48 villages, with one subdistrict called Manduamas. "There were 378 datu in total, so seven per village on average," said.
Of the 378 datu, Rusmin interviewed 97 who he deemed to have given authentic and reliable data. He also added three others from the Napasingkam Village, North Tapanuli; Poriaha Village, Sibolga; and Lipek Kajang Village, South Aceh. The 100 datu weren't randomly selected, but were rather chosen using the snowball method. Some referenced their own teachers, but there were others who referenced datu from other schools.
Rusmin believes that he reached the point of saturation after he had interviewed the 100 datu. "After interviewing 90 datu, I found 110 types of diseases. With 10 more datu, I only learned of eight new illnesses," he said. The same was true of the number of mantras used by these datu. After interviewing 90 datu, he recorded 390 mantras. An additional 10 datu only produced five new mantras. "So there were 118 diseases that were curable by datu who mastered 395 mantras," said Rusmin, who was born in Barus 70 years ago.
l l l
INTERESTINGLY, after examining the mantras, Rusmin was able to classify them based on religious influence, namely from Islam, Ru (Confucianism), Judaism and Sipele Sumangot-a local religion in worship of ancestral spirits. Islam-influenced mantras would begin with basmalah, or in the name of God (bismillaahirrahmaanirraahiim) and end with laa ilaaha illallaah (there is no God but Allah, derived from the Quran and various hadith). The addition of phrases such as Barkat Bagindo Ali, Barkat Pitua Guru, Barkat Rasulullah indicates the inclusion of tarekat (mystical teachings) such as Qadiriyah wa Naqsyabandiyah.
Another mantra found by Rusmin from a collection of datu's notes, kept throughout generations starts, with "Hong" and it ends with "Hah." At first, Rusmin thought it was a Buddhist mantra, but an expert in Chinese culture, Rafi Tock, said Hong was, in fact, unpopular. "The full name is E (Wang) Huong (pronounced Kwang Hong)-the god in charge of human life after death in heaven. It's the teaching of the Ru (Ru Jiao) religion, an embryo of Confucianism in the second dynasty period in China," said Rusmin, quoting Rafi Tock's explanation. The second dynasty, or the Yao Dynasty in China ruled in 2357-2255 BCE.
Rusmin was also piqued by the mantra beginning with Binsumirlah dirahaman dirahamin and ending with yasah, yasih, yasuah, which he observed in the Pustaha Batak. According to Christian scholars, this may have emerged due to the inability to express speech on the part of non-Muslim datu who learned from Muslim datu. But Rusmin felt that the datu were very fluent in chanting all their mantras. Moreover, the Pustaha has a sentence merging the Sipele Sumangot's god with the prophet Solomon: "I will say to God, in the beginning were two King Solomons."
"The name Solomon is not found in Batak history. This may be symbolic language because Solomon was a prophet as well as a king," said Rusmin. He also compared the Pustaha as transliterated into romanized Batak by lecturers at the Huria Kristen Batak Protestan's (HKBP) school of theology in Pematang Siantar to the Hebrew-English Dictionary. "It's written as yasah (outgoing), yasih (toward peace), yasua (to leave). So the mantra comes from the Hebrew. The question is whether the Barus people went to Israel or the other way around," he said.
But Nelson Lumbantoruan doubts that the Pustaha Batak contains Hebrew text. Nelson is a Batak activist who once worked for Uli Kozok, a German-born philologist who had researched Batak literature for his dissertation at the University of Hamburg. According to Nelson, he had already discussed "Binsumirlah" with Uli Kozok, now a professor and coordinator of the Indonesian-Malay language program at the University of Hawaii, Manoa. "Uli Kozok believes that the text is not Hebrew, but Arabic," said Nelson, who is currently working with the Humbang Hasundutan regency government in North Sumatra.
Uli Kozok, Nelson added, never found Hebrew text in the Pustaha Batak. "The presence of Hebrew text is impossible. Where did the influence come from?" said Nelson, quoting Uli Kozok. Uli created a computer software for transliterating the Batak alphabet into Roman letters. The computer program can distinguish between the different Batak versions from Angkola Mandailing, Toba, Simalungun, Karo and Pakpak Dairi. With the software, users can type Batak characters on the computer using ordinary Roman-alphabet keyboards.
According to Nelson, the datu's mantras are called tabas in the Batak language and are chanted in whispers. Tabas, as contained in the Pustaha Batak, is very difficult to translate because the language is unclear. "It's not conclusively Batak, not Malay, and not exactly Arabic," he said.
The absence of Christian mantras taken from the Bible in the healing rituals of Barus's datu also intrigued Rusmin. The 100 datu he interviewed were composed of 50 Muslims, 12 Sipele Sumangot adherents, 23 HKBP Christians, 14 Catholics and one Methodist. Of the 38 Christian datu, Rusmin only found one who used a mantra beginning with Oh Sitolu Sada (Oh God of Three into One). "He didn't share the same school with the other 37 datu using interfaith mantras," said Rusmin.
Rusmin received a unique explanation from a datu on why interfaith mantras were used. "When there is a disease, God remains merciful although the person asking (for healing) does not worship Him," he said. Because of this explanation, Rusmin looked for references on the concept of "my god and another's god" and found a mention in a book by Harun Nasution, titled Al Islam. According to Harun, there's a "national god and local god" concept called henotheism in ancient Egypt and ancient Israel.
The datu's healing rituals were based on the concept of henotheism, like the healing methods of shamans in Thonga, South Africa, as studied by W.H.R Rivers. The Thonga community believes that health and illness are determined by the warmth of relationship with supernatural or magical beings. The datu in Barus, however, also use herbs and animals, so that their healing is a combination between natural remedies and interfaith teachings.
l l l
RUSMIN recorded 166 species of 247 medicinal herbs, including spices used as ingredients by datu for making remedies, called pulungan roha-roha. Some of the recipes come from Kitab Tajul Muluk (Kings' Crowns) and others from datu, religious figures, doctors and people educated on the subject, as well as people who had consulted the datu and benefited from the pulungan roha-roha.
Rusmin has already submitted the plant species to the Museum Herbarium Bogoriense in Bogor, West Java. He said based on a pharmacological study performed at the museum, 37.5 percent, or 93 of the plants, were found to have the same efficacy as conventional medicines-among others the kumis kucing (Orthosiphon grandiflorus), mace, castor-oil and coffee-while the rest offer various benefits.
The datu's medicinal herbs led Rusmin to meet with J.J. Rizal from Komunitas Bambu. Rizal also sat on the committee for the Spice Trail Exhibition: The Untold Story, held at the National Museum in Jakarta, October 2015. The exhibition was held because the camphor trade was one of the oldest Silk Road trades. "Traces of the camphor trade along the Silk Road have lingered to contemporary times," said Rizal. Rusmin mentions this fact in his dissertation on Barus datu's healing rituals.
Rusmin did indeed mention camphor, which brought Barus to world fame. Kapur barus, from the resin of the kamper tree (Cinnamomum camphora) found in Barus, is an important ingredient for mummification already practiced by ancient Egyptians in 3000 BCE. Rusmin also quoted the hadith on the procedure for bathing a corpse with kafuuran, translated by Salman Harus-lecturer of Arabic and religious interpretation at the Syarif Hidayatullah Islamic University-who used the term kapur barus.
Kafuuran, notes Rusmin, is also mentioned in the Quran, in Al-Insaan, verse 5: "Verily, righteous believers (later in heaven) shall drink from a cup mixed with kafuuran."
"Several ulamas translate kafuuran as kapur barus, or camphor, although the religious affairs ministry's translation is 'water spring in heaven'," said Rusmin.
Rusmin gave his explanation to President Joko Widodo on March 15, 2017. At the time, Rusmin and a number of Nahdlatul Ulama clerics and leaders of the Jam'iyah Batak Muslim Indonesia expressed their belief that Islam first entered the archipelago in the seventh century CE, in Barus. "There must have been Muslim preachers in Prophet Muhammad's time who came to Barus looking for camphor out of fardu kifayah (religious duty)," said Rusmin.
Rusmin's account of kapur barus may have why President Jokowi declared Barus as Islam's entry gate, by inaugurating the Nusantara Islamic Civilization Kilometer Zero Monument on March 24, 2017. Rizal admits that the recent declaration made him even more eager to publish Rusmin's dissertation. "Unfortunately, after the inauguration, Pak Rusmin fell ill and had to undergo a heart surgery. The book couldn't be published sooner," said Rizal. The book was launched at the "Silk Road Exhibition: Kedatuan Sriwijaya-The Great Maritime Empire," held at the National Museum in Jakarta, November 2017.
Dody Hidayat, Sahat Simatupang