Pidi Baiq and Dilan's Sweet Talk
Dilan is the hottest name on moviegoer's lips. In less than three weeks, over five million viewers went to watch Dilan, a movie adapted from Pidi Baiq's best-selling teen lit novel. A band player and a blogger, Pidi is known for his wacky humor.
Edition : Monday, February 26, 2018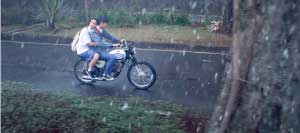 PIDI Baiq arrived at The Panas Dalam cafeteria in Jalan Ambon, Bandung, West Java, in what seems to be his go-to T-shirt, with the signature Rolling Stones tongue-out, but with "Pink Floyd" written above it. He walked around the cafeteria in his hat and knee-length trousers, greeting patrons. He also indulged those who wished to take pictures with him or to have an autograph.
He goes to the cafeteria, which he manages with the other Panas Dalam personnel, every day. The 45-year-old often stays put from afternoon until evening, when he is not performing or giving lectures. Even after the success of his novel Dilan 1990 and its film adaptation, his appearance and habits have not changed. Pidi professes not to care too much about the number of moviegoers who watched his film, as long as people are satisfied. "I repeatedly told my film team that if we create an inferior movie, that would be tantamount to being unjust to ticket buyers. The same is true of books. If people are disappointed, I'd feel bad, because it would mean I deceived them, right?" he told Tempo two weeks ago.
Dilan 1990, co-directed by Fajar Bustomi, is the latest teen flick phenomenon. Since its premiere in movie theaters on January 25, the film has gained a steadily-increasing viewership. In the first week, Dilan 1990 recorded a daily average of 700 screenings. On the 18th day of screening, total viewers had reached around 5.1 million.
The film, adapted from Pidi Baiq's book Dia adalah Dilanku Tahun 1990 (He's My Dilan 1990), has beaten the best-selling film record held by Laskar Pelangi since 2008 with 4.7 million viewers. Dilan 1990 is predicted to gain even more viewers, rivaled only by the comedy Warkop DKI Reborn: Jangkrik Boss! Part 1 produced by Falcon Pictures, with 6.8 million viewers.
W251bGwsIjIwMjEtMDUtMDggMTQ6MjQ6MDUiXQ
The individual most surprised by the film's success is Dilan 1990's producer Ody Mulya Hidayat of Maxima Pictures-a Falcon Pictures subsidiary. Initially, he had set a target of only three million viewers. "As it turned out, screenings have remained stable after viewer numbers reached four million. If the trend continues, I'm confident we can reach seven million (viewers)," said Ody.
In fact, Dilan 1990 was filmed on a relatively low budget, making use of simple movie sets-a house, a school, the occasional public road. The filmmakers, however, had some difficulty bringing the story's Bandung 1990 backdrop to life. "The budget was obviously smaller than Warkop DKI. We spent more on promotion, especially television and infotainment," said the producer.
The film enjoyed a more organic promotion through the spread of memes on social media, adapted from quotes in the film. Nearly all dialog spoken by Dilan can be turned into a tagline. For example: "Don't miss me. It's tough. You won't survive it." Or: "Never tell me that someone hurt you. That person will disappear tomorrow," presented in different variations and puns. "These memes have grown spontaneously," Ody said.
The film's biggest strength indeed lies in Dilan's meme-friendly quotes when teasing Milea. Both Dilan and Milea are the lead characters in Pidi's story. Milea (Vanesha Prescilla) is a new student at a high school in Bandung. The story is set in 1990, when the streets of Bandung were still empty and had many shady trees overhead, and teenagers had to use public telephones and write letters to get their beloved's attention. The story is told from the adult Milea's point of view as she reminisces her high school years.
In the film, the Milea character does not have a particularly interesting personality. Apart from her evident prettiness, she is only often seen giggling when teased, plus she is a bit spoiled, the type of girl who would say things such as, "Would you choose 'that' (another girl) or me?"
On the other hand, Dilan is an arresting type-at least to most teen girls and the young matrons who seem bent on viewing the picture multiple times. He is the commander of a bike gang, rides a Honda CB100 to school, is always class champion and at the same time is an admirer of political figures such as Ronald Reagan and Ayatollah Khomeini. Oh, not to mention, he is also obedient and devoted to his mother.
But Dilan's most irresistible trait is his eccentric ways, and his command of flirting in 'correct' Indonesian, which he deftly uses to win Milea over. When Milea falls ill, he takes the initiative to send her a masseuse. Dilan's first present to Milea is an already completed crossword puzzle book, because, he reasons, "I don't want you to have a headache filling them out, Milea."
Now imagine all these sweet acts played by cutesy Iqbaal Ramadhan, former member of the teen band Cowboy Junior, now transformed into a young man with melancholic eyes and a charming smile. Apparently young women (and women who were once young) find him hard to resist. Iqbaal's timid speech patterns and sometimes unclear articulation seem readily forgiven.
Almost two-thirds of the film is filled with Dilan's sugary acts of flirtation, which are portrayed as being out of the box for teen guys of the day. The moviegoers who liked such scenes could find themselves smiling and feel their hearts go pitty-pat throughout the film, while others could find it excruciating. There is almost no conflict between Dilan and Milea, and everything seems to run as sweet as honey, as pure as first love-simple with no unneccessary drama.
Perhaps these are the keys to Dilan 1990's success. Ticket buyers are not only teens crazy about Iqbaal, but also adults reminiscing back to their days of high school innocence. The 1990 backdrop only serves as a gimmick, as the film primarily offers the adrenaline rush of first love-something almost everyone can relate to. "Milea's confusion is one of teen girls from any era. In high school I also behaved like that and thought like her," said viewer Hadissa Primanda, 25, laughing. She has read the novel Dilan and seen the movie twice.
Ody Mulya Hidayat confirms the viewers' diverse age groups. According to Ody, most who went to the first half of the film's screening period were teens and Iqbaal's fans. But upon entering into the second half, movie theaters were packed with adult moviegowers. Neither had all of them read the book.
Those familiar with Pidi Baiq's fiction for sure would immediately detect that Dilan's sense of humor is, in fact, similar to the writer's. But the story's romance has made this particular work more widely received compared to his previous books. Meanwhile the film adaptation is making it enjoying even greater popularity.
MAXIMA Pictures holds the right to the Dilan series, which will come in four books. So far, Pidi Baiq has published three books-Dilan: Dia adalah Dilanku Tahun 1990, released in 2014; Dilan Bagian Kedua: Dia adalah Dilanku Tahun 1991 (Dilan Part Two: My Dilan in 1991), released in 2015; and Milea: Suara dari Dilan (Milea: Dilan's Voice), released in 2016. The contract mandates Pidi's full involvement in the filmmaking process.
After publishing the first Dilan three years ago, Pidi said he would not make a film adaptation from his book unless he was the producer as well as director. "But I had no money. So I got confused," he said.
Pidi's biggest fear was that the movie would fail to render the novel visually, the biggest failing of plenty other book adaptations. "I know that a film adopts, makes changes, but I didn't want that for my book," said the fine arts and design graduate from the Bandung Institute of Technology.
Yet offers came flooding in from production houses as Pidi's Dilan series gained popularity. At least 10 production houses made bids, ranging from Rp50 million to Rp3 billion. In the end, Pidi chose to collaborate with Maxima Pictures-not the largest bidder, but one that was prepared to meet Pidi's condition of allowing his involvement.
Pidi supervised the screenplay writing, casting and directing. He wanted the entire narrative in his 332-page book to be included. Of course, if approved the film would have had a very long duration. Fajar Bustomi, the film's co-director, had to persuade the author to make the story more compact for the movie. "I know Pidi was inevitably saddened that parts had to be left out. But we continued discussing it, and finally agreed on the execution, making it possible for the duration to stay at two hours," said Fajar.
Fajar recommended leaving out the parts involving secondary characters around Milea and Dilan's relationship. These sub-plots would be reserved for the next movie in the franchise, in order for the debut work to focus solely on introducing the Dilan and Milea characters.
In regard to the setting, Pidi had a fairly practical concept in conjuring up Bandung in the 1990s. Several items had to be made available, such as the Nissan driven by Dilan's mother, and Dilan's motorcycle. "Thank God, Bandung hasn't changed much. Lucky, too, Dilan wasn't created for 2090," he said.
Pidi had the final word on casting. During directing, Pidi was in charge of ensuring the film's faithfulness to the book's storyline, while Fajar was responsible for the cinematic aspects and editing in post-production.
The actual filmmaking process did not take long. Although two years in the planning, production did run into a certain hurdle-finding the right actor to play Dilan. Iqbaal Ramadhan was only approved mid-last year, and the production process followed in the span of six months.
The hastiness is apparent in the film's choppy editing. The most jarring scene is the one with Milea and Dilan's mother in the car. The outside passing scenery looks clearly fake. Fajar used CGI, and the time constraint prevented the segment from being properly worked. "I continued to make improvements. The version shown in theaters is an improved version of the premiere version," said Fajar.
Moyang Kasih Dewimerdeka, Anwar Siswadi (bandung)