Danarto: literary sketches
Danarto wished to eliminate strict barriers between art forms and to create text that strained and pushed against itself, while functioning as a unit.
Edition : Monday, April 16, 2018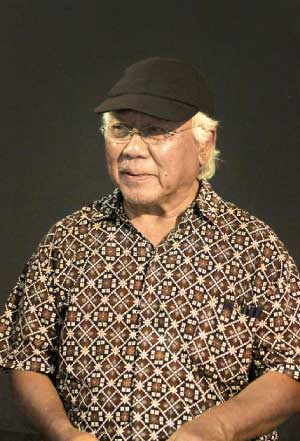 DANARTO (1940-2018) was a painter. In the 1960s, we at Gadjah Mada Universitys literature and culture department founded a monthly wall magazine. Danarto, at the time still a student at the Indonesian Academy of Fine Arts (ASRI) Yogyakarta, was an important part of the wall magazine. From time to time, we would ask him to produce a sketch or a drawing so that our magazine would not seem so bare. Each time, we would go to Danarto to persuade him to draw for us, and he would always happily comply.
A painterthat is still my impression of him, the writer who has contributed innovations to our literature. This is also my impression when interpreting his writings. One of his more successful short stories was given the title of an illustration of a heart pierced with an arrow. Of course it wasnt such devices that got him the attention of literary enthusiasts. In Danartos mind, there was no clear barrier between illustration and textwe also know that text is a kind of illustration that we created to carry sounds.
The device for introducing his idea emerged in 1974, when he sent a manuscript to Horison in the form of an illustration. "Please publish my poem, Mas Sapardi," he said. We had called each other "Mas" (informal honorific to address males) since our Yogya times, which could have been perceived as a sign of distance between us, though the reality was far from it. Yet I still refused his request to publish his sketches as poetry. In turn, he also refused my offer to publish his submission as a vignette in the magazine. We grinned at this (disagreement)-no harm done.
His adventures with sketches were not yet over. In 1974, the Jakarta Arts Council organized an important festival, which included a recitation session. In the program booklet, I saw one of the sketches he had once sent to Horison: a line drawing forming nine square planes (we then titled it Nine Planes). He was to 'recitate' the illustration. Outrageous Dartono, I thought.
W251bGwsIjIwMjEtMDYtMjIgMTQ6Mjc6MTYiXQ
I tensed up. And the tension led to an explosion of laughter when the maestro finally appeared on stage, not reading but moving as if dancing. Words, pictures, movements. The important lesson I learned from Mr. Outrageous was that he saw no clear line between one art form and another. I will always remember him primarily as someone who firmly believed in this idea, without resorting to pedantry but instead demonstrating this belief through actions.
In his fiction, he referenced many names, quotes, phrases, and figures from domestic as well as foreign literature, which to his readers may feel alien and unrelated. This is the basis of Danarto's intertextuality, the foundation of his literary works as well as their interpretations. Danarto's works are interwoven pieces of text that may come from anywhere, which he constructed in such a way to make them an integral part of new text. Like some of his other works, Hamlet Kokotbolot was created using this approach. I suspect his device was inspired, among others, by Javanese (Yogyakarta) theater known as Dhagelan Mataram, with Basiyo as lead character. This Basiyo-esque style held Danarto's intertextual elements together.
Danarto is no longer with us, but the maestro's work will be recorded as one of the pillars of our literature. I feel I have lost a best friend, someone who would come visit me at home, chat with me until he fell asleep in the living room, and once in a while send someone to deliver mi godog (noodle soup) or nasi goreng (fried rice) late at night.
May God grant you a smooth passage home. Until we meet again There, Dan.
Sapardi Djoko Damono, Teacher and Writer