Backyard Natural Remedies
Indonesia's wealth of herbs and spices, believed to be effective natural remedies, has made the herbal oil sector flourish.
Edition : Monday, May 14, 2018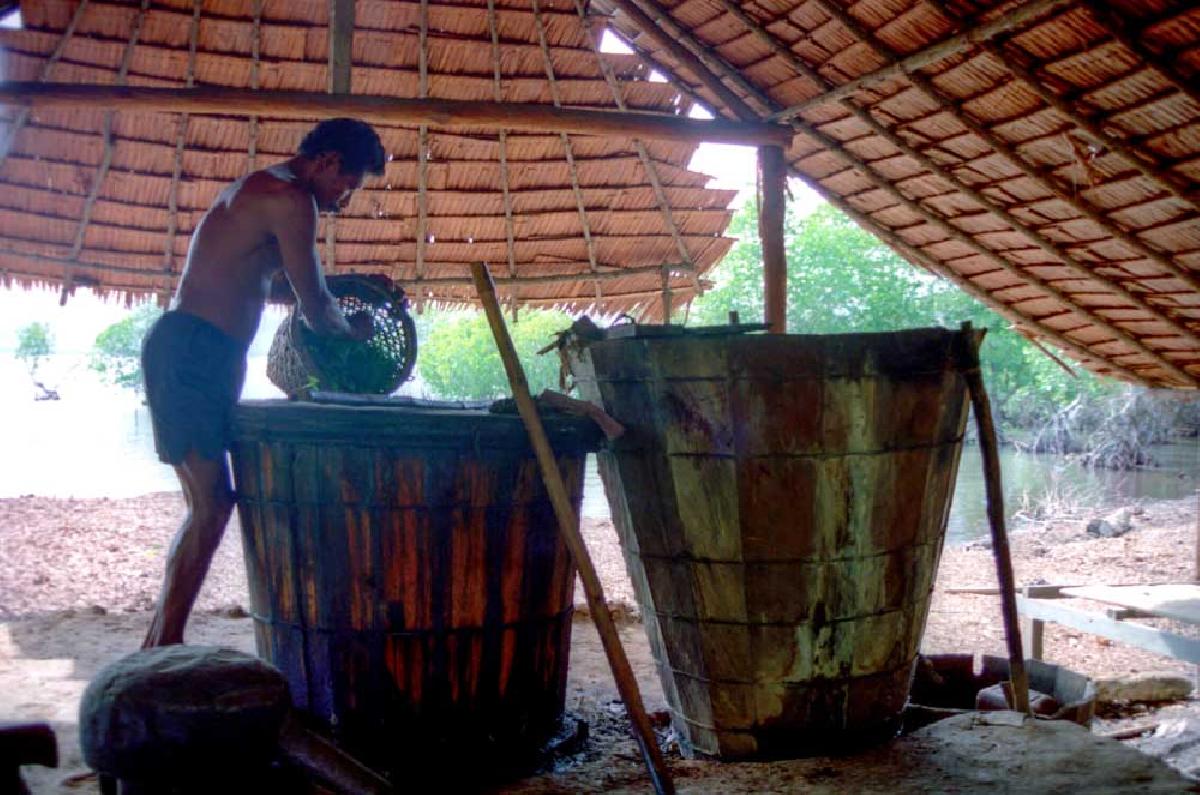 Indonesia's wealth of herbs and spices, believed to be effective natural remedies, has made the herbal oil sector flourish. Barend Uspitany and other residents of the Suli Banda village in the Maluku Province are now producing cajeput oil from paperbark trees found in abundance in their village. Meanwhile, Bambang Pranoto in Gianyar, Bali, produces an herbal oil made from 49 local plants. Tempo English reports.
Creating a new life with cajeput Oil
The 1999 conflict in Maluku took hundreds of Hatta Island residents to the city of Ambon. There they built a cajeput oil business.
THE beer bottles lined up in the 10-square-meter living room no longer contained beer, but rather cajeput oil under the Eriwekang brand created by Pastor Barend Uspitany, the home's owner. Although Eriwekang cajeput oil is packaged well in the glass bottles, we could still smell the herbal product used to relieve stomach pains, headaches, flatulence and influenza symptoms. Unlike most cajeput oil brands sold at supermarkets, the distinct scent of Eriwekang oil can be detected from 10 meters away.
W251bGwsIjIwMjEtMDQtMjEgMjI6NTI6MzAiXQ
It is no surprise that Eriwekang products have become popular gifts to take home from Ambon, Maluku, and is a top-selling source of income for Suli Banda residents, Barend included. "Our products are sold in 30 countries, including Japan, China and the UK," said the pastor.
Eriwekang oil is produced by the Sinar Kasih business group led by Barend and headquartered in the Suli Banda village, 17 kilometers from the city of Ambon. The group is made up of 50 freelancers and seven permanent workers. Freelancers gather paperbark (Melaleuca leucadendra) leaves found on 52 hectares of land in Suli Banda, while four full-timers process the leaves into oil. The remainder are responsible for marketing the brand.
The full-time workers are paid Rp100,000 per day, said Barend, while freelancers are paid according to the amount of leaves they collect. He pays them Rp1,000 per kilogram of white paperbark tree leaves, which he says is quite good, considering there are about 56 hectares of land where white paperbark trees grow in Suli Banda. "It's not difficult to find leaves for making cajeput oil here, and the tree grows quickly," he said.
Because of the abundance of paperbark trees, a leaf collector can fill one or two sacks of leaves in just two hours. To ensure sustainability, leaves are picked instead of gathered by cutting tree branches.
Sinar Kasih's partnership with Suli Banda residents, most of whom are horticulture farmers, has been running smoothly. Each month they produce up to 105 600-ml bottles of oil, which are then repackaged in 40-ml, 150-ml, 300-ml and 600-milliliter bottles priced at Rp50,000-200,000.
The business brings in Rp3.5-19.6 million per month. According to Barend, Sinar Kasih's output tends to fluctuate according to demand. "We produce more when there is a demand," said Barend.
n n n
Barend went into the cajeput oil business in 2000, after he and over 1,000 residents of the Banda Islands and its environs left to seek refuge on the island of Ambon in 1999. Around 206 families, including Barend's, fled to Ambon because of ethnic conflict in their home region. The refugees settled in a village called Suli-later known as Suli Banda-and have lived there ever since.
Barend and the thousands of others started a new life in Suli. They built homes and churches, and tried to figure out how to make a living. He had the idea of trying his luck in the cajeput oil business after noticing that paperbark trees seemed to grow well in just about every corner of the village. "I wanted to go into a sea-related business, but the village is far from the ocean."
Before the refugees came, Suli Banda residents had already been trying to develop a cajeput oil industry for a long time, but their businesses failed to grow, Barend explained. Today, only Sinar Kasih is still in business. Locals feel there is not much profit to be had from cajeput oil, especially because Ambon is already known as a cajeput oil-producing region, which means there are plenty of competitors.
Barend does everything he can to ensure his group stays in business, among others by imposing strict quality control and teaching his neighbors how to produce cajeput oil. Now, several training sessions later, all the Suli Banda residents are well-versed in the process and methods for making cajeput oil.
Barend learned the ins-and-outs of doing business and producing cajeput oil as a student at the Oikumene Christian University in Ambon, where he studied entrepreneurship. "I hold to the principle that business shouldn't only be for making profit but also for helping others," he said.
Rachel Heinrich, another refugee from the Hatta Island, is among the Suli Banda residents who have learned from Barend. At first she was a leaf collector for the Sinar Kasih group, but she has been part of the group's full-time processing staff over the past several years. "Processing these leaves requires great care. The slightest error may affect the oil's quality," said Rachel.
She usually works from around 5am until 10pm. Her day is begun by collecting firewood for boiling the paperbark leaves. A boiler can accommodate 300 kilograms of leaves. Because Sinar Kasih has four boilers, the group can process up to 1.2 tons of leaves per day. It takes 100 kilograms of paperbark leaves to produce one 600-milliliter bottle of cajeput oil.
Boiling paperbark leaves takes 4-5 hours. After that, oil will start to drip from a pipe coming from the boilers. The oil is then cooled for about nine hours and packaged under the Eriwekang brand. "I can leave and do others things during processing," said Rachel.
According to Rachel and Barend, they have yet to encounter a major problem since Sinar Kasih began operating over a decade ago. The group's biggest challenge so far is the rainy season, when paperbark leaves do not produce as much oil. "Sometimes no oil comes out during the boiling process," said Barend.
n n n
Barend saw that his small enterprise would not be able to flourish without sponsorship from the private sector and the government. It also needed proper marketing. In 2006, Sinar Kasih requested assistance from the National Population and Family Planning Board (BKKBN), who gave the group processing equipment.
At a National Press Day celebration in February 2017, Sinar Kasih was given two boilers by Indonesian President Joko Widodo. Now, the group's processing facility, located in a residential area, has four boilers nearly two meters tall. The new boilers have greatly helped with the production process. "When a boiler malfunctions, the regional government moves quickly to repair it," said Barend.
He markets Eriwekang products through the group's Facebook account, reaching buyers from overseas, some of whom have become resellers for the group's cajeput oil.
Barend also works with taxi drivers in Ambon, placing Eriwekang cajeput oil in taxis-a method he says is aimed at reaching out to a wider range of consumers, not only Ambon residents but also domestic and foreign tourists.
According to Barend, his marketing strategy has proved successful. "That's how many of my customers got to learn about my brand and ask to be taken to Suli Banda." Not only that, taxi drivers seem to also profit from Sinar Kasih's enterprise. "They earn extra money when they drive visitors over to my place," Barend added.
Indeed, the ability to help many is exactly what he hoped to gain from his business, said the pastor. Eunike Werluka, 29, seems to agree. She began working for Sinar Kasih at the age of 11, after her family fled the island of Banda Neira, Maluku.
Eunike started out as a leaf collector and later learned how to process cajeput oil at Barend's facility. Cajeput oil has made it possible for Eunike to support her family. "I want to focus on making money (through making cajeput oil)," said the police officer's daughter.