Illustrations In Diversity
Indonesia's biological diversity is not yet well documented in botanical illustrations. There are only a handful of botanical illustrators in the country.
Edition : Friday, June 8, 2018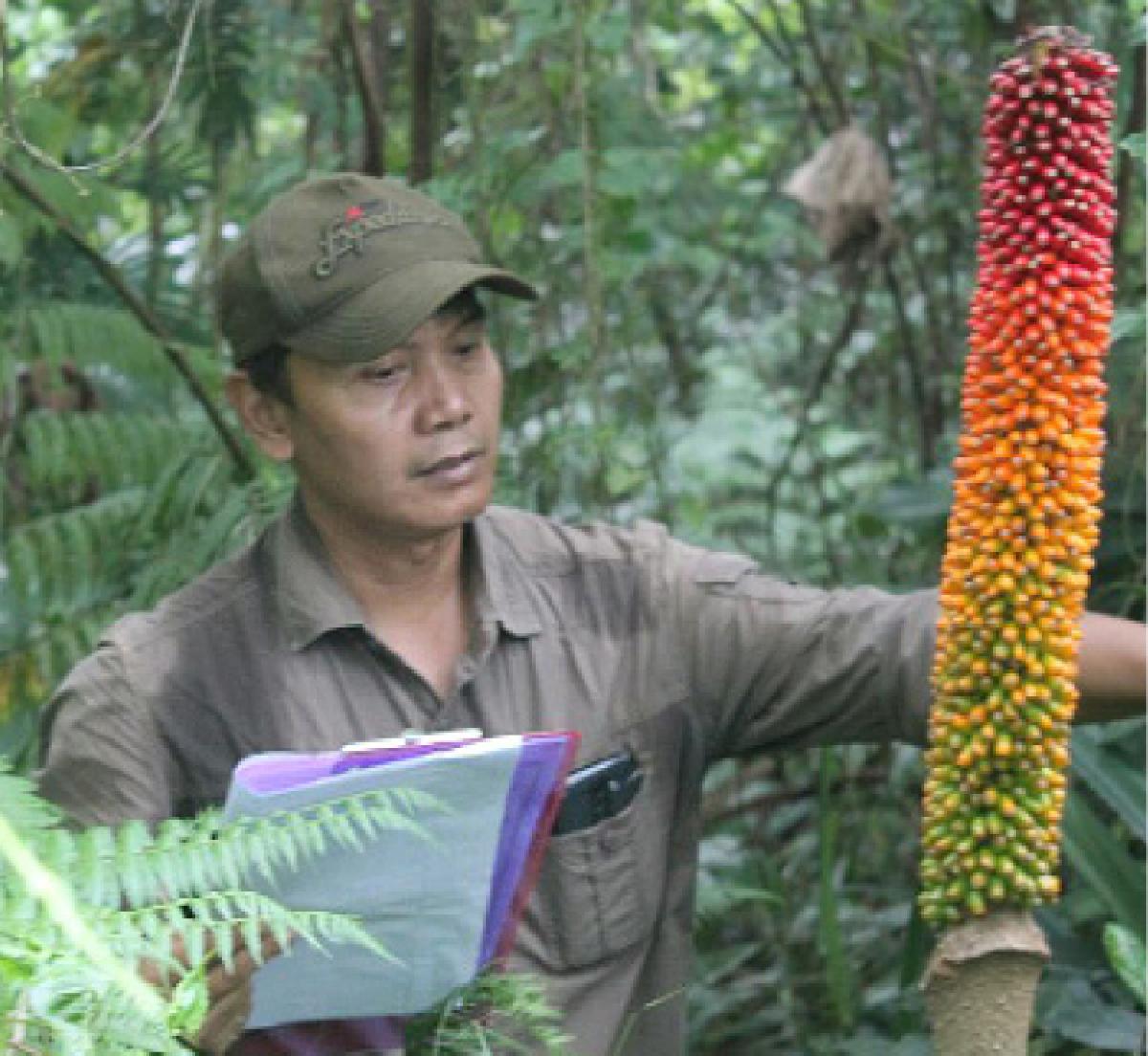 With only two days left to submit his work to the Margaret Flockton Award 2018, Ichsan Suwandhi had to draw quickly. After pondering briefly, he decided to draw the noni plant (Morinda citrifolia) in his backyard in Jatinangor, West Java.
Ichsan's drawing was the first and only submission from Indonesia in the botanical illustration competition, whose results were announced in May. Ichsan's work was ranked 24th out of the total 39 submissions from all around the world. "At first I wanted to submit an old work. But to make it special, I made a drawing from scratch," said Ichsan, a lecturer in the Bandung Institute of Technology's (ITB) forestry engineering program.
Ichsan learned from his students about the annual competition routinely held by the Royal Botanic Gardens in Sydney, Australia, since 1993. "Just to introduce myself," he said of his decision to participate in the competition meant to commemorate the Sydney garden's first botanical illustrator.
The drawing of the noni plant itself, made by Ichsan using black (B) and half black (HB) pencils seems pretty simple. He drew a branch with seven leaves and a flower in bloom, with an entire leaf as the backdrop, its stalk and veins clearly visible. He also depicted an enlarged flower in bloom and a developing fruit. A noni fruit and its cross-section complete the illustration of the plant. "I have always used pencil," said Ichsan in early May.
W251bGwsIjIwMjEtMDUtMTEgMTg6NDY6MTQiXQ
The competition also accepted black and white illlustrations drawn digitally or with pen. Natanael Nascimento from Brazil won first place in the competition, while Edmundo Saavedra Vidal from Mexico was runner up. Australian Alastair Robinson's work received the Highly Commended award.
Ichsan thinks highly of these three winners' works, saying their illustrations look remarkable because they show every detail of the plants with utmost precision. Their artistic touches lend a certain beauty to the illustrations. "Their scaling technique is also spot on, whereas I still have many shortcomings. My work is too plain and lacking a contemporary artistic touch," he said, laughing.
Throughout his 10 years as a botanical illustrator, Ichsan had never been interested in participating in a competition before this year. Born in Malang, East Java, on November 27, 1970, Ichsan started drawing while still a child and delved into botanical illustration after becoming acquainted with plant taxonomy. In 2014, he received a doctorate degree in tropical silviculture from the Bogor Agricultural Institute (IPB). Ichsan has made around 100 illustrations. Many of them, however, are now either missing or damaged, leaving just 40 in his possession. "I've now started archiving them properly," said Ichsan, who is a member of his university's Ecological Expertise Group.
Before drawing, Ichsan never forgets to sharpen his HB and B (level 0 to 8) pencils. Graphite debris from this sharpening process is then used for shading. For a single drawing on an A3 paper, he will spend one third of a 5B-8B pencil. Ichsan also uses a ruler and a black eraser, which works better for making a clean drawing.
The initial idea for drawing certain plant species, he said, depends on the illustrator's strengths. "I tend to look for unique or rare plants," said Ichsan, who is also a member of the Indonesian Biodiversity Society. He draws plants live in the field, but will not necessarily complete his drawings on the spot. He will begin by producing a broad sketch of a plant. Then he would define the lines, apply shading, and proceed to clean up the drawing at his home, where he does not have a dedicated drawing studio.
Ichsan spends an average of two days to finish an illustration, including the time to study a plant's morphology and descriptions. He is primarily concerned with parts of a plant that wither easily, such as its flowers, buds, and fruits. To prevent damage or wilting, Ichsan submerges a back-up sample in water. "I also have photographs of the specimen as aid," he said. These pictures may come from the Internet or photos that he took himself.
Ichsan does not destroy the plants he wishes to draw. "I'll usually just pick a branch of leaves, plus flower and fruit buds," he said. For wild grasses or herbs, which are abundant, an entire plant may be removed from the soil. He also likes to collect the roots of certain herbs or plants that are not endangered, such as Araceae (taro). "Roots are almost never used as a source of identification," he pointed out.
The purpose of botanical illustrations, Ichsan explained, is to provide a detailed and accurate reference to be used for recognizing the plant based on its scientific name. Among academics, plant illustrations are of great importance, which means that the pictures involved are more complex as well. "These works are not simply visual works of art, they can also be used to identify plants," said Ichsan, a doctorate degree holder of dendrology and plant taxonomy.
Before the advent of photography, botanical illustrations also served as documentation. Despite the emergence of photography in the 19th century and its subsequent, rapid development, the art of botanical illustration has survived to this day. "Photography is more about the object's visuals, while illustrations place an emphasis on the details of a plant's characteristics," explained Ichsan.
Ichsan's colleague at the ITB School of Biological Science and Technology, Dian Rosleine, believes that botanical illustration is vital to biology, especially for explaining the taxonomy and systematics of plants and animals. Despite advancements in photography, botanical illustrations can do more to explain textures and other details that may be noticed only through direct observation. "This type of illustration is important for scientific publications," said Dian, an ecology and biosystems lecturer and researcher.
According to Ichsan, most of Indonesia's botanical illustrators are self-taught. They work in universities, the Indonesian Institute of Sciences, and other research organizations. They are few in number with no organization to join them together, he added. As a result, Ichsan and several other botanical illustrators have joined the Indonesian Society of Botanical Artists (Idsba).
Some Indonesian botanical artists have already launched international careers. Ichsan mentioned Jenny A. Kartawinata, Eunike Nugroho, and other Idsba members as examples. Most botanical artists in Idsba are contemporary artists who rely on natural colors-the colors of their objects. "This genre is indeed closer to the decorative value, which is why they're sold to the public."
Jenny, a botanical artist, explained the fundamental difference between a botanical artist and a botanical illustrator, saying that, "The main purpose of botanical illustration is to provide [a tool for] identifying a plant." On the other hand, "botanical artists draw plants according to their physical conditions accurately, meticulously and with an eye for detail."
Ichsan draws botanical illustrations in between his academic assignments. During holidays, he busies himself with forestry-related activities organized by the environment and forestry ministry. Last week, for example, he went to Lombok, West Nusa Tenggara, to evaluate management of forests in the region. He took the opportunity to keep an eye out for plants unique to or typical of the region good for him to draw.
Ichsan believes that all botanical illustrations depicting Indonesia's biological diversity should be archived and kept in a herbarium or a library. "I plan to archive [such illustrations] in ITB's Bandungense Herbarium in Jatinangor," he said. The herbarium in question already contains books on flora filled with botanical illustrations drawn by experts in the past. Some of Ichsan's drawings can also be found in these books.
Anwar Siswadi (Bandung)