Preserving Ethnic Languages
The Ministry of Education and Culture's Agency of Language Development and Construction has declared 11 of Indonesia's 652 ethnic languages extinct. As many as 19 ethnic languages are now endangered and four critically endangered. The administration of North Maluku, where some of these near-extinct texts are from, is working to preserve extant languages, among others by including ethnic languages in local school curricula and compiling dictionaries. Efforts to salvage and preserve ethnic languages are also in progress in North Sumatra, with various groups as well as individuals working to safeguard the Toba Batak language, including through a social media forum. Tempo English reports.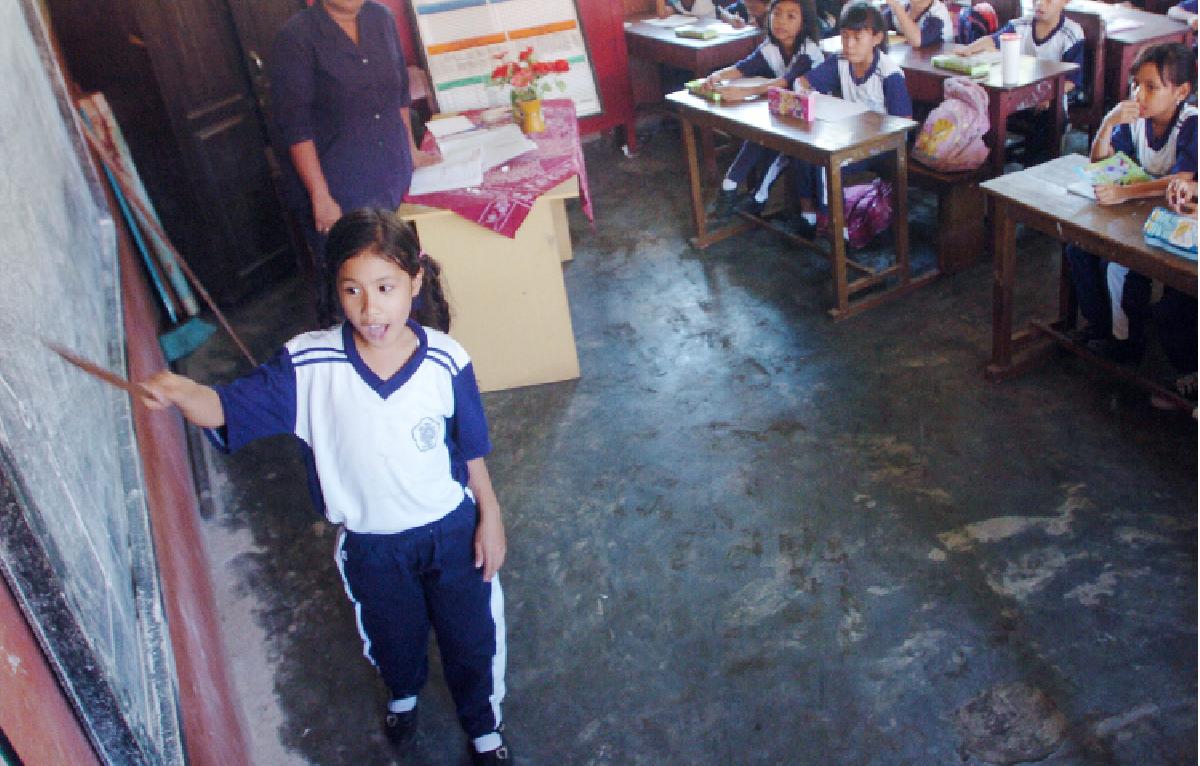 Resurrecting Dying Tongues
The North Maluku provincial government and language agency are working hard to preserve the region's ethnic languages by including them in local school curricula, training teachers and compiling dictionaries.
TWO months ago, elementary school students in the village of Gamlamo, Western Halmahera, North Maluku, seemed happy as they sang a traditional Sahu song in the schoolyard. Once in a while, they would shake hands and form a small circle. Although they paid attention to their teacher's instructions, the children would frequently burst into laughter.
The children were fourth graders at the Gamlamo Presidential Instruction (Inpres) Elementary School-part of a program initiated in the Suharto era. Singing is part of the school's local curriculum. At the Inpres school, students begin studying region-specific material in third grade. Because of the fun approach to learning, including through songs, the children always seem animated. "Most Saturday afternoons, the children sing songs in the local ethnic language," said Gamlamo resident Ridwan Hamiru, 40.
According to Ridwan, the Sahu language is one of the three ethnic languages in West Halmahera included in the local curricula of the regency's schools. Besides Sahu, there is also the Ibu and the Jailolo language. Jailolo language is still used by many people, while Sahu, according to the Language Agency of North Maluku, is endangered and the Ibu language is nearly extinct. Ridwan is the nephew of Nifu Hairu, one of the three native speakers of Ibu still living besides Hajijah Farah, 80, and Kaidati Babao, also 80 years old.
According to the Dutch researchers Clemens L.Voorhoeve and Leontien E. Visser, who studied the Ibu language in 1987, the number of the language's speakers have continued to decline. In 1987, 35 individuals still spoke the language, a non-Austronesian language like the languages of Galela, Gamkonora, Waioli, Laba, Loloda, Makian Luar, Modole, Kao, Pagu, Sahu, Tabaru, Ternate, Tidore, Tobelo and Tugutil. The Ibu language was previously known as Ibo, meaning landowner. The name was then changed because of changes in pronunciation.
Chief of the West Halmahera Regional Development Planning Agency Soni Balatjai says it is the government's duty to advance and protect local languages, in line with Law No. 24/2009. The West Halmahera government has created a number of policies to protect the Ibu language, among others by including ethnic languages in local curricula in all elementary and middle schools in the regency five years ago.
Additionally, the government has continued training 40 elementary school teachers in the regency. "We hope that, in the future, the government will be able to take part in ensuring the survival of ethnic languages," he said.
In the past year, the government has also worked hard to document ethnic languages. West Halmahera's education and culture office has compiled dictionaries for three nearly extinct ethnic languages: Ibu, Gamkonora, and Tabaru. "We will distribute these dictionaries to all schools in West Halmahera," said Soni.
Meanwhile, the North Maluku provincial government has created a legal umbrella for these efforts through Regional Regulation No. 9/2009 on the Preservation of Local Languages and Literature. "This is part of our effort, besides supporting local curricula that include ethnic language instruction," said Armin Zakaria, chief of the North Maluku government's PR and protocol division.
n n n
Documenting near-extinct ethnic languages in dictionaries is not an easy task for the government. According to lead researcher at the North Maluku Language Agency, Mujahid Taha, his institution needed at least two years to create an inventory for the Ibu vocabulary since the work was begun in 2011 in the Gamlama village.
The only speaker they could interview was Nifu Hamiru. But even this was not easy because Nifu was an elderly and had limited vocabulary when it came to languages other than Ibu; meanwhile, interviews between researchers from the language agency, informants, and native speakers were conducted in several languages. "So sometimes we would speak in codes," said Mujahid. "Informants" are those besides native speakers with passive knowledge of the language studied, in this case the Ibu language. "Either neighbors or relatives of the speaker," he explained.
Documenting local languages involves several stages, said Mujahid. The first stage is to prepare a Swadesh list made up of 200 words in Indonesian to then function as a basic tool for research. The list contains words such as abu (ash), air (water), jauh (far), kamu (you), karena (because), malam (night), and tidak (no). Researchers at the language agency use the list in interviews with native speakers of ethnic languages.
In the interview stage, researchers will iterate words in the Swadesh list before asking a native speaker to find their equivalents in the ethnic language. Researchers will then confirm the native speaker's answers with informants who are passive speakers of the language studied. In the case of the Ibu language, the informant was Ridwan Hamiru, Nifu's nephew.
After building a vocabulary, researchers will then begin compiling a dictionary. The first step is to divide words into syllables according to how these words are pronounced, followed by a translation of Indonesian words into ethnic languages as well as example sentences. "So that readers of the dictionary can also learn how to compose sentences in the Ibu language," said Mujahid.
Mujahid feels that the language agency has succeeded in documenting ethnic languages. Throughout 2011-2014, 36 ethnic languages in North Maluku were inventorized in translations of the Swadesh list. Some of these languages had been discussed in linguistics seminars before their dictionaries were created.
The Ibu language, for example, is now recorded in a dictionary with 300 copies in print. The language agency distributed the dictionary to Ibu native speakers, the Gamlama village government, elementary and middle schools in West Halmahera, as well as a number of universities in North Maluku. "It was the third ethnic language dictionary that we've produced and distributed," said Mujahid.
But the North Maluku local government and language agency must still work to ensure that the Ibu dictionary they have compiled can help revive the language. Despite the legal framework of Regulation No. 9/2009, Mujahid still sees implementation as a tough affair.
Likewise, education via social media such as Facebook has not been very effective. "It's a very difficult job to revive near-extinct ethnic languages," said Mujahid.
n n n
Recently, the Khairun Ternate University's literature and culture department announced two languages in West Halmahera as extinct: Ibu and Kolongcucu. Meanwhile, four other ethnic languages such as Tabaru, Malayu Bacan, Kao and Gamkonora are listed as endangered, with no more than 500 speakers on average-leaving only 30 ethnic languages still in use in North Maluku.
Ety Duwila, a linguistics researcher at the Khairun Ternate University, says ethnic languages have gone extinct or are endangered because of the language spoken by the majority, i.e., Malay, Ternate, and Tidore. "This dominance has nearly wiped out other languages," she said. Not to mention languages from outside of North Maluku, introduced by migrants.
Another challenge is the dwindling numbers of native speakers. There are, for example, not more than five speakers of Ibu and Kolongcucu. And most speakers of nearly extinct ethnic languages are already very old. The Kao language, for instance, is rarely taught by parents to their children, so that not many youths are in command of the language.
"Some of my younger students [at the university] say they don't know how to speak Kao. They only understand the language as a passive listener," Ety explained.
Gufron Ali Ibrahim, chief of the Center for Language Development and Construction, in his writing published by Linguistik Indonesia, explains that languages in Maluku that are threatened with exctinction usually come from regions with a diverse set of cultures and languages. As a result, these ethnic languages are not taught to children by their parents and are very rarely used in everyday life.
The short-term solution, says Farida Marica, a researcher at Khairun University's Language Center, is to map and document ethnic language vocabularies. This step is important to ensure that local languages, particularly minority languages, may be recorded to one day be included in school curricula.
Farida believes that regional governments must proactively preserve local languages. "So there must be a program to more systematically strengthen local languages," she said.
Ety is of the same opinion, although she acknowledges a particular challenge in documenting ethnic languages like Ibu, namely that native speakers are now over 80 years old, making the interview process rather difficult.
Meanwhile, although the generation following them still understand the language, they do not use it in daily life. "They tend to use Ternate, Malay and Indonesian," she explained.
The Education and Culture ministry's Directorate-General of Culture Hilmar Farid says the central government has prepared Law No. 5/2017 on Cultural Advancement. Through said law, which has been in deliberation for 35 years, communities and local governments will be actively involved in preserving local cultures, including languages-among others by proposing strategies as well as budgets.
Strategies and budgets proposed by regional governments received by the central government will be included in the special allocation funds (DAK). "So all the plans from the regions won't be left as mere plans, but will be realized. And there will be a budget for implementation," said Hilmar recently in Ambon, Maluku.
---
Outreach Team
Project Coordinator: Isma Savitri | Editor: Purwani Diyah Prabandari | Writers: Isma Savitri, Budhy Nurgianto | Photo Researcher: Agung Chandra | Design & Layout: Ahmad Fatoni