Javanese Cowboys
A fantasy movie is currently playing, with the theme of revenge set in 19th century Java. A touch of the 'Wild West'.
Edition : Tuesday, July 24, 2018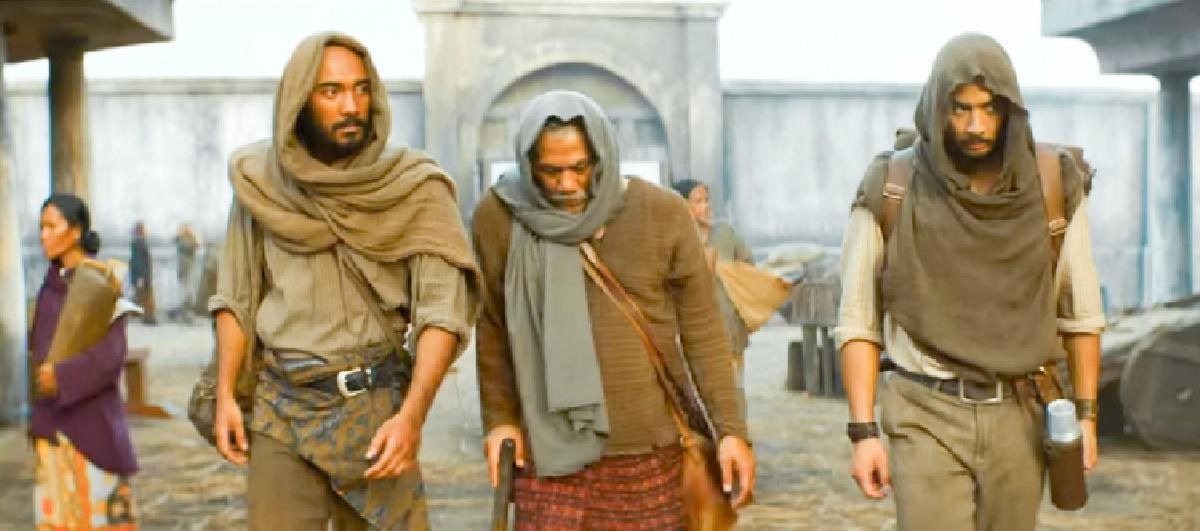 Acertain time, a certain place.
We not only enter into what seems to be a 19th-century train carriage, but also into a universe created by Mike Wiluan, a world strange and very unfamiliar. A fight breaks out in the train carriage between a giant of a man and a Malay (later we learn his name is Jamar, played by Ario Bayu). The giant seems close to defeating Jamar. But from the outset we already suspect that the fantasy storyline will champion Jamar, the underdog, who not only is good-looking, but is also cunning.
With the premise introduced, and following Uncle Arana's (Tio Pakusadewo) advice to his two nephews, Jamar and Suwo (Yoshi Sudarso), we follow the three as they enter a village in Java (or what appears to be Java) with one goal: Revenge. The Dutch soldier van Trach (Reinout Bussemaker)-the person responsible for killing Jamar and Suwo's father-has gained control of the village, and is raping the women and ruling over the villagers like a tyrant.
When viewing the movie, we must first do away with expectations of historical accuracy and all cultural knowledge of the Dutch rule as well as of Javanese kings. In the movie, the two men seeking revenge are the sons of Sultan Hamzah-who knows how a Javanese king could get a Sumatran name? Again, discard all real-life knowledge. This is not only a fictional storyline with 19th century Java as its setting, but a soaring work of imagination involving elements of the 'Wild West'- the music, costume, fights and brothels- and combining it with martial arts. So we are not allowed to pick apart the film's anachronisms, as the director has overturned space and time. The storyline clearly derived much influence from Quentin Tarantino's movies (from Inglourious Basterds to Django Unchained), which also tell stories of revenge, with the underdog always triumphing in the end.
W251bGwsIjIwMjEtMDUtMTEgMTY6NTc6MjgiXQ
With said premise and setting, the director has the hefty and massive task of inviting viewers to enter an unfamiliar and strange territory. How does one go about crushing the Indonesian audience's deeply-rooted paradigms concerning the Dutch and the people of the Dutch East Indies, and mix it with Wild West culture?
I tried to enter Mike Wiluan's universe. One thing that struck true: Mike's characters are all in black and white. The Dutch, their collaborators and the bootlickers are all crooks. The common folk are oppressed, and thus are all good. Meanwhile, Uncle Arana and his two nephews are 'legends' to later be remembered as timely superheroes. Occasionally, the film's action scenes are quite exciting.
But a director of a fantasy movie has one task to bear in mind: He or she must convince the viewers that the story constructed is real in the created universe. The problem here is Mike's inconsistencies. It is difficult to be convincing when van Trach, a representative of the Dutch, addresses everyone in English and is responded to in Indonesian, including by Jamar and Suwo, who have been in exile from another country for over a decade. The communication that emerges is timid and awkward.
Parts of the dialogue also feel odd, as if they were literally translated from English. Another uncomfortable element is the problem of the Buffalo Boys, or buffalo-riding young men, who are not shown actually riding buffalos. The scene with them riding buffaloes us incomplete. Perhaps there were technical challenges, but because the film's trailer and title establish for us certain expectations, it may be appropriate for viewers to long for a scene with the heroes on their buffaloes.
An additional note: Kiona's character-played by Pevita Pearce-who at first seems to have the potential to become Katniss Everdeen van Java, appears to shine only during training. Come time to fight the bad guys, she is only given a few opportunities to strike, while the rest of the show belongs to Jamar and Suwo. But since this is a fantasy universe, is there a need for Mike to adhere to the stereotypes of women in the century? Lastly, the actors Ario Bayu, Tio Pakusadewo, and Happy Salma are the saviors in all the situations. The universe created by Mike Wiluan is possibly attractive and promising on paper, but is sadly lacking on screen. In particular, the actor playing Suwo has trouble hoisting himself up to the acting of the rest of the main cast.
Oh yes, and Zeke Khaseli's music, usually enjoyable and unique, is somewhat sub-par in this film. In Marlina Si Pembunuh dalam Empat Babak (Marlina the Murderer in Four Acts) (Mouly Surya, 2017), he knew when to stop and let the silence sing. In this work, the scoring is continual. After Marlina, which also borrowed Wild West elements, it seems Mike aimed to serve up a similar recipe, this time in an action flick. We do not yet know whether the two works serve as a door to a new subgenre.
For me, despite my noted reservations, Buffalo Boys still contributes to enriching Indonesian cinema.
Leila S. Chudori