Child Pride, Not Bride
Child marriage has caused too many Indonesian youngsters to lose their childhoods and the opportunity to finish school. The Central Statistics Agency's data suggests that, as of 2016, 17 percent of children were already married. Minister of Women's Empowerment and Child Protection Yohana Yambise is urging the parliament to revise the marriage law, to change legal minimum age of marriage from 16 years to 19 for women, and from 20 to 22 for men. Meanwhile, organizations and individuals working to prevent child marriage have taken to the field. The Karampuang Foundation in West Sulawesi and the Community Empowerment Research Foundation in South Sulawesi, to name a few, have launched a movement against child marriage through a number of initiatives, both by empowering local youths as well as women who were married as children. To welcome International Youth Day on August 12, Tempo English reports.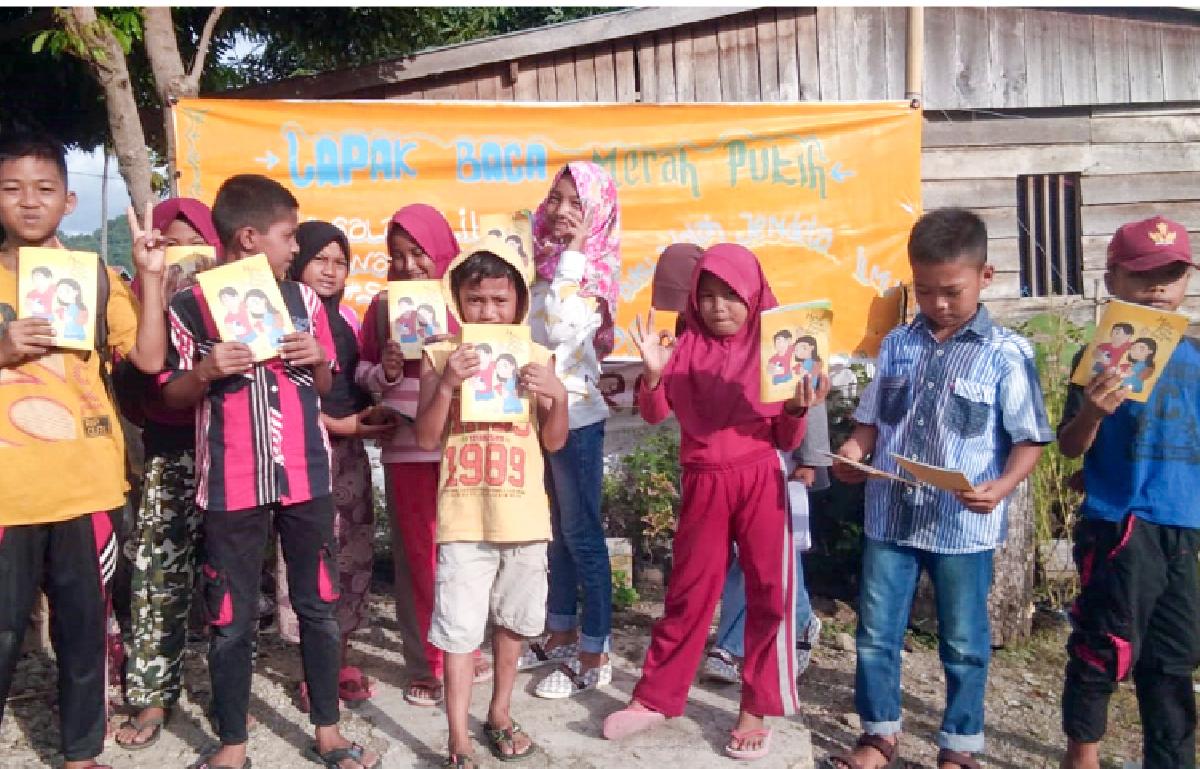 No to Child Marriage
The Karampuang Foundation enlists Mamuju teens in the campaign against child marriage. They use a comic book and playing cards as educational tools.
The incident a few months ago still lingers in Fahri Ramadhan's mind. At the time, Fahri and his friend, both still in their high school uniforms, stopped at a roadside stall to buy snacks.
Unexpectedly, Fahri ran into an elementary school friend. What ruined his mood was that his friend told him that she was at the stall to buy some infant formula. "Apparently she was already married and was buying milk for her kid," said the 10th grader at the Kalukku State School I in Mamuju, West Sulawesi.
It was not Fahri's first time running into a friend who had married at a very young age. According to the 16-year-old, some of his friends marry early because of their families' finances. Their parents feel that they cannot afford to pay for their education. Meanwhile, the parents of their would-be husbands would then propose, offering panaik. Panaik, also known as panai, is the equivalent of "bride price" given by the parents of a would-be groom to the would-be bride's family as a sign of serious intention. The amount varies, from over Rp10 million to hundreds of million rupiah.
Observing this phenomenon made Fahri restless, which is why he joined in the campaign to prevent child marriage. He learned about the campaign when a community called Lingkar Remaja (Teen Circle) held an event to raise awareness at a mosque near his home at the end of last year. Not only he felt the desire to fight against child marriage, Fahri joined the movement because he also hoped he would be able to positively contribute to society. "My grandfather once said, wherever I would one day go to school, no matter how many certificates I would receive, none of it would matter if I wasn't yet benefiting the people around me," said the teen.
The Lingkar Remaja is a community founded by the Karampuang Foundation, headquartered in Mamuju. The community brings young people together, and was formed to run an anti child- marriage program.
After joining the Lingkar Remaja community early this year, Fahri says he has obtained plenty of new information, facts that were once neglected, including the causes and impacts of child marriage as well as some strategies for preventing it.
Fahri has also learned public speaking and was chosen as the top five speakers in a provincial-level debate in South Sulawesi. His achievement is in part thanks to Lingkar Remaja, which has allowed Fahri to be involved in a number of activities, forcing him to connect with many individuals.
During World Aids Day last December, for example, he participated in a social awareness event for HIV/AIDS in a seminar in Kalukku's municipal village hall. Although he himself was not a speaker, Fahri was happy to meet and have discussions with many new acquaintances. "Although some of them didn't care about my advice about child marriage," said Fahri.
He and other Lingkar Remaja members have organized plays and poetry readings on the theme of child marriage several times, at the Karampuang Foundation secretariat office. These events are usually attended by the community, including street vendors who sell snacks. Members of the community began asking questions about the negative impacts of child marriage and its effect on the reproductive health of adolescents. To improve their campaign reach, Fahri and other Lingkar Remaja members would occasionally visit villages in Kalukku to distribute brochures on the fight against child marriage.
Fahri related how he and other members of the community received 16 training sessions from the Karampuang Foundation, which took place every Sunday for 2.5 hours. Outside of organizational activities, he also makes time to campaign against the hazards of child marriage, both during school recess and on Facebook. "I have the habit of uploading Lingkar Remaja's photos and activity info, so that more people can become aware of our campaign," said Fahri.
n n n
Karampuang Foundation's program manager for child protection, Ija Sahruni, says the foundation began campaigning against child marriage in 2016, after the foundation saw that child marriage, particularly in West Sulawesi, had reached an urgent state. That year, the Central Statistics Agency (BPS) announced West Sulawesi as the province with the highest child marriage rate in Indonesia, at 37 percent. One year prior, the West Sulawesi BPS released their finding that 11.58 percent of children under 18 had married before the age of 16.
According to Ija, there are a number of contributing factors to this high rate of child marriage in the province, among others unequal access to education. This inequality, partly caused by geographical conditions that make it difficult for residents to reach formal educational institutions, explains why many elementary school students end up dropping out of school. "Many residents 'give up' on sending their children to school because schools are far from where they live," said Ija.
Sexual relationships at a young age are another factor, as they cause pregnancies among many teenage girls. Still, the primary contributing factor is economy. "Based on our survey, we found that the most dominant contributing factor to child marriage in West Sulawesi is the panai money," said Ija.
In early 2017, the Karampuang Foundation performed a survey to learn the causes of the high rate of child marriage. The foundation team individually interviewed 100 respondents from six villages in Mamuju. Seventy percent of the 100 individuals were parents, and the rest were teenagers.
The survey's result compelled Karampuang to establish the Lingkar Remaja program. In the early stage, the foundation enlisted 16 young men between 20 and 25 years old to become facilitators for the campaign. They were trained to create engaging campaign programs and to recruit as many youths as possible between 10 and 17 years old to join the Lingkar Remaja community. The aim is to produce young people who can campaign against child marriage among their peers.
As of middle of this year, Lingkar Remaja already has 120 members. The community also offers a great range of activities, among others creating educational games on the themes of reproductive health and child marriage. They also offer training on time management, hygiene, discipline, public speaking, interview techniques, and creating campaign projects. "This is how the children's confidence and creativity are improved," said Ija.
Ija explained that facilitators had to first research campaign models favored by teenagers. The research led them to come up with a variety of methods, for example, making use of a comic book and playing cards as campaigning tools. Lingkar Remaja's comic book uses simple language to explain the lost rights of youngsters who enter into too- early marriage. "As it turned out, after reading the comic, many Lingkar Remaja members admitted to having a friend who had fallen victim to child marriage," she said.
Ija believes that more and more members of Lingkar Remaja are now understand the negative impacts of child marriage. But the Karampuang Foundation and the community still have to face a great challenge, namely changing the mindset of parents who feel that marrying their children off is a solution to financial hardship and premarital sex. To address this stumbling block, the Karampuang Foundation involved the regional government and formed a working group.
The group's members are representatives from the Population and Family Planning Board (BKKBN), the Mamuju Regency Office of Women's Empowerment and Child Protection, the Office of Religious Affairs. "It's true that there's not yet an official policy on child marriage, because effecting change is complex and requires time," said Ija.
Marhama Ludfiah Majubakkar, one of Lingkar Remaja's facilitators, acknowledges the difficulty in changing how parents view child marriage. The 22-year-old woman, who goes by Ocha, has seen plenty since joining the Karampuang Foundation in December. "I feel concerned when observing child marriage in West Sulawesi," said the math teacher at a vocational high school in Mamuju.
Ocha believes that the "ideal" age for marriage is 21 for women and 23 for men, and even then, only if the young couple planning to marry feel truly ready, both physically and mentally, and only if it is they themselves who have the intention to marry. She came to this belief after seeing so many people who married as children under 18 end up experiencing domestic violence, not to mention divorce.
This is why Ocha takes her duty to train Lingkar Remaja members seriously. She hopes that the community's members can be consistent in speaking up against chid marriage. "Besides, this can also help prevent drop outs and [help youths] become students with achievements," she said.
Muhammad Fauzan, 13, feels the positive impacts of receiving training from Ocha and other facilitators. The sixth grader at the Kombiling State Elementary School VI in Kalukku claims to have a better understanding about gender equality, the dangers of drugs, and information about reproductive health after joining Lingkar Remaja in December 2017.
Meanwhile, Fauzan now has the self-confidence for public speaking, including when he speaks on the negative impacts of child marriage to his friends at school and in his neighborhood. Besides casual conversations in the language of his region, sometimes Fauzan uses playing cards to raise awareness. "If I have difficulties, I'll usually consult a facilitator," he said.
Fauzan hopes he can make positive contribution in reducing the rate of child marriage in West Sulawesi. One of his friends got married in fifth grade some time ago. "She had to drop out of school because of it," he said.
---
Outreach Team
Project Coordinator: Isma Savitri | Editor: Purwani Diyah Prabandari | Writers: Isma Savitri, Andhie A. (contributor writer) | Contributor: Laila Afifa (Jakarta) | Photo Researcher: Agung Chandra Design & Layout: Ahmad Fatoni