A New Hope
After winning the 100-meter sprint at the IAAF World U20 Championships, Lalu Mohammad Zohri will be competing in the relay race at the 2018 Asian Games. The relay team's fastest runner once had no interest in athletics.
Edition : Tuesday, August 7, 2018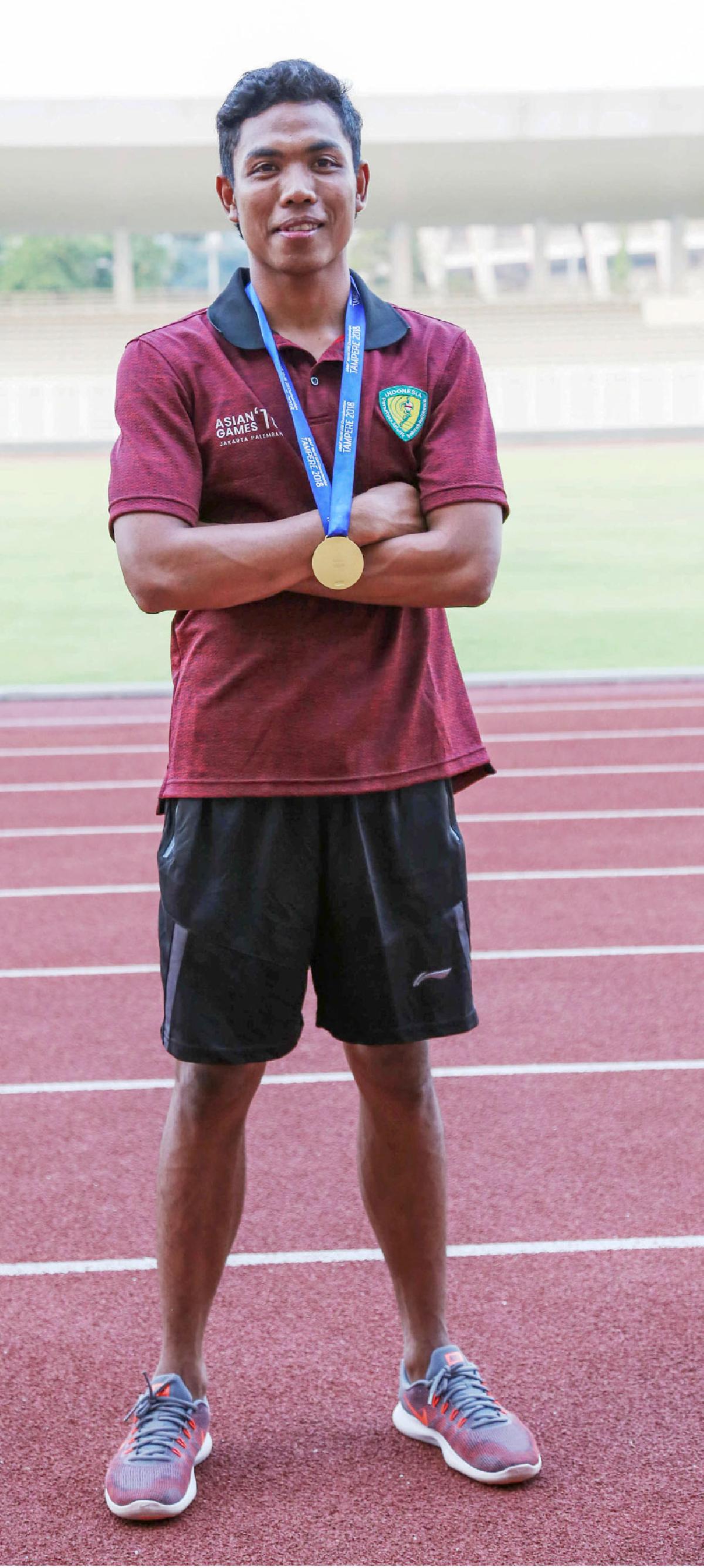 His left arm stretched behind him, Lalu Muhammad Zohri went into action, running at a fast speed without looking back. Fadli Ahman pursued Zohri and passed the baton he was holding. In a blink of an eye, the red stick had changed hands. Zohri then picked up his speed on the Senayan Madya Stadium's tartan track.
At the end of the straight section of the track, Eko Rimbawan also began to run as soon as Zohri approached. Chasing after Eko at the turn, Zohri succeeded in passing the baton. Yaspi Boby, the fourth runner, received the baton from Eko without trouble and ran to the finish line, thus ending the race.
Zohri admitted to still having difficulty during baton passes, as he only recently joined the relay team after the IAAF World U20 Championships in Finland in July. "Maybe it's because I've just started training again. Sometimes it's good, sometimes not so good," said Zohri after rehearsal and tryouts two weeks ago, on a Friday.
Tryouts for the 4 x 100-meter relay race are included in Zohri's training menu at the national athletes' training center in preparation for the 2018 Asian Games, which will be held in Jakarta and Palembang, South Sumatra, on August 18-September 2. The Indonesian Athletics Federation (PB PASI) has put Zohri in the relay team because of his specialty in the 100-meter sprint.
W251bGwsIjIwMjEtMDUtMTEgMTg6MjQ6MDEiXQ
The relay team's fastest record during tryouts is 39.59 seconds, far below the times made by relay teams that participated in the 2014 Asian Games in Incheon, South Korea. Even Hong Kong, who received the bronze medal, made 38.98 seconds. The Japanese team, who won silver, finished at 38.49 seconds, while the Chinese team won gold medal at 37.99 seconds, breaking Asia's record.
Zohri is convinced that the team can still improve their speed during training. Strengthening the team's solidarity outside the tracks may also improve team cooperation on the athletics track. "I think there is still enough time to smoothen passing the baton," said the 18-year-old.
According to Zohri's trainer, Eni Nuraeni, PB PASI had planned a program to prepare Zohri for the relay number from the beginning. Zohri, who won first prize in the 100-meter dash at the IAAF World U20 Championships in Finland, holds the best record among members of the relay team. "We placed him as second runner right from the start because he was the fastest," said Eni.
Zohri's return to relay has changed the core formation of Indonesia's male relay team. When Zohri was absent, his position as second runner was filled by Boby, who was then the fastest runner. When Zohri returned, Boby was moved to fourth runner, previously occupied by Bayu Kertanegara. But adjustments may still be made to the arrangement.
Although he will be participating in the 100-meter sprint, Zohri is not given a special target by PB PASI. Especially since Zohri, born on July 1, 2000, has just competed in a world championship. "He is still too young. We don't want to burden him," said Eni.
In Finland, Zohri made 10.18 seconds, beating two American sprinters favored as champions. Zohri became the first Indonesian to win the IAAF World U20 Championships, with a record only 0.01 under the national record achieved by Suryo Agung Wibowo in 2009. People feel that Zohri may still run faster since Suryo broke the national record at the age of 26.
Before the world championship, Zohri's name was far from popular. The career of the boy from Lombok, West Nusa Tenggara (NTB), flourished when he came out as one of the fastest runners at a regency-level championship two years ago. He was then recruited by the NTB educational and training center for students (PPLP).
According to PPLP's head trainer, Komang Budagama, Zohri is a hardworking athlete. Every day for the first six months, Zohri went through heavy basic training at the PPLP, along with other athletes. "(The training focused) dominantly on the feet for running, calves and upper thighs. It was definitely painful," Komang said, "Zohri never complained."
Besides providing physical training, PPLP trainers improved Zohri's running technique. When Komang and his team first handled the training, they found that Zohri had an incorrect running style. As a result, he could not keep his body straight while running. "But his speed was good," Komang said.
Another major change for Zohri was having his start technique improved at the PPLP. The start is the most important part in a sprint. Prior, Zohri would often make mistakes at the start.
One year later, his hard work paid off at the Inter-PPLP National Athletics Championship in Papua. In the semifinals, Zohri ran 100 meters in 10.25 seconds-his best record in the tournament. In the final round, because of a bad start, his time dropped to 10.36 seconds, although he still ended up winning the championship.
Komang hopes that Zohri's achievement will improve the popularity of athletics in the provinces. There are many young athletes with potential, like Zohri, in NTB alone. But these young athletes are reluctant to go into athletics because it is much less popular than, say, soccer. "I've found many good athletes with the posture of a basketball or soccer player, but they did not want to go into athletics," he said.
Neither was Zohri interested in athletics at first. Like most children in the island, he liked playing soccer. But Rosida, a middle school teacher at the Pemenang State Middle School I in Mataram, saw Zohri's potential in athletics.
Rosida tried to talk Zohri into joining athletics as an extracurricular activity many times. "It was difficult to persuade him. He was not interested," said Rosida, who received an award from Danone-Aqua for her role as an athletics coach at the Jakarta Convention Center, two weeks ago.
Fortunately, Zohri could finally be persuaded to join athletics activities. His performance continued to improve, and he was recruited bythe Mataram PPLP in 2016. One year later, he was promoted to national training. "I was really happy when I heard news that he had won in Finland," Rosida said.
Rosida hopes that Zohri's achievement will continue to inspire other children to seriously go into athletics. Even now, at the school where she teaches, many of her students will have sprint races during recess. "They want to be like Zohri," she said.
Athletics has become among sport branches with the potential to offer the most gold medals at the 2018 Asian Games, with 48 numbers in competition. Indonesia, however, will not be competing in all 48 numbers. PB PASI has only prepared 16 athletes to compete in 12 numbers, with the target of winning one gold medal.
China, Japan and South Korea still dominate sprint numbers, while long distance numbers are the focus of Middle Eastern countries, which are strengthened by naturalized athletes from Africa. "Those competing at the Asian Games are not only Asia's champions but also world champions," PB PASI Secretary-General Tigor Tanjung said.
Tigor says achievements in athletics cannot be quickly attained. A long-term sustainable development program and appropriate facilities are the key to an athlete's success. "It takes years of training just to get that extra second," he said.
Besides providing better training techniques, the national athletics training program also aims to improve athletes' eating habits. As a result, Zohri's diet was altered during the IAAF World U20 Championships. But, as it turned out, Zohri could not do away with white rice, although eating too much rice is seen as detrimental to an athlete's performance. "He now eats bread, potatoes, cereal, milk, eggs and salad every morning," PB PASI chair Bob Hasan said.
According to Bob, the athletes are, in fact, not forbidden to eat rice. But they still must regulate their eating patterns. Rice is still allowed as part of their menu during the day or at night. "With steak and fish," he said.
Another change for athletes in the national training program is the presence of podiatrists from Ireland and Australia. Podiatry is a branch of medicine that focuses on the study and treatment of the foot and ankle. Zohri is among athletes who underwent podiatric treatment. Through podiatry, irregularities in an athlete's ankle or foot can be detected as early as possible and corrected. "We've [involved the foreign podiatrists] for the past year," said Bob.
Gabriel Wahyu Titiyoga, Supriyanto Khafid (Mataram)