Businessmen Among Politicians
Jokowi wishes to recruit a number of businessmen into his campaign team. Andi Syamsuddin Arsyad, known as Haji Islam, was among those approached.
Edition : 10 September 2018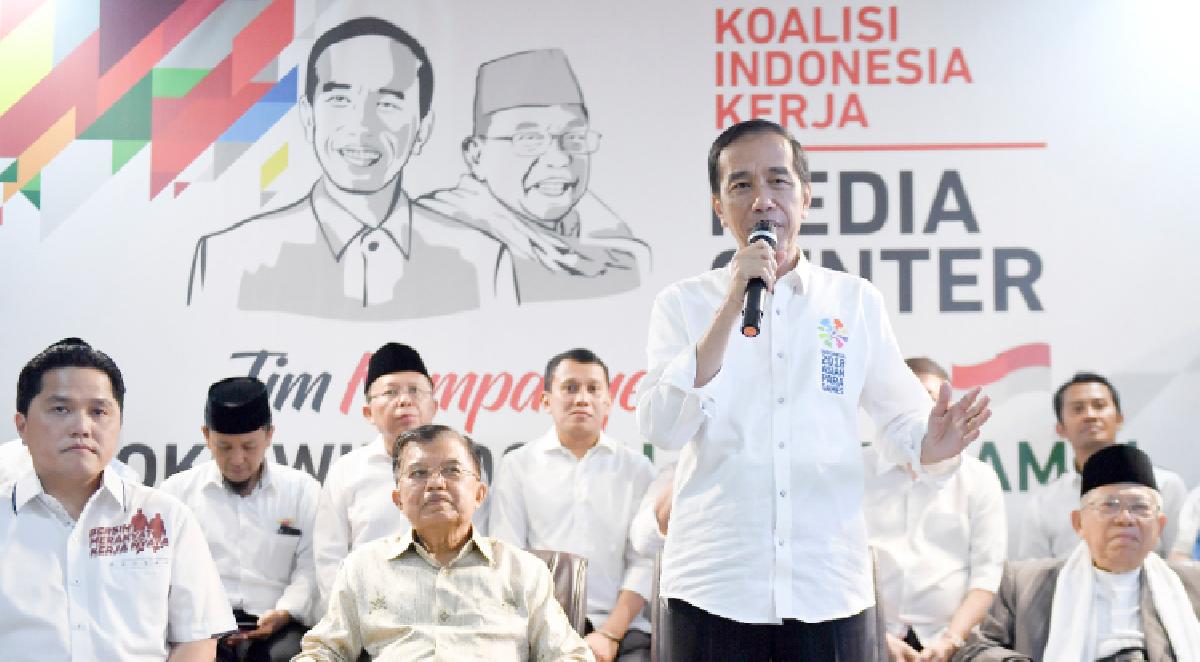 NEWS from a Golkar official surprised businessman Muhammad Jusuf Hamka Monday two weeks ago. The said official told him via telephone that he had been appointed treasurer of Joko Widodo-Ma'ruf Amin's national campaign team.
Jusuf was chosen to replace Agus Gumiwang Kartasasmita, who had been inducted as social affairs minister three days earlier. "I was in Batam at the time. This is remarkable news," said Golkar's deputy coordinator for the people's welfare division when we contacted him last Wednesday. Jusuf said he has been tasked with managing Jojowi-Ma-ruf's campaign funds to ensure lawful use.
Prior, the businessman had always been seen as Jokowi's opposition. He supported the December 2, 2016, protest against then-Jakarta governor, Basuki Tjahaja Purnama. Basuki, who was Jokowi's deputy governor, had been declared a suspect in a religious blasphemy case. He was later sentenced to two years in prison. Jusuf, who is head of the Muslim Tionghoa Indonesia organization, is also known to have a close relationship with Rizieq Syihab. The organization had named Rizieq as "man of the year" in 2016.
Three politicians from parties in support of Jokowi said the 60-year-old businessman was chosen to appeal to Muslim businessmen who have not yet shown their support for Jokowi-Ma'ruf. Additionally, Jusuf's recruitment is meant to soften certain Muslim groups who have been at odds with Jokowi, such as those who participated in the 212 movement. Meanwhile, Jusuf denies that he will be approaching Muslim businessmen and 212 supporters. "I won't be campaigning. Just managing campaign funds," he said.
Jusuf, who owns Podjok Halala nasi kuning (yellow rice) food stall that caters to the lower-income groupdenies being opposed to Jokowi. No matter what, he gives his respect to Jokowi as president, said the businessman. "And Kiai Ma'ruf is my religious teacher," he added. Jusuf also welcomes the Jokowi-Ma'ruf team to adopt his Podjok Halal program to approach voters. "It seems that they will adopt my yellow rice stall. No problem if it's for the good of the people," said Jusuf.
Spokesperson for the Jokowi-Ma'ruf campaign team, Ace Hasan Syadzily, says Jusuf Hamka's appointment was his party's decision. Ace acknowledges Jusuf's close relationship with Muslim businessmen. "The more support from various circles for Jokowi-Ma'ruf, the better," he said.
Besides Jusuf Hamka, Jokowi-Ma'ruf's campaign team also approached Yusuf Mansur, an ustad (Islamic preacher) and owner of PayTren, an electronic payment service. Like Jusuf Hamka, Yusuf Mansur took part in the 212 movement. On Friday two weeks ago, Ma'ruf Amin said Yusuf would be joining his campaign team. "He sees me as his teacher, so he wants to follow me," said Ma'ruf at the Vice-Presidential Palace.
The following day, Yusuf met with Jokowi's opposition, i.e., vice-presidential candidate Sandiaga Uno. Yusuf did not say whether he would be supporting Jokowi or Prabowo. "Simply pray for the best," he said. In regard to Yusuf's position in the campaign team, Ma'ruf Amin could not confirm.
Meanwhile, Jusuf Hamka will be working in pair with the telecommunication businessman Sakti Wahyu Trenggono. In the 2014 presidential election, Wahyu was also Jokowi-Jusuf Kalla's treasurer. Based on the Jokowi-Ma'ruf campaign team's decision letter, dated August 19, Andi Syamsuddin Arsyada coal businessman from South Kalimantan known was Haji Isamwill be deputy treasurer.
In mid-June, Tempo had written on the dispute between Isam and Effendy Tios, owner of Sebuku Iron Lateritic Ores, a company with a mining concession on the Pulau Laut, South Kalimantan. Sebuku's mining area overlaps with Isam's plantation, Multi Sarana Agro Mandiri. Isam was accused of requesting compensation in the form of a helicopter from Tios. "The helicopter request is slander," said Isam in an interview with Tempo.
Several members of the campaign team say Isam was chosen as he was considered to represent business players in the country. His name was submitted by Budi Gunawan, Chief of the State Intelligence Agency (BIN). According to two sources familiar with their close relationship, Isam has also visited Indonesian Democratic Party of Struggle (PDI-P) General Chair Megawati Soekarnoputri in Jalan Teuku Umar, Menteng. Two weeks ago, a reporter's camera caught Isam, Budi Gunawan and Megawati at the 2018 Asian Games men's badminton final match. A politician and businessman present at the event confirmed that Isam had attended the event.
PDI-P Deputy Secretary-General Eriko Sotarduga denies reports that Isam visits Megawati's residence on a frequent basis. "I visit Ibu Mega's home almost every day. He's never there," said Eriko, who was unaware of Budi Gunawan's role in recommending Isam. Isam has not responded to our phone calls and text messages. Neither has Budi Gunawan. BIN Director of Communication and Information Wawan Purwanto says Budi has not given an answer as of last Friday night. "Maybe he's busy," Wawan said.
Jokowi-Ma-ruf campaign team's spokesperson, Ace Hasan Syadzily, has no knowledge in regard to Isam's recruitment. "That's the affair of the party's general chair and President Jokowi," said Ace.
l l l
Joko Widodo took nearly one month to select individuals to lead his campaign team after he registered as a presidential candidate with the General Election Commission (KPU) on August 10. Ten days later, Jokowi invited journalist Najwa Shihab to the palace. According to our source who is aware of their meeting, Jokowi asked Najwa to lead the national campaign-team in a direct manner. The same source also explained that Jokowi had chosen Najwa based on survey results and discussions with those in his closest circle.
According to a number of people in the managements of Jokowi's supporting parties as well as members of his campaign team, Jokowi wanted someone who would be able to appeal to millennial and women voters. Especially because Jokowi's contender Prabowo Subianto is paired with Sandiaga Uno, who is only 49. Since the candidate pair registered with the KPU, they haveve attempted to glean support from young voters as well as women. Najwa is seen as having the capability to win the votes of these two groups.
Najwa had already been offered to join before, but in this last meeting she again said she was not ready to lead the campaign team. When asked to comment, the journalist said she has had offers to enter politics. "I've always given the same answer: [I] don't yet want to enter into politics. I still want to stay in the world of journalism and to advance my media, NarasiTV," she said.
Najwa is not the only person who was asked to join. A number of people in party managements as well as Palace officials say President Jokowi once offered the same position to Go-Jek's founder Nadiem Makarim. PDI-P Secretary-General Hasto Kristiyanto confirmed that Nadiem's name was discussed. But, like Najwa, Nadiem also refused. Nadiem has not replied to our text messages.
Party managements also recommended several names. United Development Party (PPP) Secretary-General Arsul Sani, for example, recommended Din Syamsuddin, former general chair of Muhammadiyah. Arsul believed that Din was needed to gain the support of the Muhammadiyah communityespecially because Jokowi is paired with Ma'ruf Amin, head of the Nahdlatul Ulama advisory board. But Din refused because Muhammadiyah has instructed neutrality. "I'm also a professor, a civil servant, so I have to be neutral," said Din.
In the end, Erick Thohir was the person chosen to lead the campaign. According to our sources, Jokowi was impressed by Erick's success in organizing the 2018 Asian Games. It was the festive opening and the flood of praises from several countries that sparked Jokowi's interest in Erick. The offer was relayed two weeks ago, as Erick himself has confirmed. "I didn't immediately accept because I wished to carry out my duty and promise to go on a minor pilgrimage with my family," said Erick, who was given one week to make his decision by the palace.
Jokowi expressed his resolve to appoint Erick in a meeting with secretary-generals from nine supporting parties at the State Palace last Wednesday night. Two sources familiar with the meeting said Jokowi, who was accompanied by State Secretary Praktino and Cabinet Secretary Pramono Agung, said Erick was chosen because of the 48-year-old businessman young age and his stellar track record.
When asked to comment, deputy secretary of Jokowi's campaign team and secretary of the Indonesian Solidarity Party (PSI), Raja Juli Antoni, said attendees did not object to Jokowi's choice. Neither did PDI-P Secretary-General Hasto Kristiyanto. "The name of the team's leader is fully up to Pak Jokowi," he said.
Last Friday, at the Rumah Cemara in Menteng, Central Jakarta, where the campaign team is headquartered, Jokowi announced Erick Thohir as leader of his campaign team. The President said he chose a businessman because his campaign team was already made up of politicians. "I'm giving the general chair [position] to a young professional, a businessman, Pak Erick Thohir," said Jokowi, who is certain Erick will be able to win votes from all circles.
Pramono, Devy Ernis, Dewi Nurita, Friski Riana, Vindry Florentin