Crowd Fundings for Electricity
The Pelita Khatulistiwa movement opted for crowdfunding to supply a community health center in Lindu, Central Sulawesi, with solar-powered electricity. The movement has spread its wings to another region.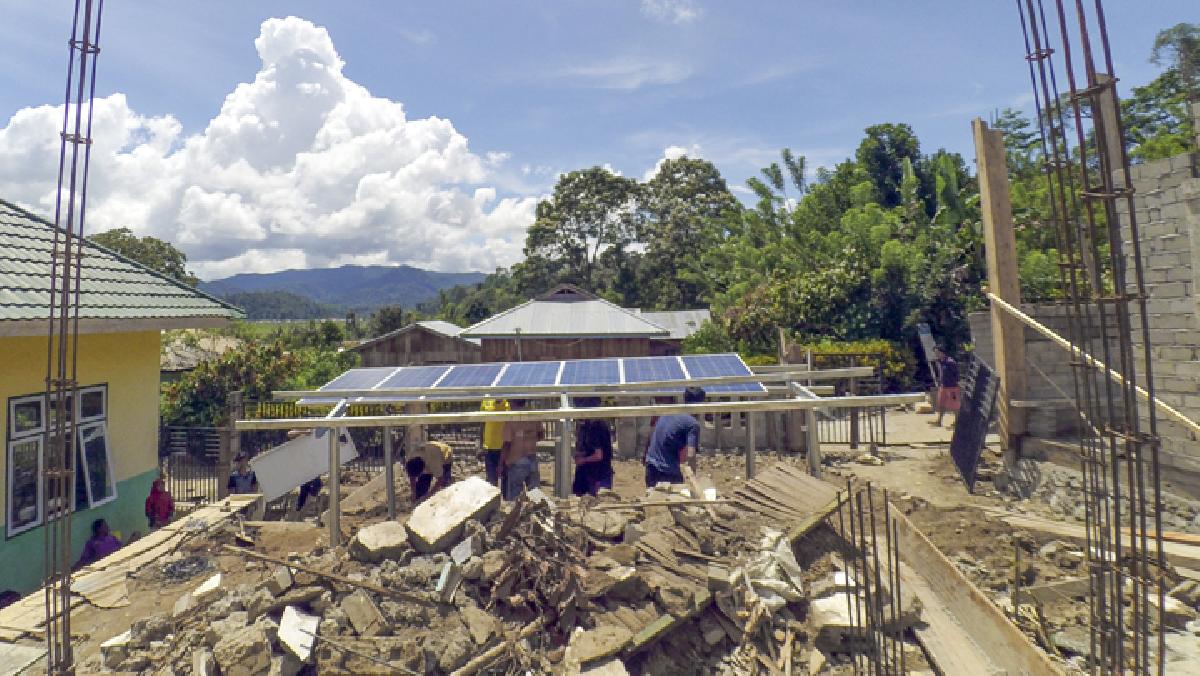 TINUS Maladjoena can now sleep soundly through the night. There is no longer any need for him to wake up in the dead of the night and stumble along to the puskesmas (community health center) across his home. At the puskesmas, Tinus, a retired civil servant, would "transform" into a health staff. Armed with a flashlight, he would look like a midwife's assistant when aiding labor. "I had grown used to locating tools that the midwife needed," said the 62-year-old man at the end of August.
It is difficult to bring a mother in labor to the nearest hospital, Tinus explained, as the hospital is five hours away by car, despite the mere 17-kilometer distance. Lindu's natural fortress, populated with mountains and steep cliffs, is indeed an obstacle to transportation in the region.
Furthermore, Lindu's homes did not yet have electricity as recently as two years ago. Not even a generator. As a result, because he lives so close to the puskesmas, Tinus was often asked to assist with labor, although they did not have proper equipment, not even respiratory equipment. "We would help with very limited lighting and equipment," said Tinus, who was once a supervisor at a laboratory for schistosomiasis, known in Lindu as the "snail" disease.
But since November 2016, Tinus no longer has to aid with labor. It was then that electricity entered Lindu, thanks to the solar-powered electricity provided by Pelita Khatulistiwa. According to one of the movement's co-founders, Arriyadhul Qolbi, he and his colleagues helped provide 16 solar cell modules supported by 2400-Ah batteries.
Lights and respiratory equipment can now function because of the solar cells. Delivery that takes place in the afternoon no longer burdens the health staff, said Qolbi. "Before, the puskesmas would only serve 10 requests for delivery, but now 60 percent is covered," he explained. Meanwhile, the rest must be referred to the hospital due to needs for special attention.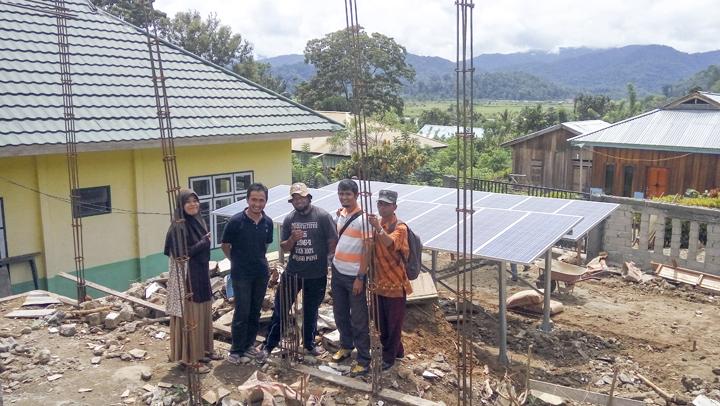 The Pelita Khatulistiwa activists pose in front of solar cell instalation. -Private Doc
The Pelita Khatulistiwa movement was established out of Arriyadhul Qolbi's growing concern after watching a private television report in 2016. The report showed how hard the Pencerah Nusantara team stationed in Lindu had to work. Pencerah Nusantara is a team of young health staff managed by the Presidential Office of Special Envoy for the Millennium Development Goals. In Lindu, the Pencerah Nusantara team did not only have to concern itself with public health, but also poor infrastructure and the absence of electricity.
Qolbi, who worked at a multinational oil and gas company, had the desire to help supply alternative energy. He invited the Pencerah Nusantara team to a discussion, which finally led to the idea of crowdfunding to supply the region with electricity.
"I wanted to do something for the country, but because of limited budget, in the end [we] thought to fundraise," he said.
Pencerah Nusantara agreed, and they initiated the Pelita Khatulistiwa movement. Qolbi thought that crowdfunding was the right method for the project because Pelita Khatulistiwa's name was not yet known, which would have made it difficult for the movement to request funding from institutions or from corporate social responsibility (CSR) programs.
In mid-2016, they began to crowdfund through kitabisa.com. The team explained Lindu's geographical conditions as well as the residents' lack of access to electricity. Pelita Khatulistiwa also explained that they favored solar-powered electricity over wind and water because it was the most suited for Lindu. "As it happened, I already had experience installing solar cells," Qolbi said.
Four months later, the team had collected Rp65 million and met Pelita Khatulistiwa's funding goal. Armed with the money, the movement's leadership, spearheaded by Qolbi, traveled to Lindu. They had already coordinated with the regency and village governments, as well as the Nusantara Sehat team already in the field. Unlike Pencerah Nusantara, Nusantara Sehat works under the health ministry, although with the same goal to improve health and nutrition for people in remote regions such as Lindu.
Qolbi and the Nusantara Sehat team invited residents to work together to install solar panel equipment in the puskesmas area. "After the solar cells were installed, we 'left' them [for safekeeping] to two local residents, for maintenance."
A Nusantara Sehat member in Lindu, Devis Sanjaya, said the solar cells have truly helped the team improve the people's health. Especially because the puskesmas with 40 health personnel is responsible for 3,000 families. "With electricity, we can assist patients better," said the 25-year-old man.
Unfortunately, said Devis, the sollar cells do not yet cover the puskesmas' electricity needs. The nutrition graduate from the Aceh Health Polytechnique says they have been rationing electricity from the solar cells, only using it when there is a patient in labor. Meanwhile, he said, Lindu's puskesmas needs electricity for other tasks, including to reorder administrative data, which is now in chaos because it has so far been manually recorded and not yet computerized.
The experience in Lindu was a lesson for the Pelita Nusantara team, who has since improved their assistance. After Lindu, Pelita Nusantara again crowdfunded through kitabisa.com to provide electricity for the Sarina village in East Nusa Tenggara. But they have only managed to obtain Rp13 million, falling short of their goal. The money was then used to buy some of the solar power equipment needed. "Maybe the public has grown bored of similar projects," said Qolbi.
This is why Pelita Khatulistiwa now explores other methods for funding, namely through CSR. At the end of last year, they received Rp300 million in aid from a state-owned enterprise, Sarana Multi Infrastruktur (SMI). The money was then used to install solar power in the Karataun village in the Mamuju Regency, West Sulawesi, last May.
Like Lindu, Karataun has complex topography and no electricity. It takes locals eight to nine hours to reach a hospital, almost twice the time needed by Lindu residents. Qolbi felt relieved when Pelita Khatulistiwa finally succeeded in kindling not only electricity, but also hope in the region. "Especially as we received information that the health staff are more spirited in providing services because, slowly, their facility (has started to) function," he said.
ISMA SAVITRI