Contemporary Lengger
Contemporary lengger dance performances combine lengger with other art forms, from modern Japanese dance to northern coastal dangdut music.
Edition : 16 October 2018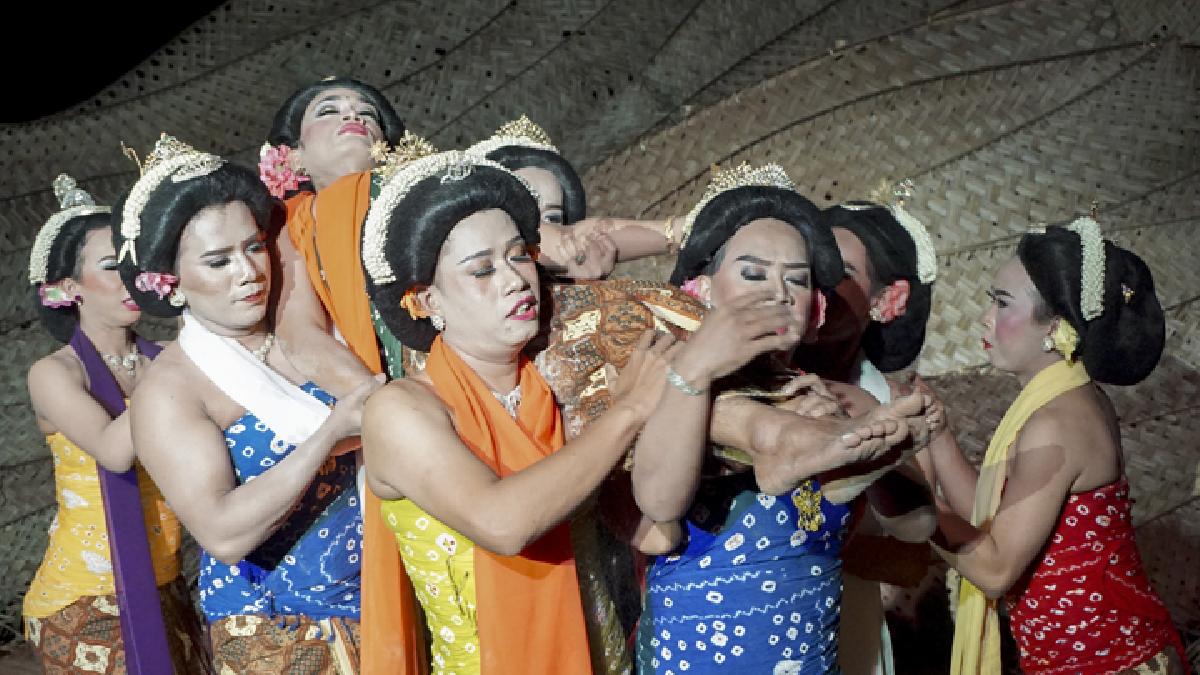 MALE lengger (traditional dance from the area of Banyumas, Central Java) dancer Rianto fainted. He had become possessed. He slumped cross-legged on the floor. His head of knotted hair ornamented with blooms nodded vigorously. His whole body trembled. But not long after, Rianto, who was wearing dark glasses, came out of trance and stood back up. He then continued dancing with his eight male colleagues.
The male dance troupe wore female costume. Their wrap-around cloth corsets and shawls were brightly colored, in reds, yellows, blues and greens.
The nine male dancers invited members of the audience to whirl and dip with them in time to the accompanying northern coastal dangdut (popular Indonesian music) songs. The troupe laced their shawls around the necks of the audience members brave enough to come on stage. Their performance came on the second night of the Kendalisada Festival, running September 14 through September 16, at Mount Kendalisada, Banyumas, Central Java.
That evening, Rianto, a choreographer and talented lengger performer hailing from Banyumas, staged a work he had titled Lengger Sintren with the Banyumas-Purwokerto male lengger dance troupe. Indeed, he specializes in combining lengger dance with sintren (traditional dance art from the northern coast of Java). "I created the Lengger Sintren in 2009. But usually, I perform it solo," said Rianto after the performance.
Gamelan (traditional Javanese orchestra) phrases in honor of the Prophet, such as those titled Lir-ilir, Turun Sintren, Renggong Manis, and Eling-eling, are the usual musical accompaniment to male lengger dancing. Rianto instead had the gamelan gending (Javanese song) use the northern coastal music known as dangdut, to incite audience participation.
Rianto is a well-known lengger dancer from Kaliori village in Kalibagor, Banyumas, and has cultivated a wide, international network. His partner is Japanese and they reside in there. In Japan, Rianto is artistic director to the Dewandaru Dance Group.
Rianto is a graduate of the Indonesian Art Institute Surakarta, and has been perfecting his style of Banyumas lengger dance since he was a little boy. He learned to dance formally when he turned 15. Rianto makes his rounds in his village of Kaliori. He also often stages performances in Kalibagor, Cilacap and Purwokerto. "I'm most often hired whenever the community conducts a village cleansing rite or other customary ceremony," he said.
According to Rianto, to become a lengger dancer, one is compelled to go through certain rituals, including going on a fast to show humility, and bathing at several ancient wells. He admits to habitually conduct ritual fasting. Rianto's artistry as a lengger dancer has achieved international recognition. He often collaborates with Japanese choreographers, among them Akiko Kitamura.
Rianto performed a work titled Medium in the Indonesian Dance Festival at the Luwes Theater of the Jakarta Art Institute in 2016. The choreography described the journey of Rianto's own body, from being personal and turning into a social one. Medium was enacted with dramaturgy by cineast Garin Nugroho.
In 2018, Garin produced a film titled Memories of My Body, which inspiration came from Rianto. "Garin's film depicted the travails of my body which was the butt end of much discrimination," said Rianto. Garin was intrigued into writing a narrative following Rianto from childhood to adulthood. The film, using fictitious characters, relates the journey of Rianto's body which was both male and female in one entity.
The film showed the duress and tragedies that Rianto went through, including many forms of violence. "Garin portrayed the situations that many Riantos have to suffer in Indonesia. Male lengger dancers are practically not afforded space and time here in its own country," said Rianto.
Before Rianto and his eight colleagues appeared, a performance was staged by the Lengger Seblaka Sesutane and Otniel Tasman. Otniel performed a lengger dance using ancient gamelan phrases originating in Mount Sari Kalibagoran. "It was as if we presented a repertoire of the old gamelan pieces we wished to reintroduce," he said.
Otniel performed with another male dancer and six female lengger dancers. They presented a contemporary lengger form accompanied by vocals specific to Banyumas. The entire troupe wore similar lengger costume: red wrap-around cloth corsets, white and yellow-red shawls, and brown and white long batik pieces.
The performance was interspersed with humorous commentary to keep the atmosphere light. Similar to Rianto's piece, Otniel and his colleagues also invited audience members to dance with them on stage at end of the performance.
Otniel is well-known for his contemporary dance pieces and traditional lengger from Banyumas. In 2018, he presented a work titled Cablaka at the Salihara Theater in Jakarta. The graduate of the Indonesia Art Institute Surakarta performed with dangdut accompaniment, but neither did he abandon the calung and cengkok musical motifs so characteristic of the Banyumas region.
Otniel has also created a work titled Lengger Laut, which relates the trials and tribulations of Dariah, the last male lengger dancer. The whole idea behind Lengger Laut was to develop the specific male dance while at the same time preserving it from abandonment. Lengger Laut was performed by a troupe of six male dancers.
Otniel said he had opportunity to once perform with Dariah at the Surakarta Art Center in Lengger Laut. "Grandma Dariah appeared right at the end of the performance. She had the audience in tears. She had incredible energy," he recalled.
Dariah, said Otniel, went through an authentic lengger existence. She was an exemplary for and the idol of the Banyumas community. Through that performance, Otniel was optimistic he had inspired a new surge of male lengger dancers from Banyumas. Indeed, in Banyumas today, a younger generation of lengger dancers are emerging. Besides Rianto and Otniel, there is Agnes of Binangun. Agnes original name was Agus Widodo. She once performed with Dariah at an event in Manggisari, in the Somokaton village, Somagede, Banyumas, in 2014.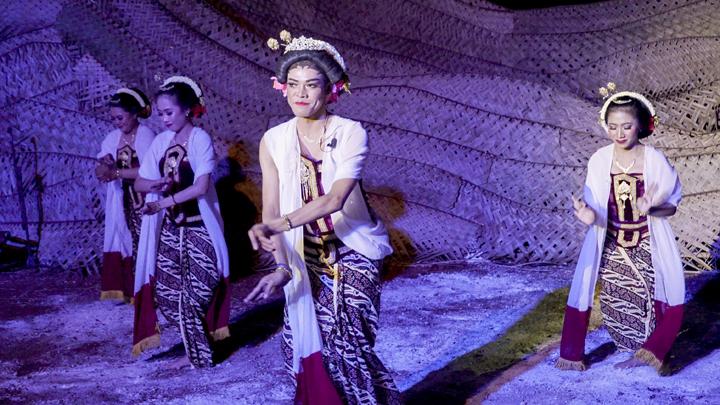 The performance of Lengger Seblaka Sesutane and Otniel Tasman at the Kendalisada Festival in Banyumas, Central Java, September 14. -TEMPO/Shinta Maharani
That evening at the Kendalisada Festival, Agnes performed with a male lengger who gave an attractive performance and was capable of inciting audience interaction. A male dancer wearing men's attire came up accompanied by two other male lengger dancers in the middle of the performance. The younger lengger dancer, it turned out, was still a student at the State Middle Vocational School 3 in Banyumas, and showed himself to be entertaining and energetic.
The male lengger performances on the festival's second night had an audience from various countries, including Japan, the United States of America, and Italy. American Ari Rudenko stood up to dance as soon as Otniel appeared.
Rudenko, an artist, can often be seen at performing arts festivals in Indonesia, among others at the Jogja International Arts Festival in 2017. To him, Rianto and Otniel are familiar names. Rudenko had often watched Otniel perform in other events. "Tonight, Otniel looked very happy," he said.
Audience member Taka Takiguchi, who hails from Japan, said he was not familiar with the history of the male lengger. He has never found any literature about male lengger dance in the English language. But he found Agnes's performance most intriguing. "She was very expressive," he said.
SHINTA MAHARANI