Anxious Buyers
DOZENS sat on rows of sofas facing the station where buyers select apartment units at the Meikarta Marketing Gallery in Cikarang, Bekasi Regency, last Thursday.
Edition : 23 October 2018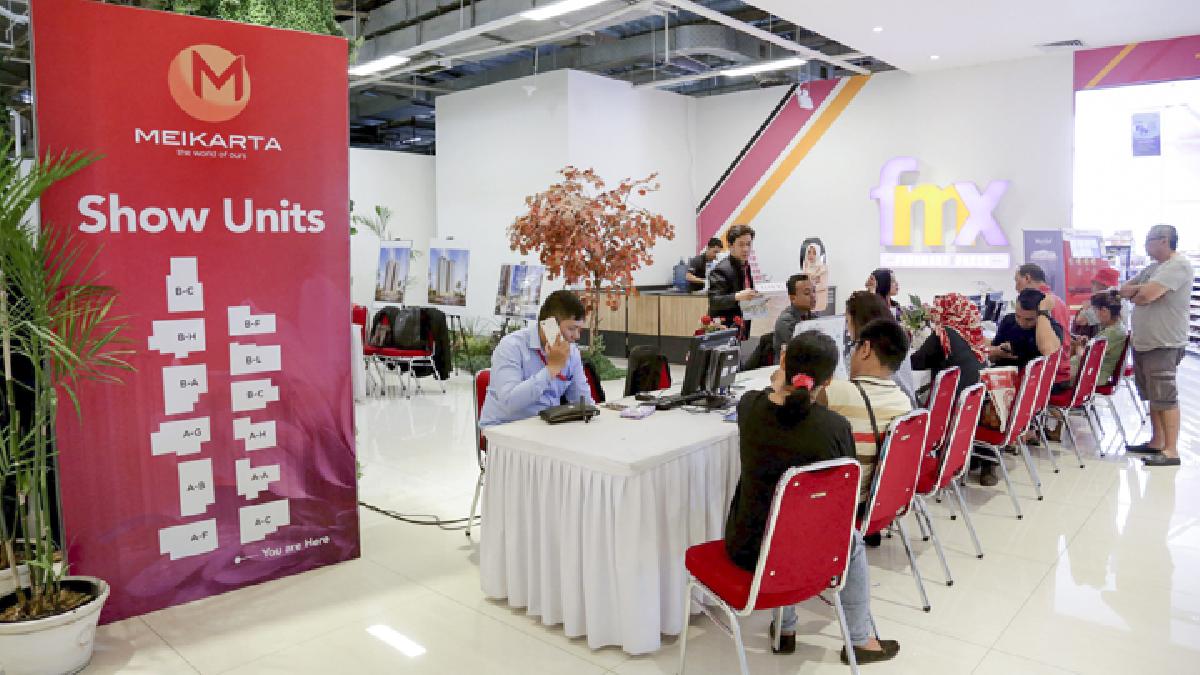 Dozens sat on rows of sofas facing the station where buyers select apartment units at the Meikarta Marketing Gallery in Cikarang, Bekasi Regency, last Thursday. A man among them would occasionally raise his voice to get the attention of Meikarta staff. "How long do we have to wait for?" said the man, annoyed.
These people had purchased apartment units in Meikarta, a new city to be built by the Lippo Group in the Cikarang region, West Java. Wirawan, a buyer, came to the Marketing Gallery to request clarity on the status of his apartment unit. After the Corruption Eradication Commission (KPK) apprehended the Bekasi regent and a number of her staff, as well as Lippo Group Operational Director Billy Sindoro, Wirawan grew worried that development would come to a halt and his money would simply vanish into thin air. "As future residents, we're anxious," he said.
The man from Bandung had bought one apartment unit in Meikarta. He has been paying installments for the two-bedroom unit since 12 months ago. Every month, he pays around Rp23 million, which means he has paid Rp299 million in total. Wirawan said he received a 40-percent discount and an addition discount of 10 percent for buying the unit early.
Wirawan will be moving into an apartment unit on the 15th floor of Tower 1, Block 1. According to the 40-year-old, the key to the unit will be handed over in September 2020. "But based on available information, my tower was still only in the form of a foundation. That was the info from management via a drone video," he said.
Wirawan said he became interested in purchasing an apartment unit in Meikarta after seeing an advertisement for the commercial residences on the media. He explained that, according to the ad, Lippo Cikarang would build a world-class integrated city with an area of 500 hectares, named Meikarta, also with world-class modern facilities. Wirawan found the ad enticing and decided to buy one apartment unit.
Based on a digital ad on display at the Meikarta Marketing Gallery, made in August, Lippo Group is now building 28 towers with 32 and 42 floors on a 14-block site called District 28. Construction work on these towers has reached the ninth floors. Key handover is scheduled to begin in February 2019. As of 2017, the management had sold at least 150,000 apartment units with a marketing sales value of Rp7.5 trillion.
So far, only six towers in the ambitious Lippo Group project have truly been completed in the Orange County, with an area of 19.5 hectares, whose building permits (IMB) were issued in 2014. Meanwhile, on the 84.6-hectare site where 53 towers have been planned, the Bekasi government has only issued IMBs for 24 towers in September. Some of these towers are still in the structural stage of construction.
Heli, a buyer from Aceh, also claims to feel restless about the fate of her Meikarta apartment unit. She had completed her installments in full for a two-bedroom apartment unit in October. The mother of four paid in 12 installments. According to the plan, she is to receive her key in March 2020. "Because of the KPK case, we're anxious about the future of construction work here," she said. "If it were possible, we would take back our money."
Sularsi, Indonesian Consumers Foundation's complaints and legal affairs coordinator, has been urging Meikarta's developer to provide clarification concerning the project's future to consumers who have purchased apartment units, now that the KPK is processing a suspected bribery case surrounding the project. Sularsi also warns the public to postpone their plan to buy units in Meikarta until the developer has made a guarantee that the project will be completed. "This is important. With a case like this, what's the future [of this project]?" she said.
Indonesian Real Estate Executive Board Secretary-General Totok Lusida says his institution has requested clarification from the Lippo Group about developments in the Meikarta megaproject post-KPK's bribery case. According to Totok, no Lippo Group executive has ever responded. "Only the management staffs have explained that the project will continue," he said.
Lippo Group, through Mahkota Sentosa Utama—its subsidiary and developer for the Meikarta project—states that it will continue Meikarta's development in spite of its legal woes. "The legal process now in progress at the KPK is something separate and different from the construction process still underway in Meikarta," said Mahkota's legal representative Denny Indrayana.
LINDA TRIANITA