Empowering Fisherwomen
Women are often not recognized as fishers. They need information and access to various facilities, including assistance.
Edition : 23 October 2018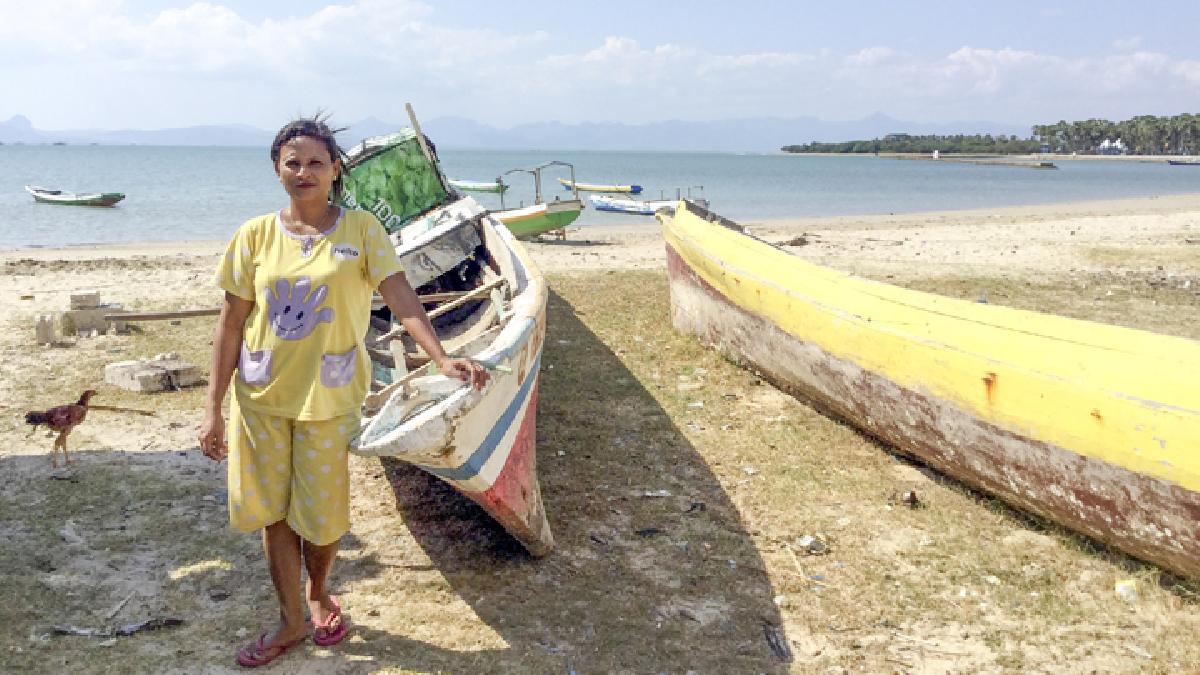 From under the shade of a building on the Lasiana Beach, Kupang City, East Nusa Tenggara (NTT), Sritinto Sumiyati Mbatu pointed at her boat not far from her. The boat, which her husband uses on a daily basis, was only recently repaired with money loaned from Bank BRI.
"(We) received Rp5 million to repair the boat and buy a net," said the 41-year-old woman.
According to Sritinto, the fisher's card she received in March has been of help. Before, she did not know that fisherwomen as herself could get a fisher's card. Every day, she helps her husband prepare seafaring equipment. When her husband arrives on land, she meets him at the beach and proceeds to carry the catch to the market. "So I had no idea that women like us could get the card," said the Lasiana village resident.
One day, she received an invitation to attend a meeting organized by Perkumpulan Pikul, a non-profit organization in Kupang focused on local capacity building. Besides receiving information surrounding fishers' rights from the Pikul team and NTT's maritime and fisheries officials, she and her friends who attended the meeting were immediately registered to receive fisher's cards, men and women alike. "Two weeks later, the fisher's card was delivered."
The card was among the documents she submitted to receive the BRI loan. "I was asked what type of business [I was in] and if [I] owned a fisher's card," said Sritinto. She then attached her card, an entrepreneurship statement letter and a picture of the boat. After that, the bank surveyed her home and the boat at the beach. "So the card was really useful," she said.
Sritinto is not the only fisherwoman who has received a fisher's card. According to Perkumpulan Pikul's field facilitator Weltji Yastri Doek, as many as 68 fisherwomen around the Kupang City and Regency who came to the meeting have now received fisher's card, although not all of them have made use of it.
"They say the card can be used to receive assistance. But I haven't made use of it," said Nuriam Abdullah, a fisherwoman from the Nunbaun Sabu village in Kupang. Neither have her neighbors who were with her at the time, Jamila Aker and Nuratika.
Encouraging fisherwomen to take forward steps is one of Pikul's programs that have Oxfam in Indonesia's support started last year: Right to Food. It is a continuation of Pikul's program for fishers since 2014. "Oxfam supports women's equality in terms of access to and control over natural resources," said Widiyanto, Oxfam in Indonesia's Right to Food project manager, two weeks ago. "The government's recognition of women is one of the doors." Meanwhile, one of the keys, the fisher's card, is now in the process of being converted into the Kusuka card, or the Maritime and Fisheries Entrepreneurship Card. "The card is like an access key," said Weltji—access to assistance, bank loans and work insurance.
According to Weltji, so far the women in fishing families have been ignored, despite their hard work. "When so many also go out to sea or harvest shellfish," said Weltji. "The husband would catch fish while the wives collect shellfish."
Weltji added that some women also work as crew on fishing boats. "Meaning, their work is quite dangerous."
Numerous fisherwomen have long hours, even longer than men. Based on Pikul's survey, fisherwomen work 17 hours a day, while the men work only 13 hours. This is because the women assist with preparations and manage the catch when their husbands arrive, before bringing the fish to the market. Outside of these tasks, they also have to perform household chores and care for their children. Despite these facts, only a handful of women have received fisher's card.
Nuriam Abdullah (37) and Waode Ade Isnan (32) are both fisherwomen who perform all of these tasks, including going out to sea. "The two of us (with the husband) catch fish with a net," said Nuriam.
With a small boat meant only for two, she and her husband go out to sea before dawn to around 7am or 8am. The couple again cast their net around 4pm and return home at 8pm. But the mother of four will stay behind if the husband goes out to sea with a bigger boat for one or two weeks.
This is why Pikul, established in 1998, continues to encourage women in fishing families to be recognized as fishers with all the rights and responsibilities that come with the occupation. Wetji explained that assistance and insurance have often missed their mark, for example, when they are given to boat owners. "When the ones who go out to sea and risk their lives are the fishers and crew," she said.
Furthermore, there are many fishers who find it difficult or lack the courage to take out bank loans. Instead, they rely on individuals referred to as 'Papa Lele' to lend them money as capital for fishing. After their catch is sold, the first thing these fishers will do is to repay their loans plus interests for Papa Lele. Their earnings receive further cuts for the crew. "When it's good, [we] can get Rp1 million, but often we're short because we only get a little," said Jamila Aker.
If they do not earn enough, most women who are in charge of daily needs will borrow money from people who go around villages offering loans, called 'the cooperative'. Almost every day, 'the cooperatives' will go door to door to collect their dues. "Still with a fixed interest although we pay late," said Jamila.
According to Ewaldina Roso M. Lo'o, Pikul's field facilitator, her team meets with the fishers every month, including fisherwomen. "We share all kinds of knowledge, from environmental issues to their rights," said Dina, short for Ewaldina. "Including introducing laws and the government's work mechanism."
Pikul faces many challenges, among others, time, because of how busy the fisherwomen are. Another challenge is to, "raise confidence," she said. But little by little, the fisherwomen have made forward strides.
According to the person in charge of the fisher's card at NTT's Maritime and Fisheries Services, Siprianus Siru, the card have only been given to catch fishers, most of whom are men. "In accordance with the law (No. 45/2009), that fishers are whoever catches fish," he said last week.
But the government acknowledges that women in fishing families also work hard. "We're implementing empowerment programs for fisherwomen, which includes several activities, but still in the context of supporting the husbands," said Siprianus.
Eriene M. Jusuf, chief of Fish Products Processing and Marketing Division at the Kupang City Fisheries Services, said, "In terms of assistance, we've given plenty without differentiating between men and women, but [instead looking at the] types of industry." Assistance comes in many forms, from business capital, equipment and infrastructure, to all kinds of training.
Finally, in August the government began the process of replacing the fisher's card with the Kusuka card, which will do more to empower fisherwomen. "The card is more general, putting fishers, aquaculturists, salt farmers, fish processors and marketing under one umbrella," said Siprianus. "That is the mandate of Law No. 7/2016."
As of today, he added, around 1,300 Kusuka cards have been distributed. In the province of NTT, over 1 million individuals are recorded to be in the maritime and fisheries sector. "Around 30 percent of the total population." From that number, 49,000 people are catch fishers.
PURWANI DIYAH PRABANDARI