Students' Fight Against Corruption
The Pelopor Muda community offers a course on anti-corruption in Medan.
Edition : 30 October 2018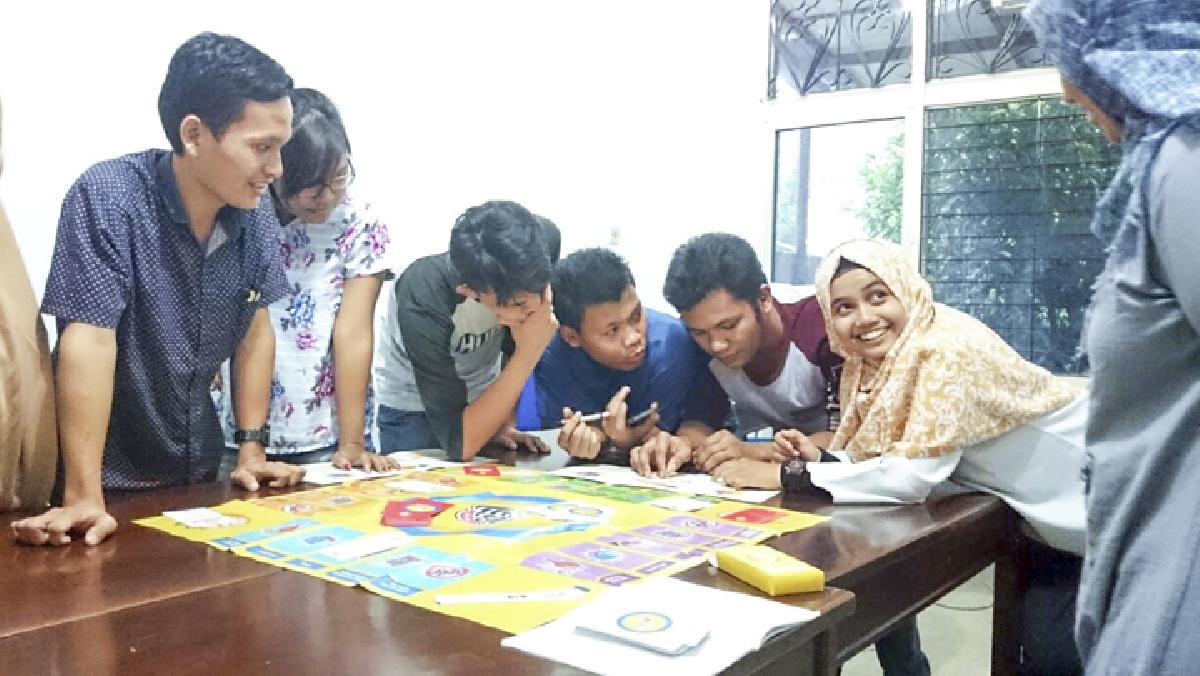 CORRUPTION is an issue that has always irked Swingkel. Not only when it concerns the theft of state funds, but also when it concerns something else no less important: honesty. This is why, in every conversation with friends or family, the law graduate from Santo Thomas Catholic University in Medan, North Sumatra, always manages to slip in the importance of integrity.
Neither is he shy to criticize friends who would give 'offerings' to thesis examiners at the university. Swingkel sees the custom as no different from bribery—so are cheating on exams and paying government staff or officials for performing administrative work.
"Sometimes people call me a hypocrite because they see my views on corruption negatively," said the 24-year-old in August.
Swingkel does more than ramble when warning people about the dangers of corruption. Besides books and the media, he also learned from Pelopor Muda's (young pioneers) anti-corruption course held every Saturday. In order to enroll in the course, Swingkel had to go through a selection process early this year. He wrote an essay about the connection between corruption and political costs.
Of 60 applicants, only half were accepted. Classes began in April and ended in June. "I was enthusiastic because [I] indeed wanted to transform this country from corrupt behavior in whatever form," he said.
Lucia, an activist involved in Pelopor Muda, explained that the course she helped worked on was made up of nine meetings. Swingkel was among the second graduating class, while Lucia was in the first batch after taking the course in mid-2017.
She took the initiative to join Pelopor Muda and enroll in the anti-corruption class with the aim to build her capacity. Besides learning about corruption in politics and government, she also wanted to learn about personal integrity. "I wanted to create a positive movement for the country, among others by eradicating corruption, which has caused sufferings among the people," she said.
After completing her course, Lucia admits to being more excited about her work to eliminate corruption. She also wants to campaign for anti-corruption values, among others through broadcasting program on the private radio Maria FM with other Pelopor Muda activists. She has also helped raise awareness about corruption at the Medan Merdeka Square on weekend mornings. In this public venue, Lucia and other Pelopor Muda members introduce the value of integrity through games created by the Corruption Eradication Commission (KPK). "Although many see our invitation as mere talk, we haven't lost faith," said Lucia. "We're optimistic that the movement will yield results."
Pelopor Muda was created out of the restlessness of three students majoring in Pancasila and civic education at the Medan State University: Hotmartua Sipangkar, Nahaot Shaloho, and Agus Andreas Tampubolon. According to Pangkar—Hotmartua's nickname—he and his friends grew anxious at seeing how corruption had grown rampant in Indonesia, including Medan. Meanwhile, there was not yet a community that specifically addressed corruption prevention in his city.
"The city's youths prefer to initiate human rights and environmental movements," he explained.
In February 2014, Pangkar and his two friends began organizing discussions to talk about corruption at their university. These discussions were held once a month, until one day, in 2015, Pangkar and his friends organized an anti-corruption seminar. The seminar, he said, made people aware of Pelopor Muda, sparking their interest in the community's discussions. Unfortunately, the community went into a vacuum for some time because one of its founders began looking for work outside the city.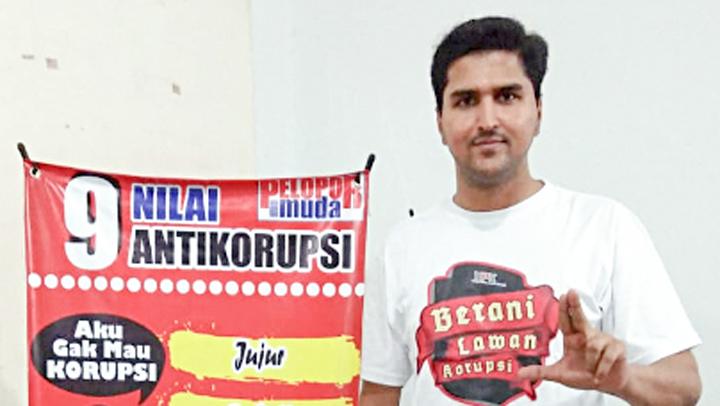 Swingkel, an anti-corruption activist of the Pelopor Muda community in Medan. -Private Doc.
In 2016, Pangkar decided to revive Pelopor Muda. At the time, he was a teacher at Brigjen Katamso Middle School in Medan. He invited people who participated in Pelopor Muda's discussions to run the anti-corruption course at the Medan State University. The course was attended by 20 of the university's students. Classes were held 14 times, on Saturdays. Unfortunately, of the 20 that enrolled, not one stayed on until the last meeting. "Maybe they felt that the topic of corruption was boring," he said.
Learning from this experience, Pelopor Muda revised their curriculum in 2017 and agreed to enrich their lessons based on research and discussions. Speakers became more diverse, and included not only academicians but also activists from non-profit organizations such as the Indonesian Forum for Budget Transparency (Fitra), the North Sumatra Ombudsman, and I am an Anti-Corruption Woman (SPAK).
According to Pangkar, a total of 25 university students applied to participate in the first course on corruption. Of said number, only 20 people from 4 universities were accepted. Besides the Medan State University, there were students from the Santo Thomas University, North Sumatra University, and the Nommensen Batak Christian Protestant Church (HKBP) University.
The students attended classes at the Pergerakan Indonesia's (Indonesia's Movement) office every Saturday from 2pm-5pm. "We made every lesson interactive and asked participants to write essays on the themes just discussed as homework," he said.
Pangkar said the new method was able to keep students interested, leading some of them to get involved in Pelopor Muda's activities, such as on Maria FM radio programs and public campaignings.
To improve teaching quality, Pelopor Muda added more topics to their lessons and included lessons on budgeting and journalism.
Today, Pelopor Muda is also exploring collaboration with a number of middle and high schools in Medan to organize free 'anti-corruption' classes. "We want corruption prevention to start from below, by targeting children and adolescents," Pangkar said.
ISMA SAVITRI