Holding On To Traditions
Harmony with nature is the philosophy of the people living in the customary village of Boti in South Central Timor.
Edition : 27 November 2018
IN mid-October, a truck entered the residence of King Usif Namah Benu, the ruler of Boti, a village in South Central Timor, East Nusa Tenggara. Around six Boti residents promptly set to work, unloading a cow and bringing it to the king's backyard.
Next to his Ume Kbubu (dome-shaped traditional house), dozens of men and women gathered under a temporary roof made of palmyra midribs and leaves, weaving palmyra leaves into trays. Meanwhile, tens of others cooked in a kitchen also sheltered by palmyra midribs and leaves. "We're preparing for the second anniversary of the death of the king's mother," said Oni Sae, a Boti customary village resident.
Preparations had been in progress for two weeks, Oni explained. The commemoration was to take place in one or two months. The king's nephew, Pah Sae, said preparing for the big event required a significant amount of time because the people needed to slowly collect requirements. Boti residents looked to the commemoration of he death of the reigning king's father—as a reference. For the commemoration of Usif Nune Beli's death around eight years ago, they prepared two cows, 100 goats, 200 pigs, and hundreds of chickens.
This year was no different. The cow transported on the truck was meant for the anniversary of the death of Usif Nune Beli's wife. "It was two cows for the king's father, and [it will be] one for the king's mother. Same amount of pigs, goats and chickens," said the 25-year-old Pah Sae.
The animals were to be served to invited guests, on trays made of palmyra leaves. Almost all of the animals were once kept by the king.
Boti's king, Usif Namah Benu, said the commemoration is a tradition and must take place. To him, cost was no concern because almost all of the event's needs were already available in nature. Boti's philosophy emphasizes that welfare and well-being can only be achieved by safeguarding and caring for nature, the king pointed out. "We humans, [if] we protect nature, nature will in turn protect us," said Namah.
He does not know exactly when the Kingdom of Boti came into existence because no historical records nor verbal accounts were left behind by his predecessors. According to Namah, ba'i (their predecessors), taught values of life and traditions that were in harmony with nature. Some of these traditions include a ritual that is held three times a year: yard cleaning, after planting and after harvesting. The ritual begins by preparing animals, such as buffalos, pigs, and other animals, as well as produce like banana and corn. "We asked nature for sustenance for one year. We received plenty, so we went and informed [nature], this is what we got," said Namah.
The animals and produce are then taken to the site of the ritual, a place called Fainmate, located in a protected forest one day away from the customary village of Boti on foot. Rules also apply in the forest: no one is to take anything from within it. Should a person violate the rule, for example, by taking a fallen bough, he or she must prepare an animal sacrifice in the protected forest.
Boti residents plant around the protected forest. Before clearing land, the people must also perform a ritual. According to Namah, produce are usually for their own consumption. For money, Boti residents sell candlenut, tamarind, or their farm animals. "We make money to buy things that we don't make here. Well, there is no need to buy what we can make here," said Namah.
Other ritual sites are located inside the village, dome-shaped like the village's traditional houses. But only an usif (a king) can enter. According to Namah, there are heirlooms inside the place of worship, left behind by their ancestors.
To preserve tradition, the people of Boti applies several rules. They limit the use of electricity and other modern technologies. Only several people are allowed using cellular phones and motorcycles. And an electric generator is available only at the guest home. There is not one television in the village. "If we allow televisions, our traditions would start to fade," said Namah.
The customary village of Boti is located around 30 kilometers from Soe, South Central Timor Regency's capital. The customary tribe living in Kie sub-district's mountains makes up the sliver of people who inherit the traditions of Timor Island's indigenous community, the Atoni Meti. The village is divided into Boti Dalam (Inner Boti) and Boti Luar (Outer Boti). Around 77 families comprising 319 individuals live in Boti Dalam, and 2,500 people in Boti Luar.
But only those living in the Boti Dalam customary village inherit and practice local traditions and religion, worshiping the Uis Neno Ma Uis Pah, gods of the sky and the earth. Residents of Boti Dalam live in an area of 3,000 square meters surrounded by a wooden enclosure.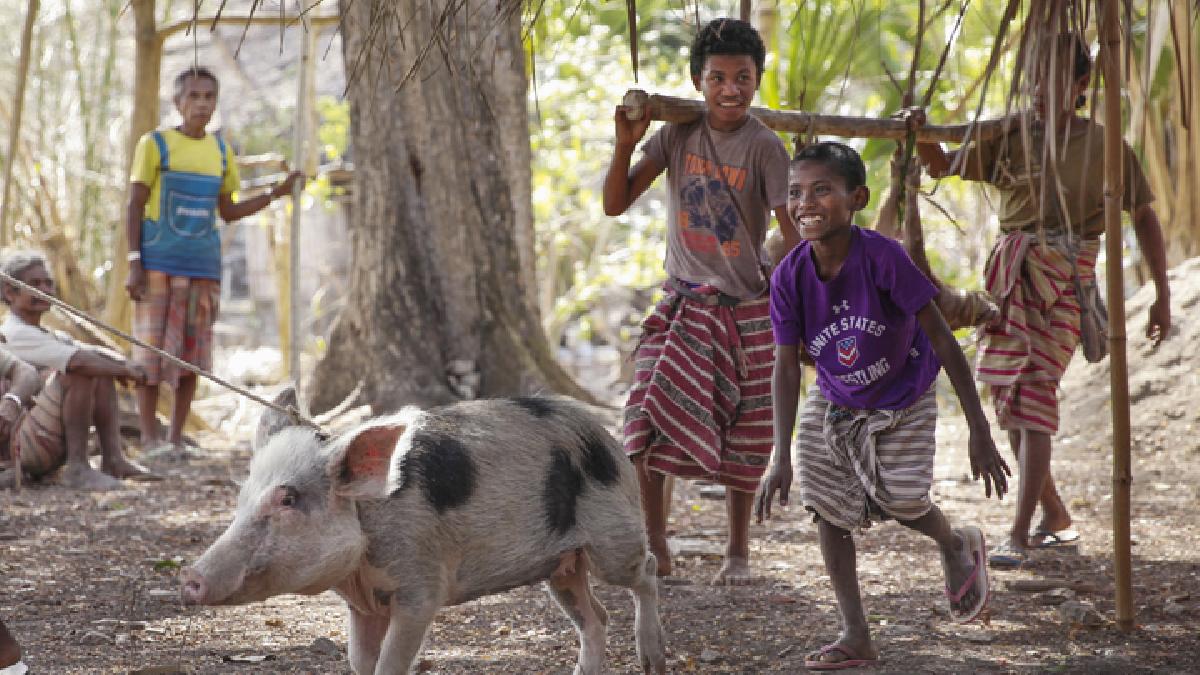 Children carry livestocks for the commemoration of the King's mother in Boti village, South Central Timor, East Nusa Tenggara, last October. The Boti people are the direct descendants of Atoni Metu, the native tribe of the Timor Island. -TEMPO/Nita Dian
Boti Luar residents are made up of Protestants and Catholics, while people living in Boti Dalam adhere to Halaika. The Boti tribe believe in two rulers of nature: Uis Pah and Uis Neno. Uis Pah is a mother goddess that governs, supervises and protects life in the universe, including humans. Uis Pah is also referred to as the earth god. Uis Neno, the god of the sky and Uis Pah's counterpart, is the father and ruler of the afterlife, who decides whether someone enters heaven or hell based on the person's past deeds. To the Boti Tribe, life is governed by three major powers: Uis Pah, Uis Neno, and Nitu, or the spirits of ancestors. These spirits are believed to reside in large trees inside their forbidden forest.
The people of Boti do not forbid Christian teachings, but residents who wish to convert must leave the customary village. This rule applies to everyone, including the late king of Boti Usif Nune Benu's eldest son, Laka Benu, who converted into Catholicism, although he was the crown prince meant to succeed Usif Nenu, who died around 2005. Boti's traditions require the throne to be held by someone who adheres to their ancestors' religion, which is why the throne is now held by Usif Namah Benu, Usif Nune Benu's second son and third child. Usif Nune Benu's first child, a woman named Molo Benu, is Pah Sae's mother. There, a woman cannot rule as a king. To the people of Boti, an usif functions as a leader of government, as well as in customary and spiritual affairs.
Although their beliefs are strictly practiced, the Boti Kingdom is still open to education. Namah Benu explained that his people can still send their children to school, although with certain caveats. When a family has four children, for example, two must pursue formal education while the rest are required to study Boti's customs and traditions. This way, the people of Boti can still preserve their ancestors' customs and traditions without being alienated from modern civilization.
Those living in the customary village of Boti also apply their traditions in their daily appearance. A married man, for instance, is prohibited from cutting his hair and must roll his hair into a bun. Teenagers as well as adult men and women must wear woven fabric that they make themselves. Furthermore, village residents are not allowed to wear pants, skirts and nightgowns.
Despite the numerous laws and traditions, Oni Sae and other residents still feel at home living in the village. "This is a good way of life for us. As humans, we have to feel fulfilled [having] what's available and must protect nature so that nature will be kind to us," said the 20-year-old woman.
LINDA TRIANITA