The Hashtag Spectre
Jokowi and Prabowo's social media teams have to simultaneously defend their candidates and strike at the enemy.
Edition : 4 Desember 2018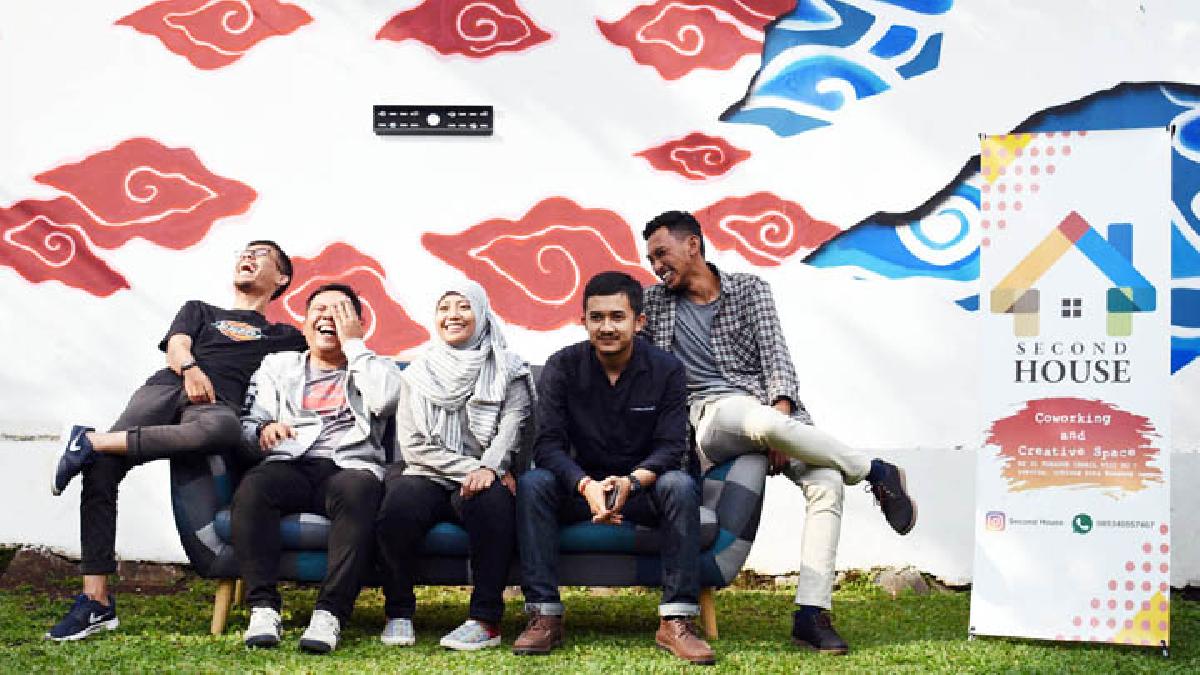 ARYA Mahendra Sinulingga's cellular screen showed the #02Prabowo-Sandiaga hashtag. In first position was #2019GantiPresiden (change president in 2019), second #PrabowoSandi, and third #Prabowo. Below these hashtags were tens of other hashtags, their rankings shifting. The top corner of the cellular display showed the clock in real time.
"I can monitor the other camp's 'gameplay' on Tweeter on this cell phone," said Arya when we met him last Wednesday.
Arya was monitoring the hashtag movement, popularized by Prabowo Subianto-Sandiaga Salahuddin Uno's supporters, through radar01.com—an application developed by Joko Widodo-Ma'ruf Amin's National Campaign Team. Arya is the campaign team's public information director.
A hashtag is a symbol inserted into social media posts to numerous uploads with the same topic. On Arya's cellular screen, next to the #2019GantiPresiden hashtag, was the number 340, while number 188 appeared next to #PrabowoSandi. "These figures show the number of handles that are promoting or 'playing' with the hashtag," said Arya, deputy chairman of the United Indonesia Party (PPP).
According to Arya, results of social media monitoring are considered when designing competing content and hashtags. Headquartered at the High End Building in the same complex as the MNC Tower in Jalan Kebon Sirih, Central Jakarta, 20-something people work to produce and promote social media content.
Meutya Viada Hafid, the team's political communication director, said the Jokowi-Ma'ruf team's three divisions work together to battle Prabowo-Sandiaga in a 'virtual war'. The three divisions are the political communication division, content division, and public information division.
Once content division has completed their work, the content will be evaluated before it is shared on social media. "To provide critique on what's good and what's missing," said Political Communication Director Usman Kansong, who is also the editor in chief (non-active) of Media Indonesia daily newspaper. If a content survives evaluation, it will then be shared with the help of the team's social media task force. Nona Evita, a researcher at the survey institution Populi Center, is a member of this group. "Our task is to help make hashtags grow viral and to spread information that netizens may need to know," said Nona.
The task force works under the public information division. So that a content can grow viral, it is shared to the WhatsApp groups of supporting parties, volunteers, and social media influencers. "They then share [the content] on social media," said Arya. For example, when the #2019GantiPresiden hashtag trended last Wednesday, Arya instructed his team to promote #01JokowiLagi (01 Jokowi again) while including links to news reports on the performance of Jokowi's administration.
Another hashtag popularized by the Jokowi-Ma'ruf team was #SaveMukaBoyolali (save the Boyolali face). The hashtag went viral after Prabowo delivered an address in front of Boyolali residents in Central Java at the end of October. At the time, Prabowo, who was speaking about economic disparity, said the people of Boyolali did not have a 'rich person's face', which might then cause them to be shooed away when entering a luxurious hotel. Prabowo's comment triggered protest from the Boyolali community, which was then used as ammunition by the Jokowi team.
But Arya said the #SaveMukaBoyolali hashtag was not created by his team and was rather uploaded by the people of Boyolali. "As soon as the hashtag appeared, we helped turn it viral. We weren't the ones who 'played' it," said the corporate secretary of MNC Group. According to Arya, social media battles are easier to win if they are triggered by the opponent's blunder. "If the issue is [not created by us], it's not exhausting. We only need to support."
Outside the official team, other groups are designing hashtags and promoting them, among others, the team led by Muradi, a lecturer at the Padjajaran University. The defense observer is among the prime movers of Jokowi-Ma'ruf's social media campaign team in West Java.
The Jokowi-Ma'ruf camp has around 8,000 social media 'soldiers' across Indonesia, said Muradi, with around 500 people in West Java only. "To this day, all of these accounts are owned by individuals. They're not volunteers or members of the campaign team, but regular people."
Muradi's team is headquartered in Jalan Tubagus Ismail, Bandung, West Java, at a house dubbed the Second House. "We're calling it a community of Jokowi supporters," he said. At this place, social media content is created with the help of five young people, some of whom are Padjadjaran University students. These people are also tasked with popularizing certain topics or hashtags.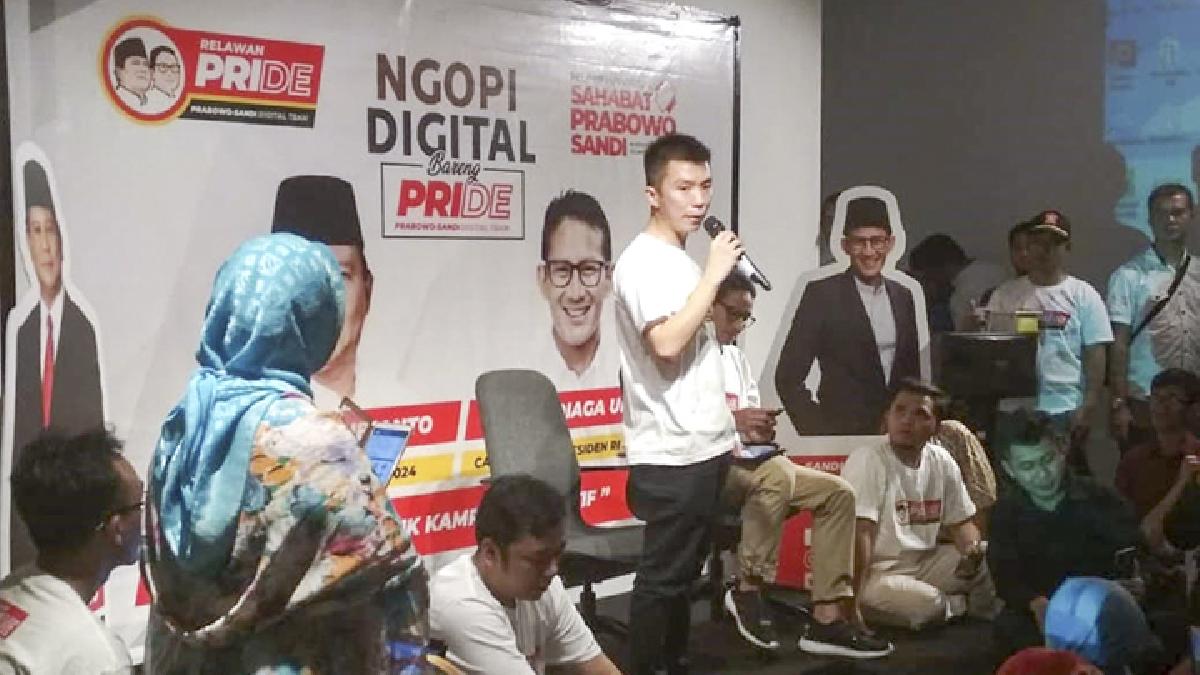 A discussion conducted by Prabowo-Sandiaga digital team, Pride, in Jakarta, last September. -Instagram @RelawanPride
The #banserbersamaNKRI (NU's Ansor front stands with the Republic of Indonesia) is among the hashtags conceived by Muradi's team. The hashtag was created to battle #bubarkanbanser (disband Banser), which went viral after the burning of a Hizbut Tahrir flag during a celebration of National Santri (Islamic school students) Day in Garut, West Java, in October.
Prabowo's team has used a similar strategy. When Jokowi used the term 'genderuwo politics'—referencing a demon in Indonesian folklore—to slight fear-mongering politicians in November, the Prabowo-Sandiaga team monitored the #Politik GenderuWO hashtag and discovered over 40,000 tweets. Pride, Prabowo-Sandiaga's digital team, then created #ekonomigenderuwo (genderuwo economy) to rival the pro-Jokowi hashtag.
According to Pride Coordinator Anthony Leong, it did not take long for the team to come up with the hashtag. "We simply took a portrait of the facts," he claimed. The hashtag was then popularized by around 1,000 'volunteers' who included links to news reports on the rise in staple prices and job scarcity.
The social media team is also assigned to turn Prabowo and Sandiaga's comments viral. When Sandiaga made the 'tempeh is as thin as an ATM card' statement, for example, the team shared the topic on social media. Raditya Pratama, a member of a social media team close to Sandiaga, said his team did not have to work hard to turn the comment viral. "It was Jokowi's camp that made it even more viral," said Raditya. It was comments by Jokowi's supporters on social media that turned Sandiaga's statement viral.
Raditya says his team will continue to launch two economic issues into the 'cyber war', namely employment and staple prices. Prabowo's camp claims that unemployment rate and staple prices would only continue to climb under Jokowi's administration.
Ismail Fahmi, a social media observer and the developer of Drone Emprit, an application that monitors social media discussions, believes that Jokowi's camp is more precise in designing their social media content. Based on the data collected by his app, Ismail also concludes that Prabowo's camp tends to be more militant in the cyber war. "Besides the greater number of conversations, Prabowo's supporters are more actively retweeting [Prabowo and Sandiaga]," said Ismail.
DEVY ERNIS, HUSSEIN ABRI, PRAMONO, AHMAD FIKRI (BANDUNG)