Going organic
A farmers group on the slopes of Mount Merbabu, Central Java, are protecting the region's biodiversity through organic farming.
Edition : 18 Desember 2018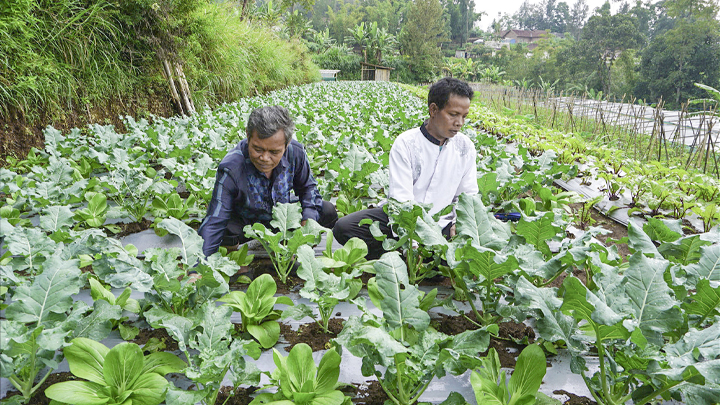 Their vegetable produce is exported to Singapore and Malaysia.
Red spinach, green lettuce, red lettuce, tomato and kale flourish on the slopes of Mount Merbabu in the hamlet of Kaliduren, Batur village, Central Java. The 2,000-square-meter vegetable farm is adorned with the colors of fresh vegetables. On a Saturday afternoon in November, bamboo structures with plastic roofing sheltered the plants from pouring rain.
It is on this vegetable farm that Rochmad, a farmer from the Bangkit Merbabu farmers group work the soil using organic fertilizer, so it can be planted with vegetables. The natural fertilizer made by the farmers group does not kill pests but rather keeps them under control. "Organic fertilizers are good because they help sustain the ecosystem," said Rochmad.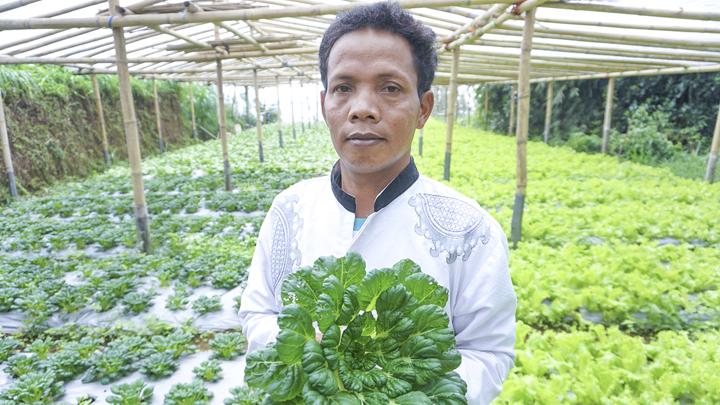 For years, farmers in the Mount Merbabu region were using at least 10 kilograms of chemical fertilizer for each 500-square-meter area. They used urea, Phonska (NPK fertilizer) and triple superphosphate (TSP).
But reliance on chemical fertilizer placed a great burden on the farmers because in the following planting season, the same soil would then require fertilizer in a higher dosage of 25-30 kilograms. Chemical fertilizers also tend to be more expensive than organic fertilizer. One stalk of broccoli, for example, requires Rp1,500's worth of chemical fertilizer, as opposed to Rp800 for organic fertilizer.
The use of synthetic chemical fertilizer is inherently detrimental as it damages soil quality. Harvests often failed because diseases would ravage the roots of broccoli and bok choy plants. On a 500-square-meter piece of land, an average of 30 kilograms of broccoli would not be able to be harvested. "Harvests failed and farmers would suffer losses close to 90 percent," said Bangkit Merbabu Secretary Rebo Wahono.
Having learned from these harvest failures, Merbabu's farmers formed a community of organic farmers in 2008. Zaenal led the 20-strong farmers group with a total farming area of 5.5 hectares. They called the community Bangkit Merbabu (Rise Merbabu) because they wished to rise from the slump.
To manage their organic farmland, the farmers spent two to three years restoring soil fertility using biofertilizer. Farmers also received training sessions for good organic farming practices from agricultural lecturers at the Satya Wacana Christian University in Salatiga, Central Java.
Now, Bangkit Merbabu in the Getasan subdistrict manage 16.4 hectares of land with a total of 150 farmers in the group. The size of their organic farmland grew when an additional six farmers groups joined, among other the Mekarasih Women Farmers Group whose members are all women.
The women make their own organic fertilizer from ingredients that are easy to find, such as pineapple, sugarcane drip, coconut water, yeast and granulated sugar. Farmers in the group grow, among others, cucumber, broccoli, carrot and tomato, with cucumber as their top produce. "Orders have been steady and [organic farming is] profitable," said Pariyanti, the group's leader.
Organic fertilizer treats the soil with the help of bacteria and/or other types of microorganisms. To grow bacteria, farmers use rice as a medium, placed on split bamboo and laid under a dense bamboo tree for three to five days.
After five days, the rice—which will have turned yellow at this point—is placed inside a drum and mixed with rice and sugarcane drips before the mixture can then turn into liquid fertilizer. To make non-liquid fertilizer, farmers use ashes from burnt rice as well as tofu by-product mixed with bacteria grown using local methods.
Bangkit Merbabu's top products are carrot, tomato, beet, bok choy, kale, tatsoi, red spinach and romaine lettuce. In 2012, Bangkit Merbabu received the Indonesian Organic Farming Certification. They also received international organic certificates from the Japanese Agricultural Standard and the European Union. The Vegetable Research Center in Bogor, West Java, reviews Bangkit Merbabu's farmland on a routine basis.
Bangkit Merbabu's organic produce is sold to Duta Agro in Magelang, Ibu Organik in Semarang, and Bloom Argo, an exporter that ships these vegetables to Singapore and Malaysia. The group has been exporting organic vegetables since 2016. Their produce is also found in supermarkets in Kudus, Pekalongan, and Semarang in Central Java.
For every export shipment, farmers provide 200-300 kilograms of vegetables with up to three shipments in one week. Prices for these farmed vegetables have been stable. Broccoli, for example, is valued at Rp14,000 per kilogram. "At every harvest, the farmers receive a net profit of Rp2 million," said Zaenal.
Farmers can only harvest vegetables three times in a month. But the variety of vegetables has grown. Although the farmers started out with cabbage, broccoli and fava bean, they now plant 164 kinds of vegetables.
Organic farming also sustains soil biodiversity. Students at Gadjah Mada University in Yogyakarta studied the quantities and diversity of soil fauna on Bangkit Merbabu's farmland in 2017 and found 25 varieties of animal compared to only 11 on chemically fertilized land. "Our philosophy is environmental preservation and self-reliance," said Zaenal.
Bioscience deputy at the Indonesian Institute of Sciences (LIPI), Enny Sudarmonowati, says pesticide in farming kills insect pollinators, causing harvests to suffer due to imperfect pollination. Additionally, birds, natural predators that support the ecosystem, may die when bugs are exposed to pesticide. "A damaged ecosystem upsets crop yield," she said.
Chemical fertilizer, Enny added, causes the soil to harden, therefore impeding phosphorus absorption. Furthermore, pesticides can pollute rivers around farmlands during heavy rainfall. On the other hand, the use of organic fertilizer can help mitigate climate change, as organically grown plants tend to be more resistant to extreme weathers. Organic farming can also help reduce CO2 in the atmosphere.
LIPI is now exploring several local microorganisms that can potentially be used as organic fertilizer ingredients. Bean sprouts, coconut water, palm sugar, and eggs, for example, are used as ingredients for growing bacteria.
According to Enny, the use of organic fertilizer is still low in Indonesia because the government has not encouraged it enough. The country's massive chemical fertilizer industry also contributes to the popularity of this hazardous substance. As a result, farmers become reliant and cannot leave the vicious circle. She urges the government to give attention to regulations already issued, including rules on subsidies for farmers, to make sure that farmers can be given the right forms of grants.
At the United Nations' Biodiversity Conference in Sharm el-Sheikh, Egypt, in November, Gabor Figeczky, chair of global policy at the International Federation of Organic Agriculture Movements (IFOAM), said farmer communities must be seen as having an important role. He believes that countries must guarantee farmers' participation, assist each other, and have faith in consumers.
SHINTA MAHARANI