All the Widows: Independent
Through Pekka, Nani Zulminarni empowers impoverished women household heads. Her deed touches the hearts of more than 31,000 women across 34 provinces.
Edition : 24 Desember 2018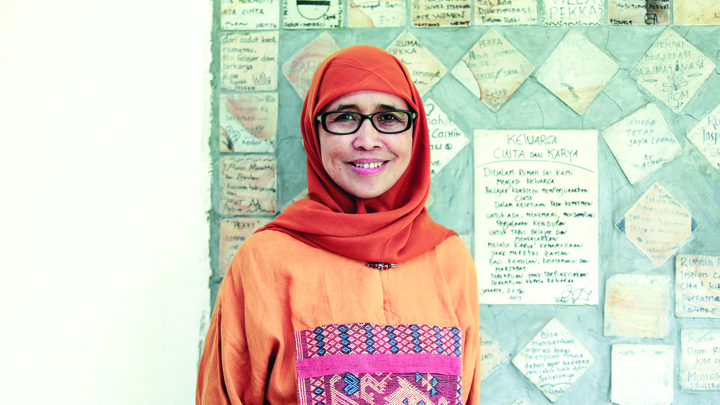 TO Nani Zulminarni, 56, being stuck in the past is not in her book. The mother of three therefore decided to stand on her own two feet after her divorce in 2000. At the time, Nani was facing a difficult task at the National Commission on Violence Against Women (Komnas Perempuan). She was flying back and forth between Aceh and Jakarta to document the lives of post-conflict widows living at the city dubbed the Veranda of Mecca.
In Aceh, she met a lot of women who were suffering and traumatized by their husbands' involvement—proven or suspected—in the Free Aceh Movement (Gerakan Aceh Merdeka/GAM). She was also distressed about how she would raise her own three children after the divorce. "I was in a bad place, but I felt that I should be grateful because the women here had it much worse," she said some time ago.
Understanding what the Aceh women were going through, Nani was moved to help them. At first, she was just there to take photographs and collect data. Then in 2001 she lobbied the Komnas Perempuan in a bid to initiate an empowerment program. Nani said she was devastated to see the poverty, and the widows who had no idea how they will raise their families.
According to Nani, the widows were crippled economically as they had always relied on their husbands for money. "I wanted to do more than just documenting them. I wanted to teach, raise awareness, and help build their strength," she said. Luckily, Nani obtained a grant from Japan through the Widow's Project program.
Nani used the fund to start the establishment of Pekka, which is short for Pemberdayaan Perempuan Kepala Keluarga or Female Heads of Households Empowerment Program. Through Pekka, Nani taught the widows to become financially independent for themselves and their families. Her goal was to make people view widows as strong women acting as head of their families, with good status, roles, and sense of responsibility. She wanted to erase the stigma that widows are women who are miserable after separating from their husbands.
But the woman born in Ketapang, West Kalimantan, realized that her ambitions are not easy to accomplish. The widows had to fight against the negative perception society had on them "They also tended to blame themselves over their situations," the Bogor Agricultural University (IPB) graduate recounted.
That is why Nani decided that economic strength was the key to empowering those women. She internalized the gender equality values she learned from being an activist for feminism in 1998. She also learned from the widows: their toughness to raise kids without a husband. "How they managed to survive those difficult situations became my source of energy in developing Pekka," she remarked. "They gave me the inspiration to formulate the framework, strategies, and focuses for this organization."
Nani said that Pekka's activities started with the formation of small groups in four provinces: Aceh, North Maluku, West Kalimantan, and West Nusa Tenggara. The main consideration for this was the high rates of polygamy and divorce in said areas, resulting in high numbers of widows. It was there that Nani began to invite women to engage in loan-saving cooperatives to obtain capitals and start their own businesses.
But it was not easy. Tintin Supriatin, a Pekka cadre at Sukatani village in Cianjur, West Java, said that most of the widows did not have money to open savings accounts. "They didn't even have Rp1,000 with them," she said. And so, in 2002, Pekka members deposited whatever means they had, rice, fruits, vegetables—anything. "We paid for the crops and they used the money to open savings accounts in cooperatives."
The remaining business profit (SHU) is divided to 50 percent for the members, 20 percent for reserve funds, 20 percent for the organizers, 5 percent for group or collective needs, and the rest for social funds.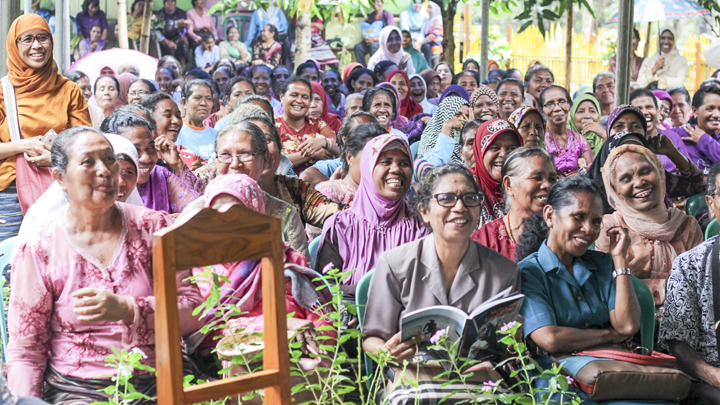 Nani Zulminarni (left, standing) in one of her visits to East Nusa Tenggara. Pekka Doc
At the same time, Pekka gave the widows plenty of education and exposed them to numerous empowerment programs. In addition to financial education for the widows, their children who had dropped out from school were also given lessons. There were also law empowerment and paralegal trainings to help widows take care of birth certificates, divorce papers, and unregistered marriages.
According to Nani, encouraging women to move forward and increase their self-capacity is a very difficult task. Sometimes, despite having realized their strong points, the women fell back to square one—discouraged by their status as a widow. "Urging them to be consistent was our biggest challenge," said Nani, winner of numerous awards including the Ashoka Fellowship 2007, Sarinah Award 2014, and the 2014 Global Fairness Award
That is why in the first three years, Nani considered Pekka still failing. Of about 100 micro-economic groups formed, only 10 are still running. But Nani was not discouraged. Together with a number of Pekka cadres whom she trained, they continued to strengthen the remaining savings and loan cooperatives. Pekka also began to expand into new regions and form women's groups there.
This step generated positive results. From hundreds of micro-groups, in the following year only 50 percent succeeded. But the number of groups that achieved success continued to improve until the success rate reached 10 percent of the existing saving and loan cooperative groups. In 2007, Nani inaugurated a number of Pekka Community Centres, each having their own unique programs. For example, there is the Pekka Mart supermarket in Adonara, East Nusa Tenggara. The supermarket with hundreds of millions of rupiah turnover also serves as an economic empowerment center for local female household heads.
In Cianjur, in 2007 Pekka formed the Early Childhood Education (PAUD) institution, using funds that were partly given by donors. The PAUD's existence strengthens the bond between Pekka members, and encourages the formation of four similar educational institutions in Cianjur. In 2014, Pekka Cianjur members established and organized free make up and hair styling training centres for women. "As of this year, we have trained 203 people," Tintin said.
Seventeen years running, Pekka now has 31,447 members from 1,232 villages in 34 provinces. It also has 64 saving and loan cooperatives, 40 community centres or supporting offices that mobilize advocacy, as well as numerous economic programs like beauty salon trainings for women.
In 2016, Pekka began venturing to the non-formal education sector by establishing the Paradigta Academy. The basis of its foundation is the fact that more than 60 percent of Pekka members did not know how to read and write, and unable to create simple budgeting. This was regrettable because, according to Nani, women ideally should have huge involvement in village development. "I want Paradigta Academy to produce graduates who can think critically and contribute their thoughts and energies for village autonomies," she remarked.
Two years since its establishment, Paradigta Academy is now available in 10 provinces including Aceh, Central Java, West Kalimantan, and Maluku. The mentors are Pekka cadres, and the students are women of all ages and diverse educational backgrounds—not limited to just widows, but all women who wish to play a role in empowering women and improving their villages. They learn together using Pekka-made modules containing subjects on gender equality, economic empowerment, female leadership, as well as law and health issues.
Nani said that the Paradigta Academy is an old dream of hers that has came true. Of course, she still has other dreams to fulfil. One of them is to create an app as a source of information about female household heads. "I want the app to serve as a tool that can shift gender construction," she said.
Furthermore, Nani wants Pekka to expand its scope, reaching younger women—not just widows. "I'm old. I want young women to maintain and carry out Pekka's mission."
ISMA SAVITRI
(This article is part of Tempo's Women Project with the support from the European Journalism Centre)