Preventing Corruption Through Women
Not many people fully understand what corruptive behaviour actually is.
Edition : 31 Desember 2018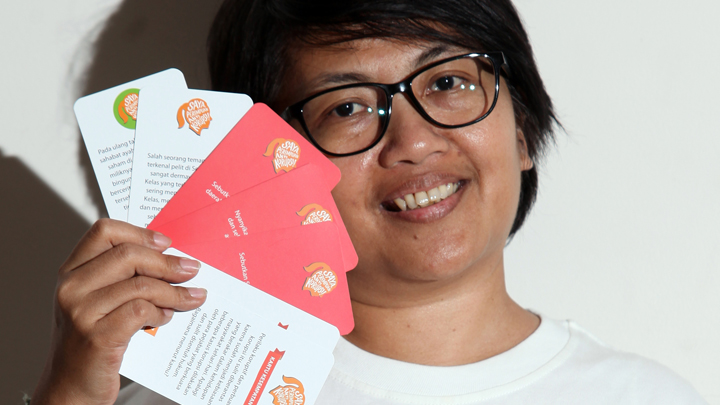 JUDHI Kristianti vividly remembers a story one woman shared during the early meetings of the 'I am a Woman against Corruption' (SPAK) movement four years ago. The woman, wife of a rector of a university in Java, said that she used to give presents to teachers and security guards of the school her child went to.
At the end of every school term, her child requested that he himself give the presents to the teachers and security guards. This made the woman proud, thinking her child had already honed social awareness. One day, the child was running late for school and a math exam was due that day, and yet he seemed very relaxed. When she asked why he was not at all worried, the child said he was sure the security guards would let him in, since he always gave them presents.
"It was then the mother realised, her child had internalized corrupt behaviour," Judhi (52) said some time ago.
Judhi noticed how in the early days when SPAK had just been founded, people had very little knowledge about what entails corruption. "When asked, they could only say that corruption was something to do with state finances," she recounted.
That is why campaigns against corruption must be spread further. The SPAK movement Judhi initiated is one of the ways.
'I am a Woman against Corruption' (SPAK) began to take form in 2013. The Corruption Eradication Commission (KPK) asked the Australia-Indonesia Partnership for Justice (AIPJ), where Judhi worked, to seek ways to promote anti-corruption behaviours.
At the time, according to Judhi, corruption was only discussed in specific venues, such as classrooms and seminars attended by legal experts and activists. Most of the times they only discussed cases that had already occurred. Judhi was of the opinion, corruption in practice that had made it to the public eye were the final outcome of small actions the corrupt people had enacted in the past.
Also, there were not many movements that focused on preventing corruption. The corruption perception index, formulated by Transparency International, tended to be stagnant for Indonesia. In 2017, Indonesia scored 37 out of a scale of 0-100, as in 2016, and just one point higher than in 2015.
Further, a survey the KPK conducted in Solo and Yogyakarta in 2012-2013 showed that only four percent of parents instilled in their children the importance of honesty and not being corrupt.
Judhi came to realise that corruption was not merely a legal matter, it was also a social one. She and her collegaues decided they wanted to conduct inclusive campaigns easily understood by a lay public that did not have to introduce complicated discussions about laws and regulations. They launched campaigns that focused on preventive behaviours.
Judhi and her colleagues also decided to target their activities towards women , considering women easily influence their family members. At the time, corruption tended to be looked upon as a "male" issue.
In April 2014, the SPAK movement was launched, alongside the KPK's launch of its corruption prevention campaign springboarding on the family unit. Judi continues to be the driving force behind SPAK.
Discussions and intensive training sessions were held, but using a relaxed approach and simple explanations—with examples taken from daily life.For instance, whether using the office car for personal errands or cutting in a queue constituted corrupt behaviour or not.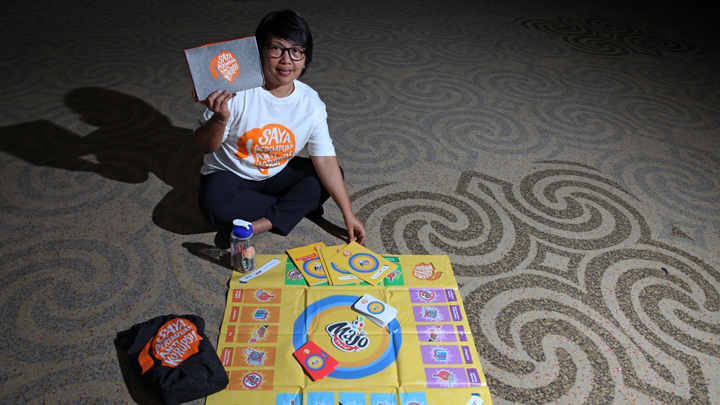 Judhi Kristantini is showing a game used for anti-coruption campign. TEMPO/Ratih Purnama Ningsih
They also used card games. SPAK has at least six card games, including Majo (match five) and Semai (the nine values). Majo introduces the practices of corruption, while Semai introduces anti-corruption values.
Judhi told how Semai was created at the request of agents, who had trouble explaining to children about corrupt behaviour. The concepts of modesty, perseverance, courage, cooperation, discipline, caring, responsibility, honesty, and justice are considered abstract. The Semai Cards present examples of events that have these values.
Judhi and SPAK's journey faced challenges. Many trainees quit because, according to Judhi they were not ready to leave their comfort zones. Being a SPAK agent requires each and everyone to refrain from acting out even the slightest corupt act and instil non-corruption dilay.
Another challenge was the public's resistance, especially in the major cities such as Jakarta, Surabaya and Semarang. Currently, Judhi's team is formulating even more creative campaign methods targeting urban dwellers, campaigning in cafés, movie theatres, and commuter trains.
Judhi and her colleagues are proud of what they have accomplished so far. Today, SPAK has more than 1,720 agents in 34 provinces throughout Indonesia, relentlessly spreading anti-corruption messages
Second Police Inspector Adjudant Andi Sri Ulva is one of the movement's agents of whom they are most proud. Ulva is chief of the Women and Children's Protection Unit at the Takalar police precinct in South Sulawesi. Her first encounter with SPAK was in 2016, when she was assigned to the Panakkukang Sector police station.
Ulva attended a SPAK training in Sorong, Papua. That night she could not sleep. She was highly disturbed after listening to the explanation by speaker Gandjar Laksmana Bonaprapta, a law expert from University of Indonesia.Ulva got out of bed and ran many laps around the hotel to shake off her guilt for the many times she had accepted gratuities. "We had never been allowed to accept money from the public," she said.
After returning from Sorong, Ulva made a suggestion to her supervisor to alter the design of the SPKT office. The room now has glass walls, and the desks have no drawers. This is a loud and clear declaration to the people they serve that they cannot accept any gratuities.
Art first, Ulva was ridiculed by her colleagues. But she remained steadfast.
News about her initiative reached the National Police Headquarters in Jakarta. Last year, she was awarded the Golden Card award from the Chief of Police of the Republic of Indonesia, which gives her the privilege to enter the Officers' Academy.
Following Ulva, Judhi said that more and more resort and precinct police stations send their officers to attend SPAK training sessions. Judhi hopes the collaboration will continue because "the police are representative of the judicial institution, and they interact with the public directly—and so have the ability to change the face of the law in Indonesia."
LINDA HAIRANI
(This article is part Proyek Perempuan Tempo, supported by the European Journalism Centre-investigasi.tempo.co/perempuan-berdaya)