Rumphius, the Forgotten Botanist
These days, not many Ambonese are familiar with Georgius Everhardus Rumphius (1627-1702).
Edition : Tuesday, January 8, 2019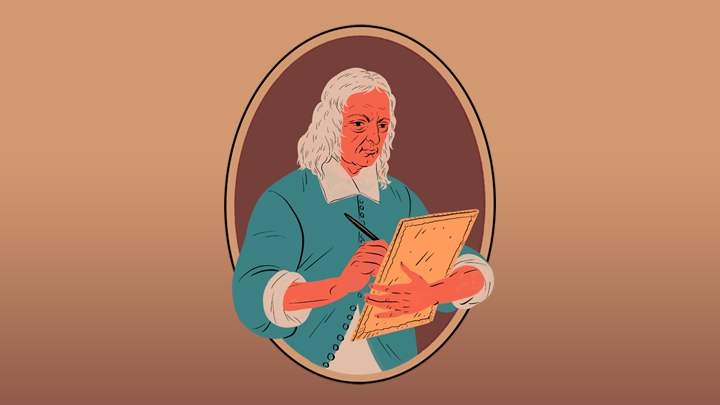 THE STILLNESS was palpable when we stepped foot inside the Rumphius Library on Jalan Pattimura, Ambon. Yola, a library staffer, was the only one present, tidying books on the shelves. There were no visitors although the library is home to around 10 thousand history books, neatly stacked on the six wooden shelves in the library's main hall—from old encyclopedias, books on the history of Dutch occupation in the Moluccas, to book series from other parts of the world.
There's a special room in the library with books related to Georgius Rumphius, kept in a stack of four glass bookshelves. The collection includes 47 of Riumphius's writings, rewritten by writers from various countries, as well as six of Rumphius's own works.
The six works by Rumphius are Herbarium Amboinense (on spices and botany, published in 1695), D'Amboinsche Rariteitkamer (Ambonese Curiosity Cabinet, 1705), as well as three other books on history, namely D'Ambonsche Landbeschrijving (about the islands of Ambon, 1679), De Ambonensche Historie (on the history of Ambon, 1679), and Waerachtigh Verhael van de Schzickelijcke Aerobebinge (on a massive earthquake in Ambon, 1675). All six have been carefully preserved.
In his 50 years living in Ambon, Rumphius produced a number of impressive works. Two of his masterpieces, Herbarium Amboinense as well as D'Amboinsche Rariteitkamer (Ambonese Curiosity Cabinet) are often referenced by botanists and biologists all over the world until this very day. Herbarium describes the variety of flora in Ambon and its surrounding islands, both terrestrial and marine.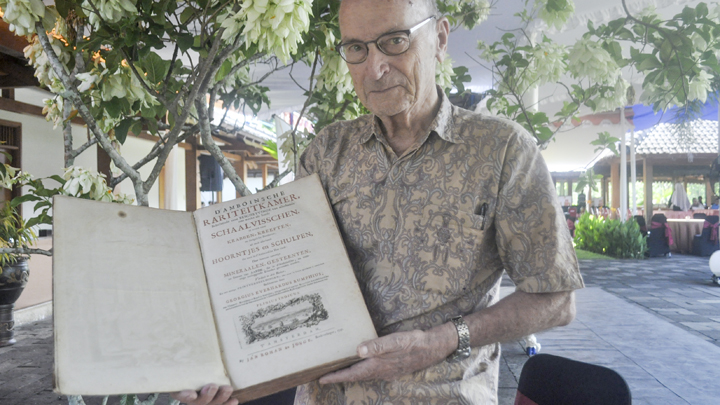 Cornelis Johannes Bohm. TEMPO/Pito Agustin Rudiana
W251bGwsIjIwMjEtMDUtMDggMjA6MzI6NTYiXQ
Herbarium Amboinense was first published in 1965. Initially, the monumental work was made up of nine books, which were then condensed into seven books, each one over 500 pages. Rumphius's most prominent work contains descriptions of 1,200 rare species from Ambon with realist botanical illustrations written on 811 pages in two languages, Latin and Dutch.
The manuscript was first sent from Ambon to VOC Governor-General in Batavia, Johannes Camphuys, in 1690, so that it could be sent to the Netherlands and published there. But Camphuys only sent the book to the Netherlands seven years later, after ordering the book to be copied. According to Cornelis Johannes Bohm, a Riumphius scholar, Camphuys ordered the book to be copied to ensure that the work would survive should the vessel transporting it to the Netherlands crash. "And [he was] right, the original sank to the bottom of the ocean because the vessel carrying it was attacked by the French," said Father Bohm.
He added that Herbarium Amboinense was published in 1741-1747 in six books printed consecutively. In 1755, the seventh book Auctuarium, about plants—which Riumphius revised and perfected before his passing—was published.
Meanwhile, his other masterpiece, D'Amboinsche Rariteitkamer, known in English as the Ambonese Curiosity Cabinet, describes Maluku's marine life, fossils and prehistoric items.
λ λ λ
GEORG Eberhard Rumpf, who became known by his name's Latin version, Georgius Everhardus Rumphius, was born in Wölfersheim, around 40 kilometers north of Frankfurt, Germany, in 1627 to a German mother and Dutch mother. His father, August Rumpf, was a wealthy contractor.
At 18-years old, Rumphius was recruited by the West-Indische Compagnie, a Dutch company similar to the VOC, and sent on a ship to the Dutch colonies to the northeast of Brazil. But the ship never made it to its destination and was marooned in Portugal. Rumphius lived in Portugal for three years before returning to his parents.
According to Father Bohm, it was in Portugal that Rumphius heard about the Moluccas, particularly Ambon, which was rich in spices. The Portuguese, who arrived in Ambon in 1512, had brought over the region's natural riches, including spices. "Because there were cloves every day, Rumphius asked, 'Where is this from?' They answered, from Ambon. This sparked his curiosity," said Father Bohm.
In 1652, Rumphius registered to become a VOC soldier in Amsterdam and departed for the Dutch Indies, traveling by sea. He arrived in Batavia in July 1653 and was later posted in Ambon. But after a while, he felt being a soldier was not his true calling. Rumphius did not have the heart to inflict violence on his fellow human beings, let alone murder.
In the end he resigned and requested to work in trade. The VOC granted this request. His solid performance landed him a promotion as a supervisor on the coast, in the Hila Village. Amidst his work schedule, he returned to his old interest in nature and married an Ambonese woman named Susanna.
The VOC gave Rumphius a plot of land next to the fort in Hila so that he could focus on his passion. Rumphius then turned the plot into a kind of orchard, a laboratory for the various plants he studied. He named these plants, among others the rare white orchid named after his wife, Susanna: Flos susannae, now called the Pecteilis susannae.
Rumphius also described the structures, roots, leaves and the colors of all these plants. He even described each plant's medicinal benefits, although the Ambonese, who were already familiar with the variety of medicinal plants used to treat diseases in the region, had never systemized the knowledge the way Rumphius did.
According to Father Bohm, the nomenclature system used by the botanist preceded the Linnaean taxonomy pioneered by Carolus Linnaeus. The Linnaean system, which was the early reference for the binomial nomenclature we are familiar with today, only emerged in 1753 when Linnaeus wrote Species Plantarum.
Scientist Prof. Dr. Sangkot Marzuki, who attended the Borobudur Writers and Cultural Festival, said as the father of taxonomy, Carolus Linnaeus used Rumphius's data in his research. Linnaeus also wrote a book about Rumphius's specimens. Although taxonomy was Linnaeus's idea, the collection of data owned by Rumphius, who lived before him, truly helped him. "Rumphius was the pioneer of tropical botany," said Sangkot.
Rumphius's interest in Ambon's natural diversity only grew. But his passion for nature was not met with a smooth road. At 45 years old, Rumphius became completely blind due to glaucoma. Still, he was undeterred.
He began to rely on touch and smell to identify different plants and animals, and was given a secretary and an illustrator by the VOC to document his observations. The VOC even assigned a scribe to him, among others Rumphius's eldest son, Paul August. "It was Paul August who drew his father. This is Rumphius's only portrait," said Father Bohm, pointing at the projector screen during a Borobudur Writers and Cultural Festival panel discussion.
On the screen was a man with shoulder-length wavy hair standing at a table cluttered with an assortment of plants and a stack of books. In the portrait, Rumphius is depicted as an elderly man with a wrinkled face and a blind man's blank stare. He was often referred to as "the blind seer of Ambon."
On February 17, 1674, a massive earthquake struck Ambon. According to Sangkot Marzuki, the earthquake was followed by an immense tsunami. The earthquake occurred during a Chinese New Year celebration in Ambon. Rumphius's wife and youngest child, who was about to watch the New Year's parade, died under a collapsed building.
"He gave his wife's name to a rare white orchid, Flos susannae (now called the Pecteilis susannae)," said Bohm. While he mourned his wife and child, Rumphius wrote about the earthquake that caused 2,322 fatalities. The writing, titled"Waerachtigh Verhael van de Schzickelijcke Aerobebinge" (True History of the Terrible Earthquake), was printed in Batavia in 1675. In the text, Rumphius describes in detail the earthquake and tsunami that ravaged Ambon and its surrounding areas. One might say that the text is one of the oldest written record of Indonesia's earthquakes and tsunamis.
On January 1687, Rumphius experienced another tragedy. A massive fire razed parts of Ambon, including Rumphius's library. Almost the entirety of the library's collection, among others, books, plants, and manuscripts, including a manuscript on shells, as well as dried shells collected over 15 years were destroyed in the fire. Rumphius refused to give up and diligently repeated his research from scratch. "His extraordinary perserverance should be emulated by the Indonesian people," said Father Bohm.
Rumphius's love for Ambon in particular has not made him known among the Ambonese. Father Bohm regrets this fact, considering Rumphius was well known in the region during his time. He helped residents by explaining the benefits of certain plants. Rumphius was also a member of the Politieke Raad van Ambon (Ambon's Political Council) as well as the head of the Marriage Affairs Council and Minor Judiciary Board until his death.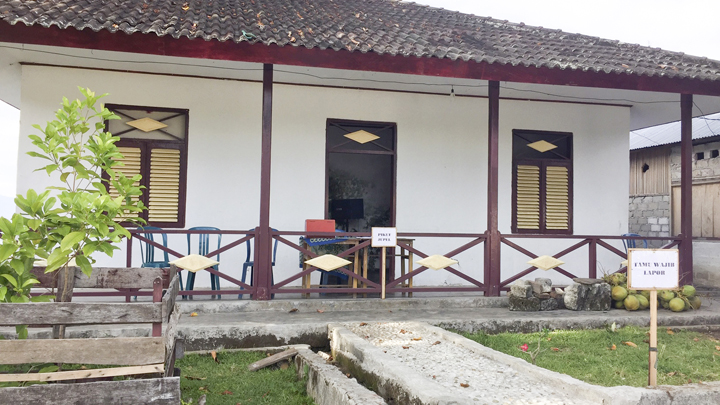 George Rumphius's former house in fort Amsterdam, Hila village, in central Maluku. TEMPO/Rere Khairiyah
According to Sangkot Marzuki, Rumphius faded from popularity perhaps because he never wrote about himself, unlike botanist Alfred Russel Wallace, for example, who wrote about his travels and himself in a journal. After the earthquake in Ambon, Rumphius wrote more about the earthquake and tsunami, even though he was still grieving over his wife and child. "There was only one line about his wife who had died in the quake," said Sangkot.
Rumphius died from an illness on June 15, 1702, at the age of 75. Apart from his masterworks now kept in the Rumphius Library, a monument was built to honor the legendary tropical botany expert. The one-meter marble monument on Jalan Pattimura, Ambon, was erected at the inititive of Bishop Andreas Sol, a Dutch native who became an Indonesian citizen and was a bishop of the Amboina Diocese. Andreas Sol had a fascination in Maluku's history and culture. The monument inaugurated on April 22, 1996, replaced a monument erected in 1824 on the initiative of Governor-General Van der Capellen, which was badly damaged by a bomb during an Allied attack of Japanese soldiers in 1944.
To commemorate Rumphius's life in Ambon, the Rumphius Community plans to build a museum in Hila. According to Anis de Fretes, one of the community's activists, the natural scientist once lived in the Hila Village, around 42 kilometers from the center of Ambon City. "Rumphius was an important scientist to Maluku and Indonesia. Unfortunately, it's as if his history has been forgotten. There's a library in Ambon but only with scant literature," said Anis. "The museum is meant to resist forgetfulness.
Pito Agustin Rudiana (Yogyakarta), Rere Khairiyah (Ambon)