A Cornucopia of Crabs and Honey
Kubu Raya fishermen are no longer anxious about fishing crabs in their region's protected mangrove forest.
Edition : 22 January 2019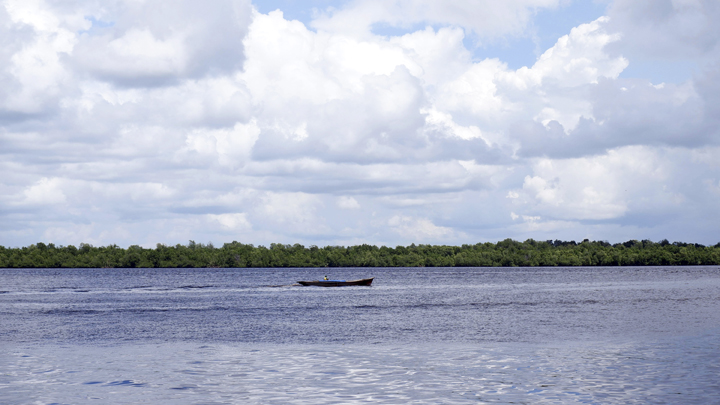 Forty-year-old Hermansyah seemed happy when he showed us the six crabs he had caught, each around 10 centimeters in length. "This is grade A. The selling price is Rp70,000 per kilogram," said the chairman of Batu Ampar's Village Forest Managing Agency (LPHD) in Kubu Raya, West Kalimantan, at the end of November.
The crabs were harvested by fishermen in the Batu Ampar village's mangrove area within the Bentang Pesisir Padang Tikar Forest. They have kept aquaculture keramba (floating nets) to collect crabs since 2017, when the government granted them village forest management rights. One keramba is harvested once a month, each harvest producing 220 kilograms of grade A crabs.
Pulau Kalimantan
Now Batu Ampar's fishermen are in possession of six keramba, each one managed by one fishermen's group with 15 members. In one month, one keramba yields at the very least Rp15.4 million. Today, 116 people have applied for loans at the Forest Development of Public Financing Services Agency. One applicant plans to build one to four keramba, each costing Rp40 million to make.
Before the village forest decree was issued, the fishermen were plagued by angst while catching crabs because such activities were a violation in the protected forest area. Their crabs were also small in size. "In the past, one crab weighed only two ounces, or grade B, with a selling price of Rp35,000 per kilogram. With aquaculture, they now weigh five ounces," said Muhammad Zulian, a Batu Ampar resident.
W251bGwsIjIwMjEtMDMtMDUgMDg6NTA6NDciXQ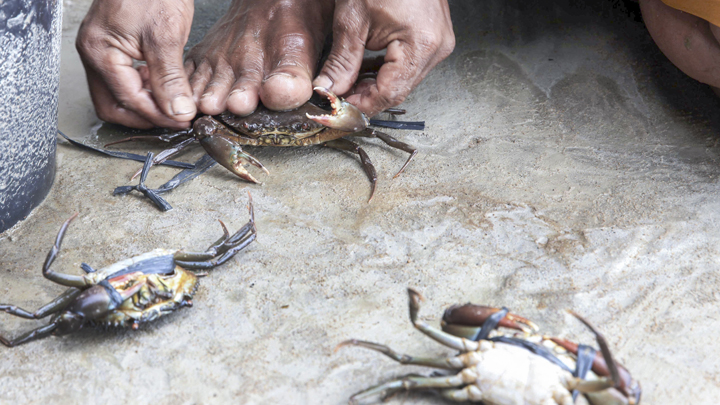 A fisherman ties up the catched crabs./TEMPO/Fajar Januarta
Muhammad believes that the village forest decree issued by the government has positively impacted the community. Residents in the village with a population of 8,500 are also cultivating honey from stingless bees, apart from forest honey. The crab and stingless bee honey cultivation began following assistance from Sampan Kalimantan, a non-governmental organization (NGO) focused on the empowerment of coastal communities.
It was also Sampan that advocated for Batu Ampar's village forest status. Batu Ampar's village forest is one among 10 village forests in the Bentang Pesisir Padang Tikar region. The forest to the south of Pontianak can be reached with a one-hour car ride from the Supadio Airport to the Rasau Port, followed by a two-hour speedboat ride along the Kapuas River.
Hermansyah, LPHD Batu Ampar Chairman./TEMPO/Fajar Januarta
Efforts to gain a village forest status have been in play since 2012, when Sampan's concern for the Batu Ampar community was sparked. "We saw that the community's room for managing their forest was diminishing," said Sampan Director Dede Purwansyah at his Pontianak office.
But the greatest obstacle came from the community itself, who had a negative history with NGOs. "[They] thought we were only gathering data, knocking on companies's doors and embracing businesses," said the 32-year-old man. Hermansyah confirms the negative perception. "At first, NGOs didn't have a good image among the community," said Hermansyah.
Sampan did not give up and continued to approach the community. Sampan's activists integrated with the people and were finally accepted. In 2014, they formed the LPHD. On October 25, 2017, Hermansyah, as chairman of the Batu Ampar LPHD, was invited to the State Palace. He was given an audience with President Joko Widodo, to receive the Village Forest Management decree letter. "He is the only village resident who has met with the President at the Palace," said Haikal, Batu Ampar resident, in appreciation.
AMIRULLAH
From Waste to Money
As a crab fisherman, 35-year-old Suheri would often find stingless bee nests amid the dense mangrove forest. But because he did not understand the benefits of these nests, the resident of Batu Ampar village in Kubu Raya, West Kalimantan, would always throw them away. "Before, we thought they were nests of no value," said Suheri at the end of November.
Like Suheri, most Batu Ampar residents thought of stingless bees as pests. But their view began to change after they began receiving assistance for cultivating stingless bees from Sampan Kalimantan, an organization that focuses on the empowerment of coastal communities. The villagers learned that stingless bees can produce honey. Now, besides working as a crab fisherman, Suheri also cultivates stingless bees for their honey.
Hermansyah, chairman of the Batu Ampar Village Forest Managing Agency, said stingless bee cultivation is now starting to be seen as a source of income. The stingless bee is technically easy to cultivate. Villagers must only prepare wooden boxes, usually 30x15x10 centimeters in size, for the bees to nest in. These boxes are placed at the center of their estates and covered to protect them from the rain. "The honey is usually sold for Rp150,000-200,000 per kilogram," said Hermansyah.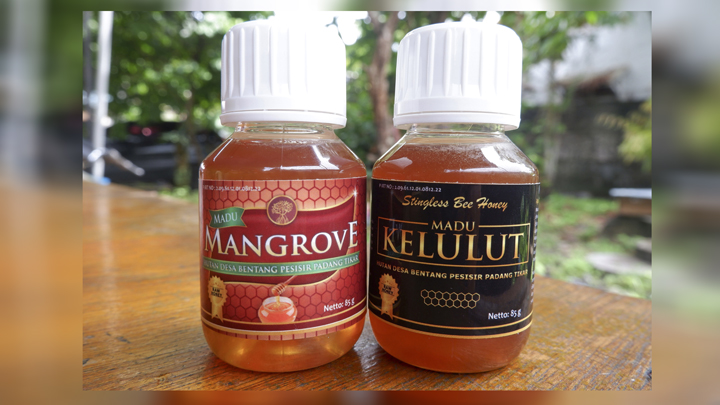 Stingless bee honey of Batu Ampar./TEMPO/Fajar Januarta
One household owns 60 to 100 of such boxes, he explained. The honey is normally harvested once a month. As much as 18 to 30 kilograms of honey can be harvested from 60 wooden boxes.
Apart from selling it directly to consumers, some of the stingless bee honey is sold by farmers to a cooperative at a selling price of Rp135,000 per kilogram. From the cooperative, the honey is then marketed through Gerai Tembawang.
"We market the honey through 67 shops in the Kubu Raya Regency and in Pontianak," said Gerai Tembawang's development and business innovation manager, Fajar Sulaiman, at his office in Pontianak on Saturday, November 24.
They honey is also sold through agents in a number of regions, among others, Singkawang, Mempawah, Sambas, and Kapuas Hulu. The stingless bee honey, packed in boxes containing five bottles, each 85 grams in capacity—or a total of 425 grams per box—is sold at Rp150,000.
So far, said Fajar, communities in the Padang Pesisir Bentang Tikar region's 10 villages can produce up to three tons annually. The number grows with the addition of 12 tons of mangrove forest honey produced each year.
AMIRULLAH